We've all got some pretty amazing men in our lives, but when it comes to buying a gift for him, things can get tricky. Do we opt for the yawn-inducing but super safe option of socks or a bestselling book? Or do we take a risk on some newfangled tech gadget or risk it all and have a stab at choosing a shirt he will actually wear? At ClassBento we specialise in experience gifts for men that are neither boring nor risky – these gifts are sure-fire winners that he won't forget in a hurry. Whether it's a birthday, a Secret Santa, a Father's Day gift or just a simple desire to spoil a special guy in your life, you're guaranteed to delight with one of these experience gifts for him in Sydney.
For the stressed partner who needs a creative outlet
Art for Stress Release Course
Cost: $650 for six, two-hour lessons
Location: Randwick
Did you know that doing art has been proven to reduce cortisol levels (the hormone linked to stress) – and the best part is, you don't even have to be good at it! This six-week course led by artist and art therapist Leah Robinson is specially designed to help people dealing with work burn out, stress or anxiety, by using the healing power of art. Your stressed-out partner will get his hands dirty during these immersive art experiences, with new activities every week including outdoor art sessions that will help him reconnect with the natural world.
Moroccan Cooking for Mindfulness
Cost: $185
Location: Bondi Junction
If you think your partner could benefit from a little mindfulness, but he's not quite sold on the idea, why not tempt him with this clever course that combines food and focused attention. Help him take a moment to pause and reconnect with his senses as he is led through a hands-on Moroccan cooking class with skilfully integrated mindfulness exercises woven throughout. Not only will he enjoy himself, he'll come away with all the know-how to create a traditional Moroccan feast as well as learning powerful techniques to turn the simple act of eating or drinking into a deeply mindful experience.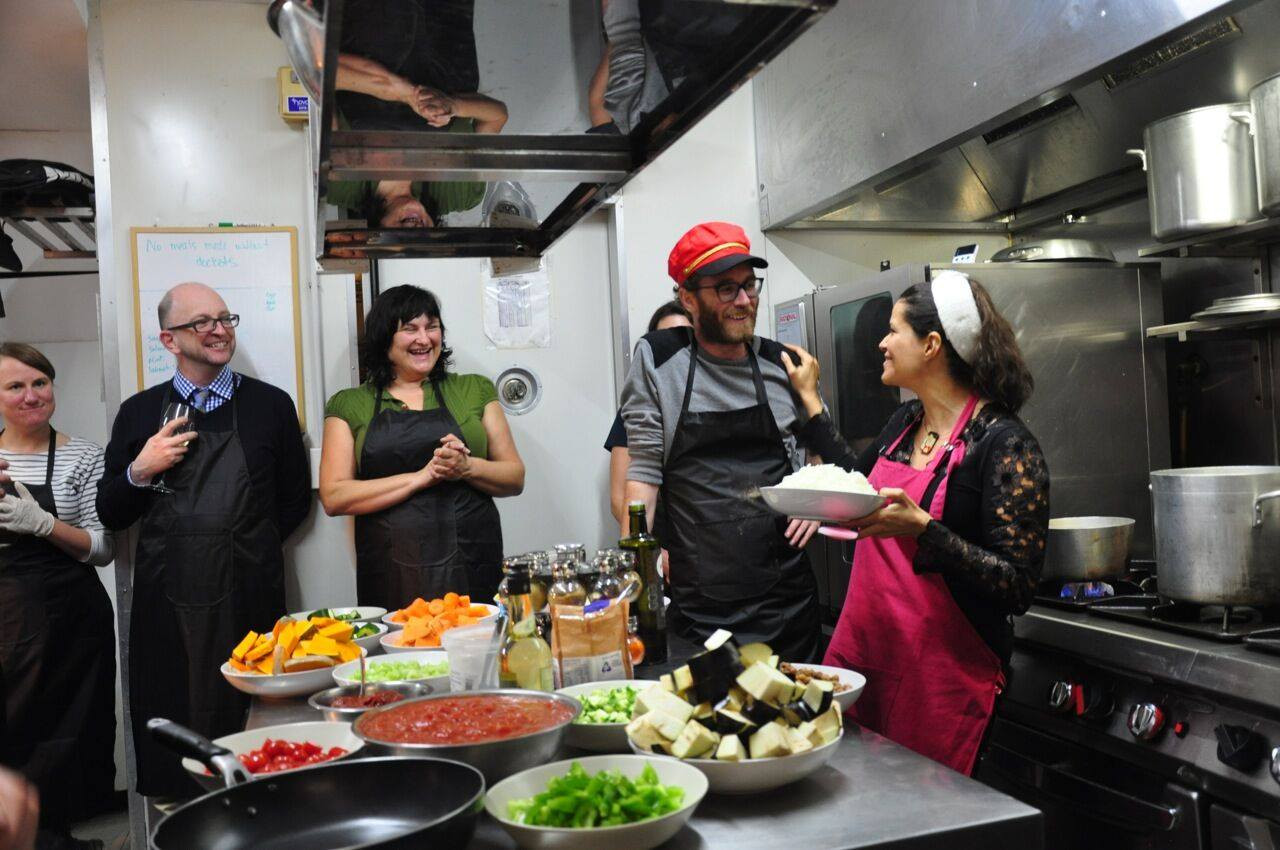 An Introduction to Sewing
Cost: $90
Location: Redfern
Who wouldn't love a man that can sew? Sewing can act as both a practical skill and a creative outlet, making it the perfect new hobby for retirees or anyone looking to learn something new. This workshop led by a qualified textile designer will walk him through the basics from setting up a sewing machine to measuring, marking and cutting fabrics, as well as running through simple stitching and overlocking. He'll leave the class having created his very own cushion cover and hopefully he'll also have found his new hobby.

Japanese Cooking Class (Beginner)
Cost: $150
Location: Bondi Junction
Help him turn a chore into a hobby by sparking a passion for cooking with this fun and informative hands-on Japanese cooking class. Led by chef and cookbook author Yoshiko Takeuchi, this class will teach him how to make easy and healthy Japanese dishes. As well as learning how to make dishes like miso soup and teriyaki, he will learn how to balance a meal and use a knife like a Japanese pro. The best part is, if he really gets into it, you'll be guaranteed a fresh Japanese feast every time you visit.
For the son you can't drag away from his screens
Kids Skateboard Class (5-15 Years)
Cost: $40
Location: Manly
Is your screen-bound teen seriously lacking some Vitamin D? Get him outdoors and active with this beginner's skateboarding class on Manly's iconic beachfront. The class will build his confidence by showing him the basic skills needed to cruise around on a board, plus he'll even walk (or skate) away with the know-how needed to perform a few simple tricks. The sunlight, fresh sea air and the thrill of landing the perfect ollie might just be enough to entice him out of his bedroom and into the skatepark in the future.

Barista Course Teaching the Absolute Fundamentals
Cost: $140
Location: Sydney CBD
Is the only thing your teenage son loves more than his screens his barista-made coffee? Kill three birds with one stone and help your son upskill while also sparking a passion for a new hobby and saving money on café-bought coffees with this private barista training experience for absolute beginners. The course will take him through everything from tamping and brewing to milk texturing and pouring, leaving him feeling like a pro at the helm of your home coffee maker. Plus, not only will he love his new-found ability to produce a killer coffee in the comfort of his home, the course may also come in handy if he's looking for an after-school café job and it comes with a certificate of completion to add to his resume.


For the employee or co-worker you kind of know but not really
Shake Cocktails with Australian Native Plants
Cost: $75
Location: Eveleigh or Potts Point
OK, so you don't really know who this guy is or what he's into, but who doesn't like cocktails? This cocktail class will have him crafting seasonal sophisticated cocktails using native Australian ingredients. Book one of the classes at Yerrabingin rooftop farm in South Eveleigh for a class with a view.
Tea and Chocolate Pairing Workshop
Cost: $50
Location: Lilyfield
Another surefire winner – sweets. As long as he's not vegan or lactose intolerant, he's going to love this class. During this two-hour tea tasting session, he'll get to relax and enjoy the different flavours and aromas of numerous teas. All of the variations will be matched with a range of gourmet chocolates that will accentuate the flavours.