Are you waiting for the bars to open up after the lockdown? Join one of our virtual cocktail making classes and enjoy a quality tipple even if you can't leave your home!
Not only do you get to make your own alcoholic concoction, but you'll also learn new skills in the process. If you think watching your bartender make your margarita or cosmopolitan is entertaining, wait 'til you get a front-row seat to all the mixing, muddling, and shaking action that happens behind the bar! Best of all, you're not just in the audience this time-- put your apron on because you're about to become an honorary bartender for a day.
Don't have a strainer or a bar spoon at home? It doesn't matter because we got you covered! Many of our indoor activities in Melbourne come with DIY kits, and our virtual cocktail making class is no different. Watch out for the mail because once you sign up for one of these fun indoor activities, we'll be sending one of our exclusive cocktail making kits your way.
Curious about what's in it? Well, just about everything you need to whip up a fabulous espresso martini or a classic whiskey sour! Depending on the cocktail-making course you sign up for, these kits can include everything from a jigger, a shaker, a muddler, a strainer, and a bar spoon to the alcohol and garnishes like homemade dehydrated lemon wheels.
Fancy a mocktail instead? You got it! We also have delicious mocktail options for non-drinkers, so you don't have to miss the fun.
An online cocktail making class is perfect for everyone. Whether you're a liquor enthusiast, just looking for rainy day activities, or on the hunt for unique online team building activities, you can't go wrong with this one.
You can fly solo or bring the whole gang for one of the most memorable Zoom activities you'll ever have!
Mix and sip your way to pro status in a virtual cocktail making class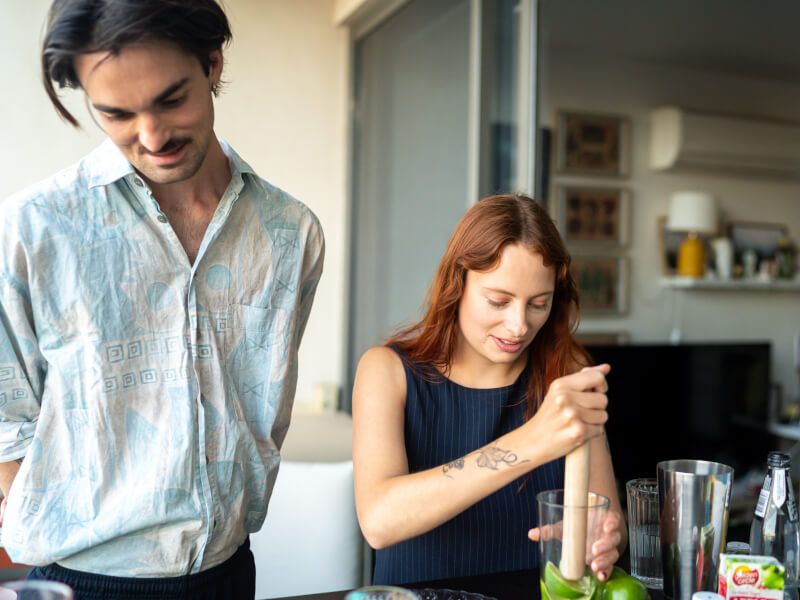 There's nothing wrong with cracking open a cold one or popping a cork on a bottle of bubbly to escape the daily grind. But why not expand your beverage horizons and learn how to mix some new and exciting drinks?
It's one thing to know various easy cocktails to make at home; it's another to actually make them right. Our master mixologists will teach the skills you need to make the best cocktails, such as how to balance liquor and flavour, how to shake your ingredients to the right consistency, and how to garnish your drinks with style.
Not only that, but you'll also learn cool tricks like decorating the rim of a glass with pretty herbs and salt or topping an espresso martini with luscious foam.
When it comes to the menu, you're in for a treat. This virtual experience is full of creative recipes that are both exciting to make and delicious to drink, like the passion spritz, frozen margarita, and vodka colada. We didn't forget the purists — we also have classics like the whiskey sour and old fashioned. And like we mentioned earlier, even non-drinkers won't feel left out because mocktails are also on the menu.
Get ready to be the toast of your next party! Once you get the hang of making these easy cocktails, you're going to be everyone's favourite drinking buddy.
Go on virtual happy hour with the gang
If you're looking for new things to do with your friends during the dreaded Australia lockdown of 2021, we have something up our sleeve. Forget playing board games or cards – discover the best cocktails to make at home instead!
These indoor activities in Melbourne (and anywhere in Australia) are fantastic to do on your own, but they're equally great with your pals in tow. Whether you're looking for virtual Christmas party ideas, work Christmas party ideas or hens party ideas, we've got different classes for a whole range of different groups.
Love friendly competition? Some cocktail making classes also include trivia night, which means you can enjoy some tipsy fun! For foodie besties, we have cooking and cocktail classes as well. Did someone say vodka pasta and a cosmo?
Aside from being great for casual bonding, these classes are also popular online team building activities or spur-of-the-moment catch-ups with friends. Unsurprisingly, few things can get everyone chatting up a storm than a yummy alcoholic beverage!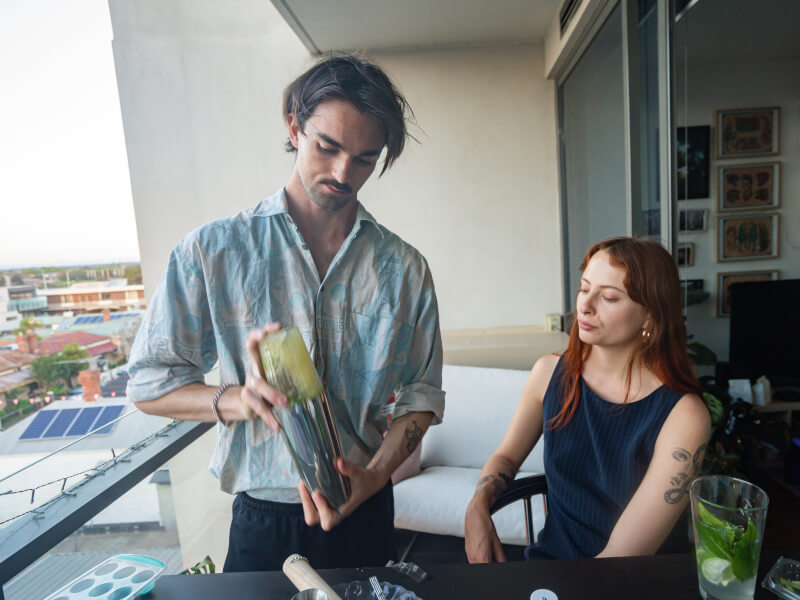 Work, personal responsibilities, chores, bills, lockdown-- when your daily routine becomes overwhelming, it's important to take some time for yourself. And when it comes to relaxing, it's not easy to beat lounging and sipping your usual drink at your fave bar.
Since most establishments are shuttered during the lockdown, swap your Friday booze habit with a virtual cocktail making class instead. Live-streamed straight to your home and led by friendly experts, it'll make you feel like you're hanging out at your local haunt, except you don't even have to change out of your PJs.
Want to expand your social circle? Add our mixology classes to your rainy day activities in Sydney and see how simple it can be. Mingle with fellow mixology mavens and compare notes on how to flawlessly pour tequila or how many olives is enough olives in a martini!
Treat your loved ones to a cocktail-crafting experience
It can be hard to find gifts for people when every shop is closed. But don't worry: we've got your back! Give mixology classes as experience gifts to your friends and loved ones! Let them play bartender to their heart's content, whether they're sharing with their squad or hanging solo. Even better, they can learn how to do this right in their kitchen.
No need to spend hours sifting through deals — this experience is available throughout the year, so you can surprise the special people in your life with an awesome present no matter when their birthday falls.
Experience gifts like this are perfect for celebrating social milestones, showing appreciation for hard work, and just because! And best of all, they let your friends and family try something new without having to pick up a hefty bar tab.
This year, gift an experience they'll never forget (and don't forget to treat yourself, too)!
Cocktail workshops - Virtual with Kits