Whether you're in a long-term relationship or basking in the honeymoon phase, unique experience gifts are the perfect way to connect with your other half. Spending quality time together is an important part of any relationship. And no, nights in watching Netflix don't really count.
If you're looking for ways to spend quality time with your special person, these experience gift ideas will redefine date night. They also make great presents – perfect for if you're after a wedding or anniversary gift for your favourite duo.
Cooking classes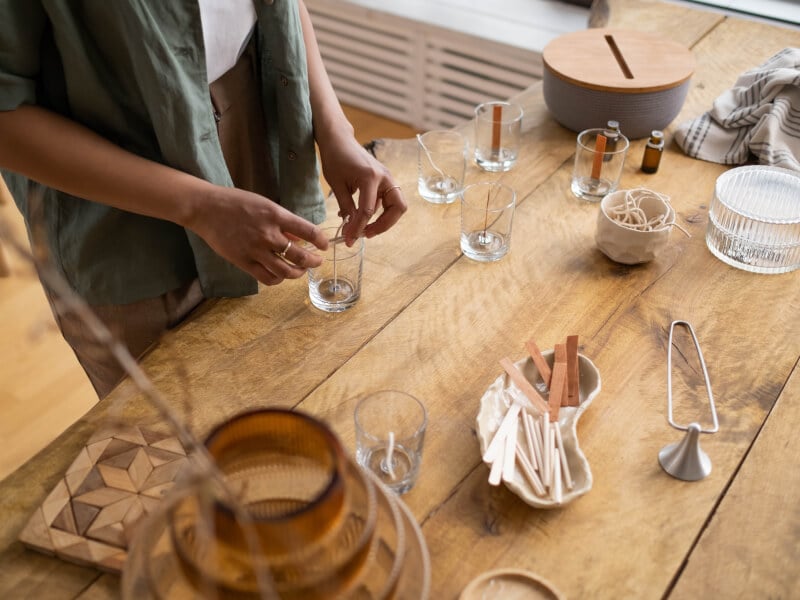 Food is the key to most hearts, making our cooking classes ideal experience gifts for couples craving quality time together. There are options for every palate, from rustic Italian to fresh and zesty vegetarian.
Many couples cooking classes combine hands-on tutorials with perfectly paired drinks. Why not sip an Aperol Spritz while you fry up hand rolled arancini balls in your Circular Quay cooking class, or enjoy a cocktail while you master the art of Chinese dumplings? All classes are taught by qualified chefs who will walk you through every step of the process. No need for experience! Simply turn up with an empty stomach and an open mind. Looking for more unique present ideas that will help you create memories (not clutter)? Check out our top picks!
Jewellery making classes/silversmithing
Romantic by definition, jewellery and silversmithing classes are a unique date night idea. As you learn to cut, forge, solder and sand, you'll create not just precious memories, but also a wearable talisman. All workshops are taught by experienced artisans with a genuine passion for creating beautiful keepsakes.
Classes are small and intimate, meaning you'll have plenty of chances to ask questions and create the perfect piece of custom jewellery. No prior jewellery making or metalworking experience is required and all jewellery making supplies are included, meaning all you have to do is tap into your creative streak.
Candle making classes
Romantic and sensual, candle making classes are one of the most fun things to do in Brisbane for couples. Workshops are fun and hands-on, with a focus on teaching you how to make candles at home. Throughout the class, you'll learn how to melt wax, blend fragrances and set wicks. With intoxicating aphrodisiac essential oils like ylang ylang, patchouli and sandalwood to play with, DIY candle classes make fantastic experience gift ideas for couples.
You'll leave with a set of beautiful, handmade candles - perfect for adding a romantic touch to your next home date night. Who knows, your favourite couple may even fall in love with the art of candle making and leave with a brand new hobby they can enjoy together.
Fluid art classes
Getting creative with a partner is one of the best ways to bond, connect and dive deeper into your relationship. Held at studios across the city, our fluid art classes are one of the most fun things to do in Perth, Australia. Led by enthusiastic artisans, classes teach you how to transform everyday homewares like coasters, cheese boards, clocks and flowerpots into beautiful works of art.
Looking for the perfect gift for busy parents? Fluid art experience gifts for kids whisk the little ones away to a workshop and give mum and dad hours of adults-only time. You could even send the kids to an art class while the grownups take part in a cocktail masterclass or whisky distillery tour.
Pottery classes
Perfect for couples who aren't afraid to get their hands dirty, pottery classes are fun, interactive and yes, even a little bit sexy. There's something sensual about using your hands to transform slippery clay into art, making pottery classes one of the best fun things to do in Melbourne for couples. Our wheel throwing workshops are taught by expert ceramicists who will teach you how to create beautiful works of art.
As well as unleashing creativity, pottery is an incredibly therapeutic pastime. This makes handmade pottery workshops perfect gift experience ideas for stressed out couples who need a little down time. There's no need for previous experience as our pottery classes are all geared towards beginners. Teachers are patient and attentive, ensuring every student receives expert help and guidance.
Food and drink tasting classes
One of the ultimate gift experiences for couples, food and drink tasting classes invite you to indulge at some of Australia's top bars and restaurants. From gin making masterclasses in Melbourne to food and wine tours in the Hunter Valley, there's something for every age and interest. Instead of learning a hands-on skill, you'll embark on a guided tour or tasting class designed to tantalise your palate.
Coffee walking tours in Melbourne make great gift experience ideas for caffeine-obsessed lovebirds, while craft brewery tours in Surfers Paradise will appeal to hops enthusiasts and make great experience gifts for men. Along the way, the happy couple will get to discover a new side to their city. Chances are, they'll return to one of their favourite cafes, cocktail bars or wineries for a future date.
Why experience gifts are perfect for couples
When it comes to shopping for couples, experience vouchers really do elevate your gift game to the next level. They're a great way for new lovebirds to get to know each other on a deeper level, as well as a thoughtful way to inject some excitement into a long-term relationship.
Whether you're shopping for a 50th anniversary gift for your parents, an engagement present for your best friend or even something special for yourself and your partner, you'll love thinking outside the box with experience gift ideas from around Australia.
Countless relationship experts stress the importance of spending quality time together as a couple, with research suggesting dedicated 'date nights' are one of the best ways to nurture and revitalise a relationship.
So, with a huge selection of unique gift experiences on offer across Australia, there's no excuse to wrap up yet another David Jones gift card or pair of Gold Class cinema tickets for your favourite duo. Get creative with your gifts and you'll find a whole host of fun things to do in Sydney, Brisbane, Melbourne, Perth and beyond.