Without any ado here are the best gift card ideas for all of the plant lovers in your life this Christmas.
With the amount of time we spent in our homes this year, it's no surprise that Australians' obsession with indoor plants peaked. While the most obvious benefits of indoor plants are aesthetics - they undoubtedly add colour and life to a room. More importantly, are the positive impacts they can have on your health and wellbeing.
From their calming properties to their ability to purify air within the home, indoor plants can help to create a more relaxing and inspiring living space. Caring for them is also one of the most rewarding indoor activities to do at home. So whether your loved ones are housing their plant babies in small light, filled apartment or have a backyard filled with towering cacti and herb boxes, these thoughtful experience gifts card ideas will help them to continue their favourite hobby well into the new year.

Beautify the indoors with a Kokedama workshop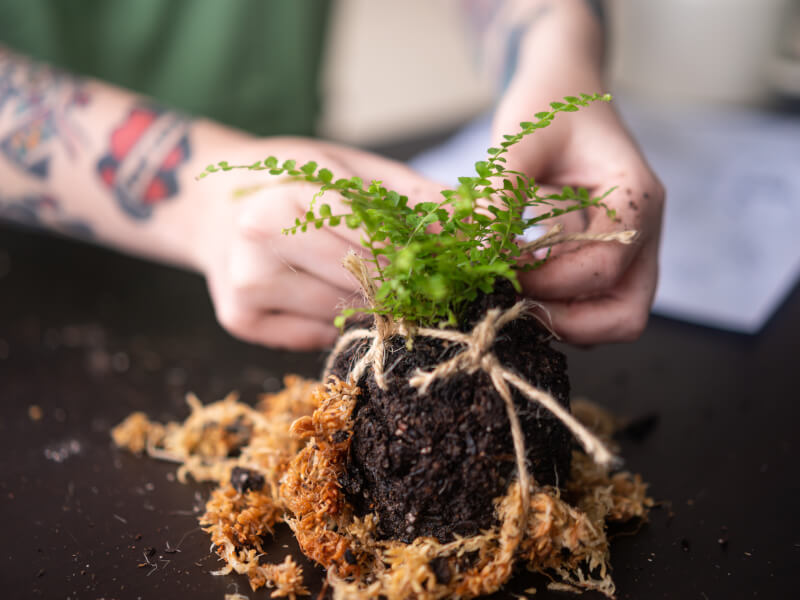 For a more hands-on approach, gifting your loved one the chance to make their own Kokedama, a Japanese moss ball is a great way to get them into the swing of plant care. A really easy DIY workshop, this activity is perfect for those who are keen to learn new skills and up their home decor game. This unique Japanese art form involves binding a succulent or small indoor plant in a ball of moss and soil that you can hang indoors or in a shady spot outside.
A great experience gift for those who want to learn how to grow their indoor plant collection this Christmas. The only downside? It's going to make you want one too! If you're in Perth Renee Milne runs mobile Kokedama classes across the city, and in Brisbane, you can learn how to make a Kokedama at Work-Shop's classes throughout the year.

Make a miniature garden with terrarium workshops
Perfect for those plant lovers who love to take care of their own plants, terrarium classes are one of the most fun gifts to give and receive. Forget gifting a plant, why not gift your loved one the chance to create their own terrarium? Learning about how different succulent and cacti plants work together as well as creating an environment that they can continue to grow with, this is a great gift experience for your nature-loving friends.
If you're in Sydney make sure you check out Merchant and Green's much-loved workshops from their boutique florists in Redfern and Bondi. And for those looking for fun things to do in Melbourne, Bloomin Marvellous in Malvern East run terrarium workshops for both kids and adults.
Share the plant love with plant propagation
It's easy to forget that plants have a life cycle. But propagating is a great way for plant lovers to get their hands dirty and grow beautiful indoor plants from seeds, cuttings or bulbs. You can either pick up some succulents, cacti or herbs and get them to give it a go themselves or gift them the opportunity to learn how to do it with the help of an expert propagator.
For those who already have their hands full with plants, a plant propagating class is sure to be a hit. From learning how to prepare soil and cuttings, right through to planting seeds in the propagation tray, this experience allows them to take their love of plants to new heights. This thoughtful gift experience is perfect for those who are looking for ways to prolong their green thumb and share their knowledge with friends and family.

Grow flowers from seed with a gardening workshop
If you have a budding gardener with a bigger outdoor space on your gift list, why not give them the chance to learn the basics of gardening with a workshop? From learning how to grow plants from seeds, through to growing herbs and other edible plants in your home garden, there's a range of indoor gardening workshops they'll love for Christmas.
Whether they're looking to start growing their own food or creating gorgeous indoor displays, this is the perfect way for beginners to get started. Whether they're looking for an afternoon workshop or want something that lasts all day long, we have a range of different options across Australia depending on your budget.
Nourish the plant family with a composting class
Composting classes earn their spot on this list of gift card ideas because not only is it a great way to cut down on waste and help reduce the amount of food that goes into landfill, but it's also fantastic for improving the soil of their existing plants or gardens beds. There is even research to suggest that composting can help to improve your mood!
This thoughtful gift experience offers individuals or groups a chance to learn how to make compost from scratch. From understanding what materials you need, through to how to create the perfect environment for decomposition, this experience is a great way of making sure your garden stays healthy and beautiful.
Whether you choose to go the traditional composting route or take it up a notch with worm farming, this is an experience your loved ones will love and one of the best things to do in Sydney. This thoughtful gift gives them a chance to learn more about how composting works and take home their very own worm farm! They'll be able to use this gift throughout the year to turn their kitchen scraps into beautiful compost for their plants when they're not around.
Discover more eco friendly gift ideas for friends this Christmas here.
Seed bomb workshops for the outdoor gardeners
If you're looking for gift card ideas that are not only practical but also has a positive impact on the planet, consider gifting your plant-loving friend or family member a seed bomb workshop wherever they are in Australia. From creating their very own garden to beautifying their environment with plants, this experience will allow them to take their love for greenery one step further.
With the help of an expert instructor, they can learn how to make organic seed bombs from clay, seeds and compost that they can then use to plant in their outdoor garden. The workshop teaches participants about the history of seed bombs and how they have become an effective weapon against pollution.
This fun learning experience is the perfect gift for those who are looking to get back to nature, while also getting their hands dirty. From learning how to make and create seed bombs – a great way to use garden waste and recycled materials – through to the process of watching them grow, this gift experience is sure to be a hit.