Looking for alternative Valentine's gifts for him that he hasn't already got? Why not go down the creative route and spend some quality time with your significant other making new memories as you learn a new skill together.
There is something out there that you both can enjoy for this upcoming celebration of love. You can completely surprise him this Valentine's Day by signing him up for a hands-on creative workshop. Whether your man is the artsy, foodie, outdoorsy, or mechanical type, there's something out there for him. Here's a few fun workshop ideas that make excellent gifts this Valentine's Day 2023.
Terrariums for two
If your partner has a green thumb but no time for the garden, or no garden to spend time in, then a terrarium workshop is the perfect gift for you both to enjoy together. Spend time creating a little garden in a bowl together with one of these fun hands-on experiences in Sydney!
Design Your Own T-shirt
If there's one thing guys love, it's a great graphic tee. Instead of buying him a generic one, why not give your man the gift of creating his own? Join a screen printing workshop where you and your partner can learn everything from brainstorming ideas, to design, to actually printing the image on a t-shirt. There's no pressure to be a talented artist - the instructor might even have a couple of ideas up their sleeve if you've got a shy creative side.
At the end of the class, you'll both have a wearable memory of the best Valentine's Day ever - you could even make matching t-shirts!
Rikki Gilbey is the founder of WAW Handplanes, and this Valentine's Day, he's going to teach you and your man how to make your very own handplanes at his studio in Stanmore. The finished products are not only beautiful, but they'll come in handy on your next trip to the beach. In the all-day workshop, you'll design your own handplane and learn all the woodworking techniques to make your design come to life. At the end of the day, you'll go home with a finished handplane fixed with an adjustable and recycled neoprene strap system.
If your boyfriend, partner or husband is the zen type and has a gentle soul looking to cultivate a little calm then this Ikebana flower arranging workshop will do the trick! Spend time at a wonderful Japanese florist in Glebe and get both your zen back!
Who isn't a fan of rum and a house blend at that? Don't pass up the opportunity to wow your boyfriend with this unique rum spicing class and get him hands-on making his very own label of alcohol that he can take home and drink or share with his mates! Whether he wanted to learn more about the rum-making process or just loves to share a drink with his best buddies, this workshop in Surry Hills is a fantastic choice for the man in your life that loves a glass or two!
More of a sugary or zesty drink lover? Get your man on the hard stuff at this cocktail masterclass this Valentine's Day! Whether it's a fruity and fresh Mojito or a rich and filling Piña Colada, you and your date will get the opportunity to learn how to make the mixologist classics from scratch. If you're lucky you might even get to make your own signature drink at the end!
Pick up some tips and tricks from some of Sydney's best bartenders and experience a night behind the bar where you'll get your hands dirty making Margaritas, Espresso Martinis and more!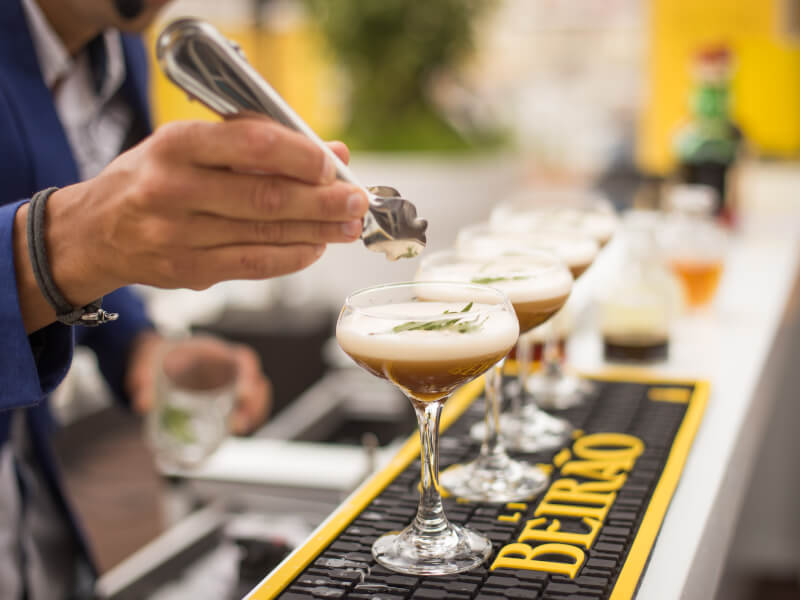 Is your boy a fan of capturing candids of friends or unique landscapes? Why not gift him with a smartphone photography workshop where he can learn all the best tips and tricks on how to capture the best moments with just a touch of his screen. From lighting, to focus, composition and more, your partner will learn the basic skills to snap your next outing together!
Is he more of a classic kind of guy who shoots on film? Why not get him involved in learning how to develop his own film during this unique experience with Rozelle Darkroom. Forget expensive store-developing! With this workshop, your boyfriend or partner can learn new skills that will benefit him both creatively and financially too!
No matter what workshop you choose, the most important thing is that you enjoy your time with your significant other, or the special someone you'll be spending this Valentine's Day with. Take some time to make new memories together as you get in touch with your creative sides!
Gift a unique experience
Pick a fun experience for them, or let them choose from our thousands of creative classes and kits.
Valid for 3 years.
card_giftcard Get a gift card