Have a look at our six crafty experience gift cards for teens and discover how to keep your teen feeling creative, positive and social. Let's be honest here, teenagers don't always have it easy. With the stress of growing up in an increasingly digitised world, it is very likely for teenagers to suffer burnout and feel overwhelmed. What better way to get your teen feeling more creative and accomplished than with our six crafty experience gift cards for teens!
Whether your teen is a budding artist, a keen plant lover or a hands-on craft person, we have so many wonderful workshops and classes suitable for all kinds of teenagers out there! Check out our local experience gift cards for teens below. Our picks include some of the best things to do in Melbourne right now and so much more!

Your teen can feel closer to nature with our terrarium classes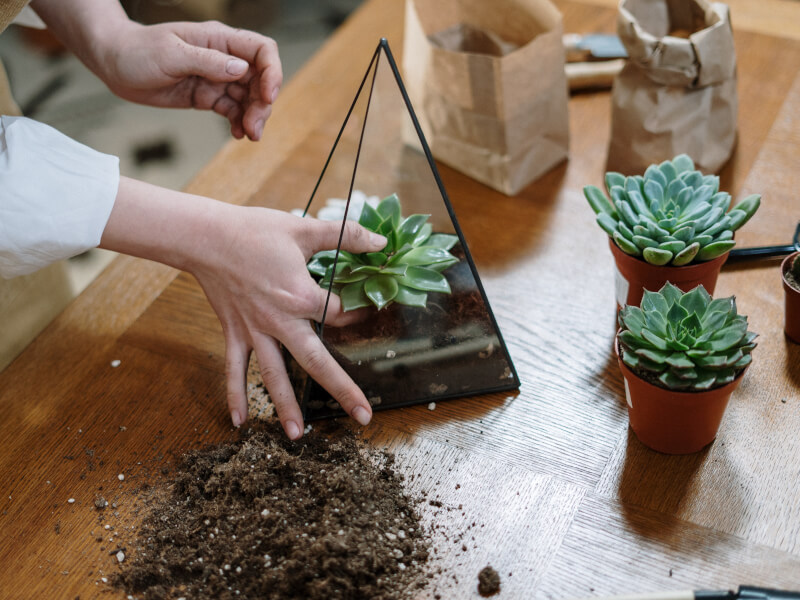 As a major part of the most eco-conscious generation, many of today's teenagers have developed a deep love and appreciation for plants. Terrarium classes in particular are perfect for teenagers as they can feel satisfied with their new low-maintenance plant ecosystem, whilst customising it to express their unique personality and flair. DIY terrariums are one of our favourite fun things to do in Sydney and can also be made from the comfort of your own home with our many online workshops.
Terrarium classes are a perfect way to destress and feel closer to nature. The hands-on style of DIY terrariums can relax even the most anxious of teens, encouraging them to get a bit messy and declutter their minds by organising their little plant oases. Whether it be a succulent terrarium, a moss terrarium or another fun style, we offer a wide range of incredible terrarium classes across Australia for your teen to enjoy.

Let your teen get messy with our pottery classes
Pottery classes allow your teens to do something they rarely get to do at home: get messy! Whether they are working with hand building clay, testing out a wheel-throwing class or even trying their hand at kintsugi pottery, the hands-on experience of pottery classes will be perfect for your teens growing mind! Pottery and hand building clay classes are rising in popularity and are one of our picks for best things to do in Perth.
Along with gaining more creative skills and knowledge, there are also some great life lessons to learn from our many pottery classes. Help your teen to be more patient and persistent with a pottery wheel for beginners class. Or get your teen to embrace their imperfections with a relaxing kintsugi class. There is a lot that your teen can get out of their pottery class gift experience!

Your teen can express themselves with our quirky jewellery classes
Handmade jewellery is quickly becoming a fun new activity among teens. Not only are things like polymer clay earrings super satisfying to make, but they are also so adorable, and a great way for your teen to feel more confident in expressing themself!
The best thing about handmade jewellery is that your teen can completely customise it and add unique, matching pieces to their collection whenever they buy a new outfit! Jewellery making workshops are also a great birthday party idea for your teen, and a great way for your teen and their friends to try something exciting and different!
Discover inspiring gift experiences for foodies here.

Your teen can get creative with our large variety of art classes
Whether your teen is interested in acrylic pouring, watercolour or even drawing, we have a large variety of fun, themed art classes to suit every teen's creative spirit. Our teenager-friendly art classes are perfect for helping teens to feel more confident and skilled, and after learning some great techniques, they can even go home with a beautiful and personal design to hang in their room.
One of the best things (and there are many) about our painting classes is that anyone can do them! There is no need for your teen to be the next Monet! Most of our art classes are made for absolute beginners who just want to have fun and learn to paint with lots of different mediums. Be sure to check out our must do Brisbane art classes.

Let your teen get crafty with our paper craft and ink classes
Your teen will be the talk of their high school with their own personalised scrapbooks and extraordinary penmanship, both of which they can learn in one of our fun paper craft and ink classes. Your teen can learn paper crafts like how to scrapbook, how to decoupage and even try out some simple origami classes. Your teen can also become an expert of all things lettering with one of our many calligraphy courses or brush lettering classes.
Paper craft classes are perfect rainy day activities that will keep your teen's mind active and creative, with skills they can use almost anywhere at any time!

Say goodbye to exam-related nightmares with our cool dream catcher classes
Dream catcher classes are a great way for your teen to relax and get creative with flowers, beading, crystals and more! Your teen will return home with an amazing, personalised dream catcher that is perfect for their room and will keep any pesky nightmares away!
These unique craft classes are mostly delivered online and are one of our favourite fun things to do with friends at home. With a range of different styles and techniques, find a dream catcher class that your teen will love. This class is also a great birthday party idea, which will be remembered for many years to come!
So, you can't really go wrong with one of our experience gift cards for teens. Whether your teen is interested in how to plant succulents, how to draw or even how to make pottery, there are countless fun and interactive classes designed to keep your teen feeling crafty, creative and confident!