If you're shopping for a food lover this Christmas our amazing experience gift cards will let them go behind the scenes into some of Australia's best local bars, cafes and restaurants. From cocktail making classes in some of Sydney's best small bars to pasta making in a local Italian gnocchi bar in Melbourne, give your loved ones the chance to taste and recreate the best dishes across their city.
If you know someone who's always asking for new recipes or has a passion for cooking, our amazing array of food experiences is the perfect gift. Our chefs will take your loved one on a culinary adventure through the flavours of both Australia and around the world. Take them on a tour of Asia with classic Thai curries or have a relaxing afternoon learning how to decorate a chocolate drip cake with a patisserie chef.

Get a taste of Italy at a pasta making class
Pasta lovers, you're going to love our experience gift cards in Australia for pasta making classes! From gnocchi to ravioli and every shape in between, our Italian chefs will guide you through the world of pasta. From learning how to make pasta dough and rolling it by hand to shaping it into your favourite shapes, these classes are a great way for food lovers to learn how to use the freshest ingredients so you can recreate their favourite dishes at home.
Experiment with dumpling making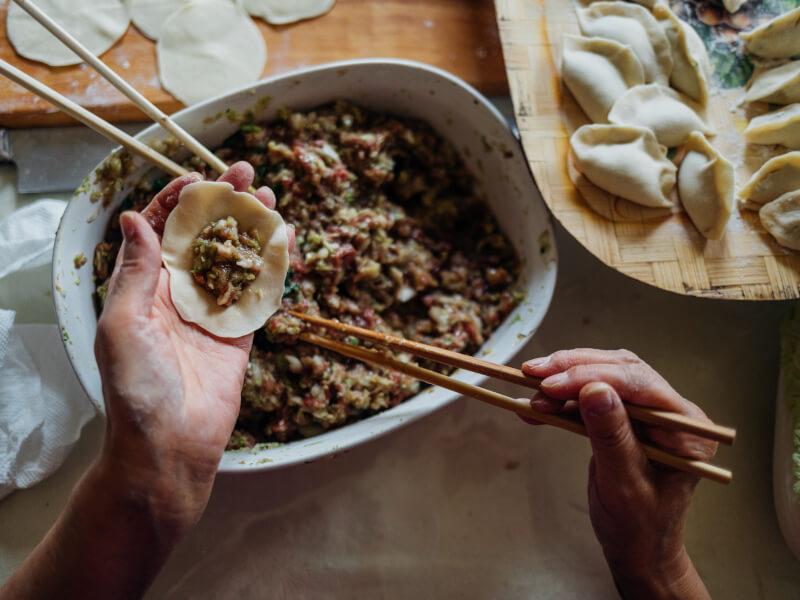 If you're looking for a gift that will wow a foodie, look no further than our dumpling class! Our master chefs will teach you how to create your own dumplings from scratch using fresh ingredients. You'll first learn how to make the dough then we'll show you the various methods for shaping and cooking them in a range of tasty recipes.
These experience gifts are the perfect way to learn new skills and impress friends with your creations. And the best part is, at the end of the class you'll all sit down to a delicious feast and enjoy what you've made.

Mix, muddle and shake at cocktail making classes
Looking for fun things to do in Melbourne over the long weekend or want to spoil a loved one in Sydney? Our favourite cocktail making classes are held in small bars across both cities, allowing you to taste and recreate some amazing cocktails in their own unique spaces.
With so many different types of classes on offer, they can build up their cocktail skills at their own pace. These classes are great for people who want to be able to make cocktails at home or just try something different on the weekend. If you love gin, try one of our gin tasting experiences. Or if you're into whisky, why not learn how to make your own whisky sour!
Savour the aromas at a Thai cooking class
For anyone who loves to cook Thai food, our Thai cooking class is the perfect Christmas gift idea for 2020. Our master chefs will guide you through an authentic Thai menu using seasonal ingredients. You'll start with a fragrant curry then move onto stir-fries and finally a traditional dessert. Your loved one will be able to try all of the dishes they make so they'll have plenty of recipes to take home to impress friends and family.
Have a sweet afternoon cake decorating

If your loved one loves cakes but they don't know how to decorate them then our cake decorating class is the ideal gift that will give them the skills they need for any occasion. Our pastry chefs will teach everyone how to create beautiful cake decorations which can include buttercream flowers or even characters on cupcakes! This Brisbane workshop is great for beginners as well as those looking for new ideas, so whether it's a birthday or just because, this cooking experience will help them create delicious treats every time!
If you've got a plant lover in your life find some amazing Christmas gift card ideas for them here.

Unleash the inner grill master at BBQ cooking classes
With the change in seasons comes the need for a new menu and what better way to do it than over a BBQ. Our grill masters will take them through all the different cuts of meat, how to season them and methods for cooking them to perfection. And don't worry if they don't have a BBQ at home, we'll be teaching them all the skills they need so that when they get home, they can recreate their favourite dishes again and again. From learning how to make deliciously smoked meats to trying out their hand at a top Australian steak from the best butchers in Sydney, these experience gift cards in Australia are sure to be a hit this Christmas.

Master easy vegan recipes
If you have a vegan in the family, then chances are they either already know their way around the kitchen or would love to learn. Our local chefs have designed a range of classes to suit every level of cooking so whether you're just starting out or a seasoned pro, there's something for you.
From making delicious and healthy versions of your favourite vegan comfort foods to more advanced vegan Japanese cooking, there really is something for everyone. Our chefs will show your loved one how to make a range of different dishes that will have them celebrating Christmas all year round. From tasty soups and salads to indulgent desserts, we'll be sure that your loved one is full at the end of their class.
Learn from masters at a Japanese cooking class
If you're looking for a unique Christmas gift that's sure to surprise, then look no further than our Japanese cooking classes. They are one of the best things to do in Sydney on the weekend. With its own history and culture dating back for centuries, the techniques of Japanese cooking will be sure to impress any food lover.
From learning how to make sushi like a pro or trying out some of the more exotic dishes like Chicken Yakitori or ramen, your loved one can try out their culinary skills over a casual class in Sydney, Melbourne or Brisbane. Our chefs will guide them through all the different types of cuisine and will also teach some basics of Japanese cooking so that they will feel confident at creating their own authentic dishes for years to come.