Get creative with acrylics and unleash your inner artist with painting classes in Australia. Whether you're looking for new things to do in your city, craving time away from your screens or simply want to try a different hobby, acrylic painting for beginners workshops are the perfect place to start.
Learn alongside a professional artist
When you sign up for acrylic painting courses, you'll be unlocking expertise from some of the top artists in Australia. There's an art to teaching and when you're learning a new skill, a good teacher can make or break your experience. In beginners classes, you'll get hands-on support and assistance from the crème de la crème.
You'll start with acrylic painting techniques like layering, a fundamental skill that every artist should know. Next, you'll start to experiment with more advanced techniques such as creating gradients, palette knifing and mixing colours on the canvas. Every teacher is different but one thing's for sure – you'll leave the studio with a brand new perspective on how to paint with acrylics.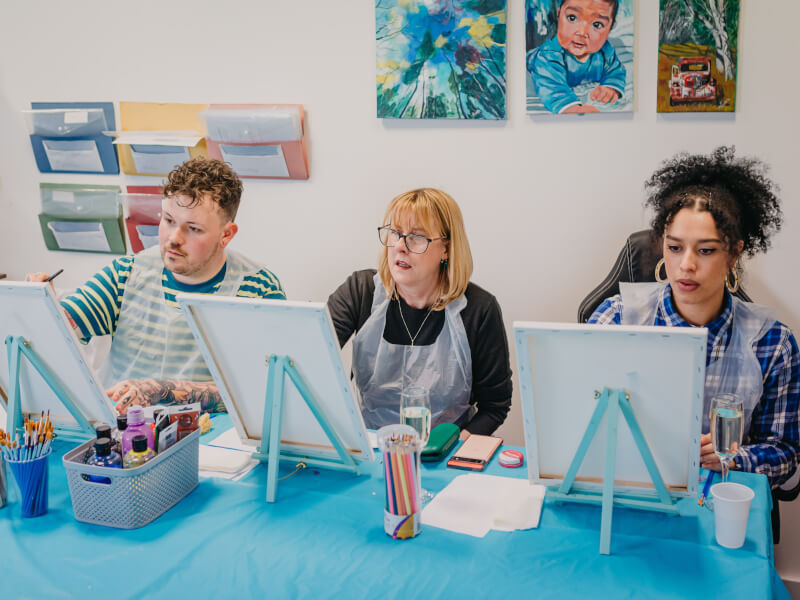 Fall in love with acrylics
While oil paints and watercolours often steal the spotlight, acrylics are an incredibly rewarding medium. They offer the best of both worlds, with the vibrant colours and creamy textures of oil paints and the quick-drying, H20-friendly appeal of watercolours.
Unlike oil paints and watercolours, acrylics are suitable for use on a range of surfaces. While most acrylic painting for beginners classes teach you how to paint on canvas, you can continue to experiment with your new skillset at home. Get creative with wood, glass, fabric, furniture and more. Be sure to ask your teacher for tips!
Want to try watercolours instead? Here's how to create a beautiful but easy watercolour painting.
Empower yourself with creativity
Diving into a new hobby can be intimidating, especially if it's skill-based. Of course, that's no reason not to make a splash. Whether you have zero experience painting, or you've been meaning to brush up on your skills for years, painting classes are an open door. You'll savour the chance to step outside your comfort zone and challenge yourself with a new activity. It's a truly empowering experience.
Choose your own adventure
When it comes to famous acrylic painters, it doesn't get much bigger than Andy Warhol. His Campbell's Soup Cans launched acrylic paint onto the international art scene in the 1960s and the trend hasn't lost momentum since. If you've always admired Andy and want to try your hand at imitating his style, acrylic painting for beginners workshops will be right up your alley.
Across the country, you'll find classes that teach you how to paint everything from native Australian flora and fauna to beach and bushland landscapes. There's so much to choose from which makes painting classes an ideal solution if you're shopping for gift experiences for friends.
Add a splash of colour to your next team event
Event planning can be a headache, especially when the bulk of the responsibility falls in your lap. If you've been tasked with brainstorming fun team building activities, why not branch out from overdone escape rooms and get creative with acrylic painting classes? Not only are art workshops fun, but they encourage your team to bond and connect outside the workplace. Plus, it's an activity every member of your team will actually want to do.
Toast to creativity with paint and sip classes
If you're combing the Internet for unique birthday party ideas in Sydney or Melbourne, look no further than a paint and sip evening. These classes take your acrylic painting experience to the next level with free-flowing beverages of your choice. What better way to learn than with a glass of your favourite Pinot Noir or Chardonnay in hand?
Most classes are BYO meaning the choice is yours when it comes to beer, wine or bubbly. No worries if you don't want to drink. You're welcome to bring along a flask of tea or get funky with alcohol-free kombucha. Some classes even offer the option to add cheese platters, grazing boards and other goodies. Check with your teacher in advance if this sounds like something you'd like to add to your experience.
Create wall-worthy art
The past few years have seen Australians transition away from mass-produced homewares and towards more unique, homegrown pieces. Forget the overdone prints available at IKEA and in the Kmart homewares section. If you really want to create a unique space, bespoke art is a must.
In these social classes, you'll create your very own work of art to give pride of place on your wall. Remember, you're not striving for perfection. On the contrary, art is all about embracing imperfection and giving yourself permission to make mistakes. Not only will your newly painted masterpiece brighten up your home, but it will serve as a constant reminder that you're enough.
Wrap up a unique gift experience
If you're searching for thoughtful ways to spoil a loved one on The Gold Coast or in another Australian city, why not wrap up a gift voucher for a local painting class? Even better, round up a group of your closest friends and family members and throw a surprise paint party. These unique experiences bring everyone together and are so much more rewarding than yet another meal at your favourite restaurant.
Looking for fun hens party ideas in Adelaide or another state capital? Venture beyond the cocktail bar and plan a meaningful activity like an acrylic painting for beginners class. You'll love learning to paint alongside your besties, with plenty of opportunities to clink glasses along the way if you choose a paint and sip class.
Whatever your motivation, whether it's supporting local artists, learning a new skill or planning the birthday party of the decade, acrylic painting classes are sure to brighten up your week. You'll find classes across Australia, including major cities like Perth, Adelaide and Melbourne.