Have date night sorted early and surprise your partner with these gift experiences for couples this Christmas. There are hundreds of workshops and classes perfect for you and your partner to reconnect and feel the love, all while learning and trying out something new and exciting! You can't go wrong with these gift experiences!
Get creative, cook up a storm or even learn how to give your partner a perfect massage from the comfort of your home, there is no limit to what gift experiences you and your partner can try out as a couple. Whether you are looking for romantic things to do in Sydney or fun workshops in Perth, there is plenty out there for you and your partner to experience together.
There is no better time for you and your partner to try something new as a couple and get creative. Have a look at our top gift experiences for couples and discover fun and exciting ways to spend date night!
Try out a paint and sip class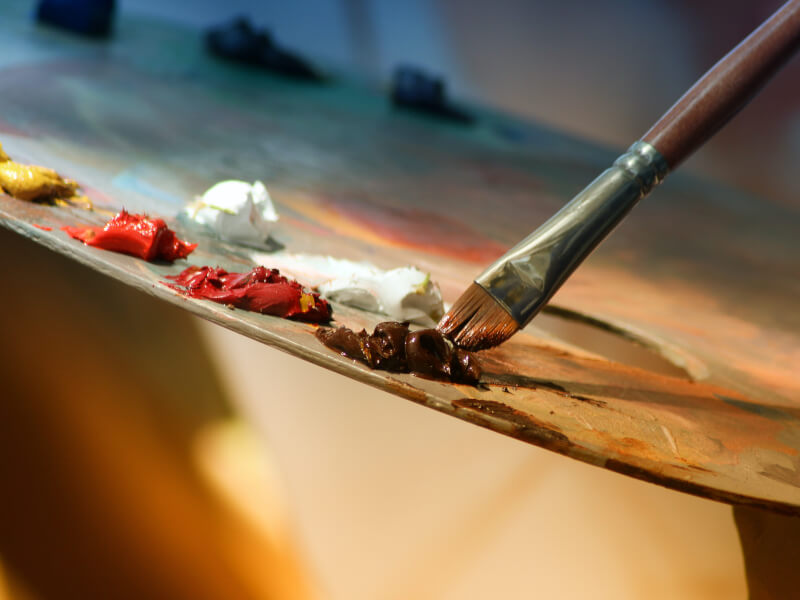 Painting and drinks are always a winning combination, which is what makes paint and sip classes pretty much impossible to get wrong! Join your partner in learning how to paint a beautiful masterpiece as you both sip away on delicious wine or champagne. There are so many paint and sip classes out there and a variety of artwork themes to choose from. This option is practically foolproof!
Paint and sip classes are positively booming in our list of fun Sydney activities and are one of our favourite things to do in Melbourne right now. You and your partner can leave one of these classes with a matching souvenir that represents each of you and your relationship on a canvas, and can be used as a unique home decoration that your guests will comment on forever! A paint and sip class is such a wonderful and memorable gift experience for couples that you should definitely try out together!
Cook up an Italian feast
We get it, cooking isn't always easy and sometimes life gets in the way of your culinary fantasies. But here is your chance to learn how to cook an Italian feast and connect with your partner as you do so. With one of our many Italian cooking classes, you can finally learn how to make everything from pasta and gnocchi to pizza and even Italian cheese! For the first time ever you and your partner won't be fighting over who has to cook for dinner tonight!
We don't know about you, but food is definitely our love language. Can you think of anything more romantic than kneading pizza dough together or cooking with fresh, fragrant ingredients? The best part is that you and your partner can enjoy your amazing meal together after your cooking class and stare longingly at each other as the moon hits your eye like a big pizza pie... What more could you ask for? Try out our Italian cooking classes in Melbourne and learn how to make gnocchi or test out one of our Salt Meats Cheese Sydney workshops.
Get creative with stunning cocktails
What's not to love about cocktails? They are delicious, beautiful to look at and so fun to make. You and your partner can join a private cocktail making class or even try out one of our top things to do in Sydney right now and get involved in a cocktail and dumpling cooking class. Cocktail making is truly an art form in itself, and there are many cocktails out there that you and your partner can enjoy mastering as a couple. Impress each other with your newfound skills and try out something new and exciting that you will both cherish for a long time!
You and your partner can learn from the best mixologists around Australia in these interactive and fun workshops, before sitting down to enjoy a zesty mojito or an indulgent espresso martini. Cocktail making classes are a wonderful romantic gift experience for couples and the knowledge and skills you learn together can be used to entertain houseguests for many years to come!

Feel closer to your partner with a massage workshop
How many times have you or your partner asked for a massage? It is an incredibly common request in a relationship but have you ever actually felt confident that the thing you are doing with your hands is actually helping your partner or causing them more harm? Why not try out one of our massage workshops or massage pamper packs and learn how to massage your partner from the comfort of your home.
Check out one of the pre-recorded workshops with Mandara Massage online and get a pamper pack delivered, or join a live class in Sydney. These classes are a great way to get intimate with your partner and feel completely soothed and relaxed.
Find inspiration for plant lovers with our floral gift experiences here.

Build on your relationship with pottery classes
Recreate that classic scene from 'Ghost' with your partner in one of our pottery classes. Have fun and get messy in a wheel throwing pottery class or hand-building clay class. There are so many creative and unique ways for you and your partner to express yourselves and feel closer as a couple. You may even like to try your hand at kintsugi and symbolically work through cracks in your own relationship. Pottery classes are a great hands-on experience for couples looking to relight that spark while creating something special and unique.
Build on your relationship as you build with clay! Experience one of our popular pottery classes in Perth or try out a relaxing kintsugi class in Sydney. No matter what you choose, pottery classes are a great gift for couples and an experience that you will never forget!
There is simply no shortage of what you and your partner can try out with our gift experiences for couples. Being creative and trying something different that isn't just a movie or a dinner date could be a great way for you and your partner to connect and feel closer together than ever. So? What are you waiting for? Surprise your partner with one of these fabulous gift experiences for couples and feel the love!