As we gear up for the festive season, it's the perfect time to start planning Santa's gift list. And guess what? We've got some creative and one-of-a-kind experience gifts in Sydney that are bound to make this Christmas truly unforgettable for your loved ones. How about treating Grandma to a delightful flower arranging class? Or perhaps you and your partner can have a blast getting your hands dirty with a wheel throwing workshop? These gift ideas are not only unique and fun, but they also show just how much you care about making this holiday 2023 season extra special for your nearest and dearest. So go ahead, explore our collection of Sydney experience gifts and get ready to bring joy and excitement to your loved ones' lives!
Ready to level up your gift-giving game? Check out our top 7 gift experiences for Christmas for every type of person.
1. Put a smile on their face with a floristry course
Get in touch with nature and learn how to create a floral masterpiece, whether it's a beautiful bouquet or a gorgeous DIY flower crown, flower arranging classes in Sydney are the perfect way to de-stress and make something beautiful at the same time. And, with their newfound skills, your lucky gift recipient will have the confidence to continue their floristry journey at home.
Suggested recipients: This one is ideal for the nature lovers in your life, or those keen to reconnect with some beautiful blooms.
2. Unwind with clay at a pottery class
Get messy, learn the basics of pottery and return home with a new, handmade ceramic bowl, teapot or vase. From hand building classes to wheel throwing workshops, pottery classes in Sydney will have your loved one creating with clay and indulging in some much-needed downtime.
What makes pottery classes even more appealing is the meditative quality they bring to your life. Kneading, shaping and moulding the clay demand your full attention, allowing you to temporarily disconnect from the outside world and find solace in the creative process. The tactile and rhythmic nature of pottery can be incredibly therapeutic, offering a welcome retreat from the hustle and bustle of everyday life. So, encourage your loved one to embrace the mess, unleash their artistic potential, and come home with a tangible, handcrafted masterpiece that they can proudly call their own!
Suggested recipients: Just about anyone, from your partner and your parents to your siblings and your best friend. It's especially useful for friends or loved ones feeling stressed or burnt out.
3. Foster creativity in a painting class
Imagine stepping away from the digital noise, letting go of the constant notifications and screen glare, and immersing yourself in a world of colours and creativity. That's precisely what painting classes in Sydney offer—an opportunity to unplug, unwind, and let your creative juices flow in a space where the only connection you need is with the canvas and your imagination.
Whether your giftee is a novice or an experienced artist, painting classes offer an unparalleled opportunity to rediscover the joy of making art and escape from the constant digital buzz. It's a chance to nurture their inner artist, unwind and craft a true work of art to cherish for years to come.
Suggested recipients: This is a gift that's great for people of any age, from your kids and close friends to your colleagues and grandparents.
4. Get your loved ones shaking at a cocktail class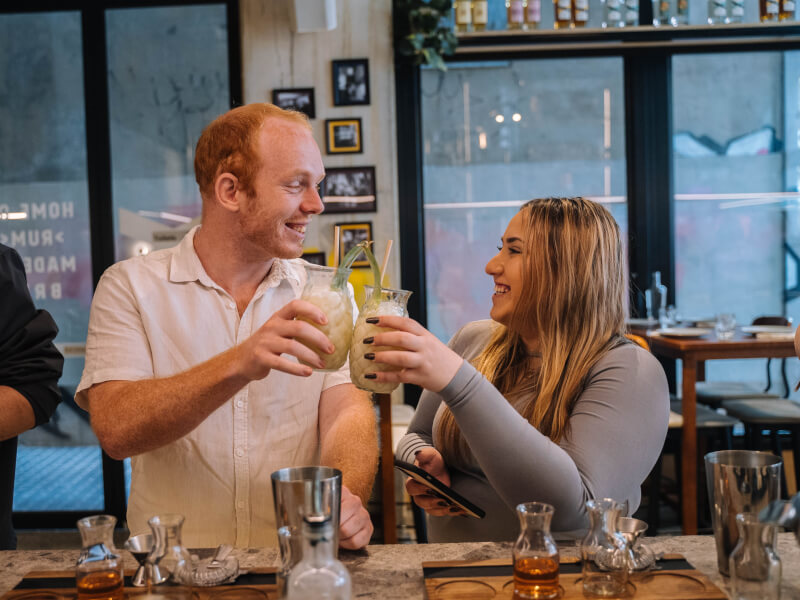 Shake, stir, muddle and garnish your way into the exciting world of mixology with a cocktail making class that promises not only a fantastic time but also skills you'll undoubtedly find useful in the upcoming year. From mastering the art of creating the perfect martini to adding innovative twists to classic mojitos, these classes are a delightful journey into the realm of spirits and flavours.
But it's not just about learning to mix drinks; it's about the experience itself. Cocktail classes offer a unique setting where you can bond with friends, family, or even your significant other. There's something inherently fun and engaging about shaking up your own concoctions, and the atmosphere is often filled with laughter and connection. So, gift a cocktail making class and watch as your loved ones embark on a journey of mixological exploration, bringing a little more zest to their upcoming year's festivities.
Suggested recipients: Close friends, your cousins and your siblings. This is also a great date night idea for couples.
5. Build a DIY terrarium
DIY terrariums are very on-trend right now. Reconnect with nature and learn how to build and decorate your very own terrarium to take home. With these indoor activities, your special person will get to play with succulents, soil and pebbles to create a mini ecosystem. The best part? They're super easy to care for afterwards, so even the brownest of thumbs will get the most out of these Sydney experiences.
Suggested recipients: This is another one that's perfect for almost anybody—from your kids and partner to your parents and best friend. A terrarium class would also make a great team building activity for your staff at work, and is perfect for work Christmas party ideas in Sydney.
6. Jump on a 2023 crafting trend with ceramic painting
Do you have a loved one with a penchant for creating unique and personalised home decor pieces? Ceramic painting classes offer an excellent opportunity to craft custom pottery pieces that reflect their personality and style. From mugs and plates to figurines and vases, there's no limit to the items you can decorate with your own designs.
Pottery painting Sydney classes typically provide all the necessary materials, including ceramics, paints and brushes. With expert guidance, participants can experiment with various painting techniques, such as hand-painting, stencilling, or even using intricate glazing methods. It's an engaging and relaxing experience that allows your loved one to express themselves artistically while also crafting functional or decorative items for their home.
Suggested recipients: Ceramic painting classes are perfect for anyone who enjoys creative crafting, from your artsy friends and family members to coworkers looking for a new hobby.
7. Encourage slow-made fashion with sewing courses
If you know someone with a passion for fashion or a desire to create their own 'slow' pieces, sewing classes are a fantastic way to kickstart their DIY journey. These hands-on courses and classes cover everything from the basics of sewing and using a sewing machine to creating garments and mastering essential sewing techniques.
Sewing workshops in Sydney provide a wonderful opportunity to design and craft clothing items that perfectly fit your style and preferences. Your special person will learn to create one-of-a-kind pieces, from dresses and shirts to accessories like bags and scarves. Whether they dream of crafting couture pieces or simply enjoy the art of stitching, sewing classes will empower them to make their DIY dreams a reality.
Suggested recipients: Sewing classes are perfect for those striving for sustainability, creative minds, or anyone interested in developing a new 2023 hobby.
Find more unique gifts for friends here!
We have carefully curated a whole range of creative, hands-on workshops that make for truly wonderful Christmas gifts—we're talking everything from terrarium building and candle making classes to flower arranging and even juggling lessons. Whether you're shopping for your parents, partner, kids or colleagues, we've got something for everyone.
The best part? You don't even need to leave your house to purchase a creative Sydney workshop. With the click of a button, you can either book a specific workshop for your intended recipient here or simply buy them experience gift cards. We'll send out lovely gift cards or you can get the vouchers emailed to you as easy-to-print PDFs—perfect for those really last-minute Christmas presents!
Our workshops take place all over Sydney every day of the week, AM to PM, and by attending or purchasing a workshop, you will be supporting a local small business or artist. Plus, one dollar from every one of our workshop bookings gets donated to Dementia Australia — 'tis the season of giving!
Gift a unique experience
Pick a fun experience for them, or let them choose from our thousands of creative classes and kits.
Valid for 3 years.
card_giftcard Get a gift card