If you're searching for standout presents for Mum, then look no further than these unforgettable Mother's Day gift ideas. Instead of buying her yet another perfume bottle, you'll have the opportunity to spend time together and bond over a fun activity that you will always remember.
You and mum will love spending time together while trying something different and developing some impressive creative skills. You could discover exotic recipes in a cooking class or create stunning lamps fit for the fanciest Ottoman palaces. If mum has a penchant for the finer things in life, how about spoiling her with an artisan wine and chocolate tasting tour? Whatever you choose, there are hundreds of Mother's Day gift ideas in Sydney, Brisbane, Perth and more to please every personality.
Best of all, these fun things to do in Australia are more meaningful than traditional Mother's Day flowers or Mother's Day lunches because they'll encourage mum to invest in her wellbeing. Our welcoming workshop environments inspire limitless creativity and, together, you and mum will be able to explore your city's vibrant artistic underbelly.
Every present for Mum is beginner-friendly, so it doesn't matter if she's never dipped her toes into cooking or crafting before. A friendly teacher is always on hand to help with the tricky bits, and you'll both leave with the confidence to continue making masterpieces at home.
Are you ready to discover some of the best Mother's Day gift ideas in Australia? Of course you are! Keep reading as we reveal several hidden gems across the country that'll make her feel truly special.
Explore Asian cuisine and make delicious dumplings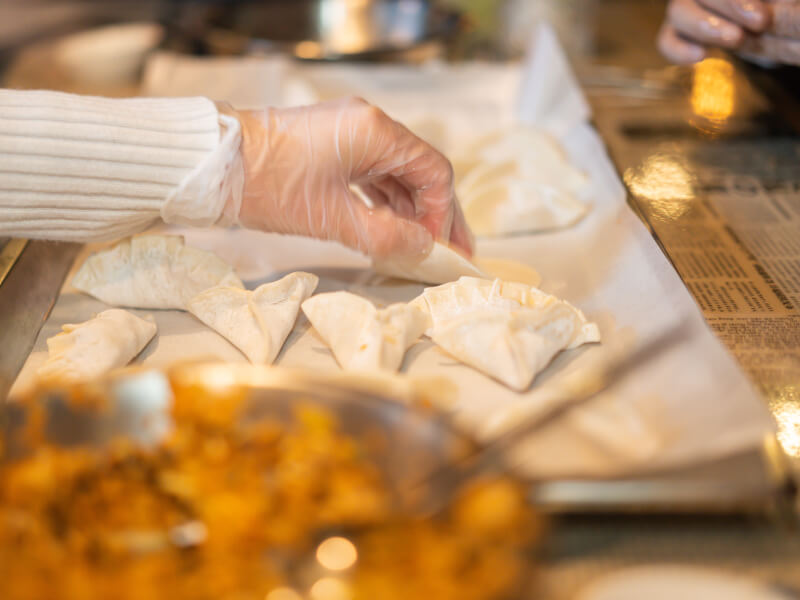 Looking for fun things to do for Mother's Day on May 8th? If Mum's a fervent foodie who loves cooking up a storm, head to this cocktail and dumpling making class in Sydney. You and Mum will catch up while learning classic Asian cooking techniques and enjoy a buffet of mouth-watering morsels.
During the course, you'll experiment with unusual spices and herbs that pack a powerful flavour punch. As well as making pork and lemongrass dumplings, you'll try your hand at vegetarian parcels jam-packed with healthy mushrooms, cabbage and garlic. No meal would be complete without something to wash it down, so you'll also mix authentic lychee and pop trio cocktails as the pièce de résistance. It's not a Mother's Day lunch without a fruity cocktail!
Not only does this Mother's Day present promise several hours of undisturbed entertainment, but it'll give you the skills to level up those mundane family mealtimes. Who needs pasta or pizza when you could prepare colourful recipes made with uplifting ingredients? If she's not too keen on cooking, check out these tried-and-tested gift ideas for mums without a wishlist!
Step up her self-care and make fragrant candles
Mother's Day is about showing mum how much she matters, and there's no better way to do that than by inviting her to this beginners candle making class in Sydney. Bath times and quiet nights sat reading in the garden are even more magical when cocooned by delicate fragrances and a soft twinkling glow.
A happy Mother's Day needs its good share of sweet smells. During this mesmerising workshop, you and mum will learn how to make DIY candles infused with soul-soothing essences. You'll tackle pillar, container and beeswax candles before moving on to tealights and soap.
This experience takes place at a well-stocked home studio and is capped at eight people, meaning you'll receive one-to-one tuition for professional-looking products.
Craft stunning Turkish mosaic lamps
Mother's Day gift ideas don't have to be boring. Instead, dive headfirst into hands-on craft activities in Australia! In this Melbourne Turkish mosaic lamp workshop, you and mum will nourish your inner artists and replicate the gorgeous ornaments found in Istanbul's Grand Bazaar.
Over two joyful hours, you'll formulate designs, cut geometric patterns from stained mosaic glass and secure your pieces using durable glue. Once the hard work's complete, you'll both walk away with stunning masterpieces to dazzle loved ones.
Learning a Mother's Day craft is hungry work. That's why you'll also enjoy a traditional Turkish tea service with an assortment of tasty sweets to give you the energy to bring your visions to life.
Play with clay and create beautiful Japanese lanterns
Tucked away in Brisbane, this Japanese lantern pottery workshop is a relaxing Mother's Day adventure that swaps social media for playing with clay. Alongside manipulating raw materials into breath-taking garden ornaments, you and mum will benefit from some quiet time away from technology.
Here, you'll unearth the restorative benefits of pottery. The meditative rhythm of hand-sculpting and wheel-throwing immediately grounds anxious minds while giving you a chance to step away from life's endless to-dos. There's nothing quite like getting messy together to bring you back to the present moment!
One of the best possible presents for mum, this experience is the gift that keeps on giving. The thing about artistic pursuits is that they are far more empowering than Mother's Day flower deliveries. Mum will pick up the skills to complete tricky DIY projects and meet like-minded locals who share her enthusiasm for sculpting.
Indulge your appetites with a chocolatier, wine and distillery tour
This chocolatier, wine and distillery tour in Canberra is a fun thing to do for Mother's Day – with a twist. Even though she'll love attending solo, why not tag along and sweeten up your day with a collection of the city's finest beverages and cacao?
On this intimate group tour around the capital, you and mum will visit two wineries, one distillery and a master chocolatier. You'll gain an in-depth insight into the production process at each location while tasting delicious drinks and chocolate treats
Still hungry? Not to worry – you'll also be met with a tantalising Mother's Day lunch overflowing with local produce. Canberra is a melting pot for different cuisines, making it the ideal destination for mums with hearty appetites.
We hope these Mother's Day gift ideas have shown you that presents for Mum don't have to be relegated to cards and crowded restaurants. Forget about overdone Mother's Day classics. Instead, opt for extraordinary Mother's Day crafts, culinary experiences and artistic activities that'll cultivate her curiosity.
Every workshop is suitable for solo adventurers, but we suggest making the occasion one to remember by setting aside some time together. After all, the best Mother's Day present will be spending the day with you!