Hunting down unique gifts in Sydney isn't necessarily hard, it just takes a bit of searching. With so many quirky thrift stores, shopping districts and artisanal pop-up shop, finding unique gift ideas in Sydney is like searching for a needle in a stack of needles. One way to really stand out, however, is to create your own unusual gifts!
Perfect for someone close to you, creating DIY gifts do more than just offer someone a present. It shows how invested you are in them, and that you bothered to spend the time making them something especially for them. It conveys thoughtfulness and love on a much deeper level than just grabbing the first sweater off the rack at Target.
So, in honour of your search for cool gifts in Sydney, ClassBento has compiled a shortlist of some of our favourite unique gift experiences for that special someone, as well as some of our best Sydney workshops for people looking to create the gift themselves.
What with lockdown laws stifling mobility somewhat, there's a high chance that you've picked up a skill or two in your downtime that may benefit your list of unique gift ideas. Not that there was any pressure too, by the way. If like so many of us, you spent isolation binge-watching Tiger King and lamenting the news, we have some Sydney workshops that'll get your brain firing and your hands crafting, so you can whip up cool and unusual gifts to spoil a friend, a partner, a parent, or your local Woolworths service member (the true MVP's of the pandemic).
Although one of the DIY gifts that is a little more old-fashioned, nothing says "I care" like punch needle embroidery. Easier than a painting but just as creative, learning punch needle embroidery leaves you with a set of skills that you can use to reproduce beautiful works of textile art over and over again, and continue making unique gift ideas and decorations.
Our punch needle embroidery class is ideal when searching for unique gifts for her, him, they, or all of them. Seriously, a punch needle embroidery piece can really give a house an old-school feel when it comes to decorating. Our Introduction To Punch Needle Embroidery class is one of the best things to do in Sydney if you're looking for a comprehensive start into the world of textile art. Although that rhymed, please don't get hung up on it. This is one of the most unique gift ideas you can choose, so you must focus.
Punch needle embroidery is often described as "painting with thread" and allows you a level of creative freedom other forms of fabric art don't. On top of this, you can also purchase punch needle stencils to create very specific images with your yarn off websites like Etsy and RedBubble. This allows your cool gifts to be tailored specifically to the taste of the gift recipient!
If working with thread isn't your style when hunting for unique gift ideas, don't stress. Showing your appreciation for an individual can also be shown through the medium of paint! As far as unique gifts for men and women go, painting someone a picture is a real throwback, and one of the most thoughtful DIY gifts available in Sydney.
ClassBento has a wide variety of paint and sip workshops that are ideal for learning how to paint whilst enjoying a few glasses of wine. These make for unique gift experiences, so we'll put them on the backburner for now. Discovering your own inner artist, however, may need a more personal approach.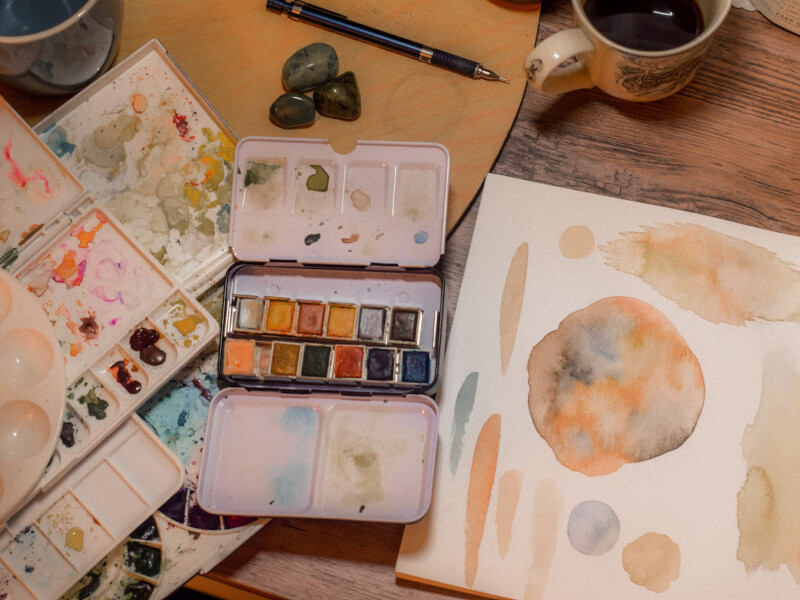 Thankfully, ClassBento has a plethora of talented artists who are more than happy to share their wisdom with you and help you create unique gifts for the ones you love. Local Sydney artist Blair Zhang runs an incredibly exciting Beginner's Watercolour Painting Course! Running over three 30-minute sessions as part of our LiveBox feature, you won't even have to leave your house to gain all the expertise you'll need to begin your watercolour journey.
With Blair on the live stream, you'll create unique gift ideas along with her at home, using materials and tools sent straight to your door (or, if you already have watercolour paints, you can just attend the live stream classes at a lower cost).
Not only is this one the best things to do in Sydney if you're looking at finding your artistic voice, but as far as cool gifts go, painting someone a watercolour masterpiece is meaningful and colourful.

Unique gift experiences to give
Making cool gifts is awesome, but making something together is also cool. The coolest, in fact. Offering up unique gift experiences isn't just a great way to share a memory with someone, but it also lowers your consumption and carbon footprint! Instead of cluttering someone's house with mass-produced presents from Big W, how about creating - pause for effect - a memory together…
Remember how a few paragraphs above there was mention of paint and sip classes as awesome? Exactly.
Painting together is an incredibly rewarding experience, but doing it in a fun and inclusive environment with a couple of drinks in hand is truly sublime. Paint and sip classes make for fantastic unique gifts for men and women, and you'll each walk home with your very own artistic creation. Looking to really jazz things up and make your unusual gifts particularly personal? Sip and Strokes in Cammeray will teach you how to paint each other! They also run a variety of awesome classes, so check them out here for more Sydney workshops.
Whatever you choose, making your own unique gift ideas is a fantastic way to show someone you really care about them. With so many things to do in Sydney, there's a whole world of cool and unusual gift ideas for everyone you care about.
Suggested workshops in Sydney