If you'd love to shake up your usual Friday night routine and try something quirky and creative for a change, why don't you sign up for pottery classes in Australia? Learning the art of wheel throwing is quickly becoming one of the most popular evening activities in Australia and for good reason. Signing up for pottery classes gives people the chance to try something new, discover unique ways to channel their creativity and meet other like-minded folks at the same time. Add in a bottle of wine or two, and you're all set for a fun-filled Friday night with a difference!
Keen to try a ceramics class for yourself and see what all the fuss is about? There are so many reasons why taking a clay and sip workshop is an inspiring replacement for a night of cocktails and wine bars. Here are just a few of the benefits of trading in a pub crawl or a bar-hopping session for a couple of hours of sipping wine and throwing clay!
Pottery workshops are a fun way to spend quality time with your best mates
If your social life has taken a bit of a nosedive over the last couple of years – and, let's face it, who hasn't? – then signing up a few of your closest friends for a pottery course at a local ceramic studio is a great way to reconnect. You can share giggles and gossip while practising your wheel throwing techniques and give each other moral support as you learn how to create your very own clay masterpieces under the watchful eye of your friendly and experienced teacher.
Signing up for a clay and sip session, where you get to sip wine or your favourite cocktail while you pick up some pottery techniques, adds an extra element of fun and relaxation that you and your mates are sure to appreciate.
Whether you live in Canberra, Adelaide or Melbourne, it won't be hard to find a laidback and inspiring pottery course for you and your friends to enjoy together. Before long, you'll be swapping stories, laughing and joking just like you used to, while you learn how to pinch, coil and sculpt your clay into unique works of art that will be glazed and fired for you to take home and proudly display.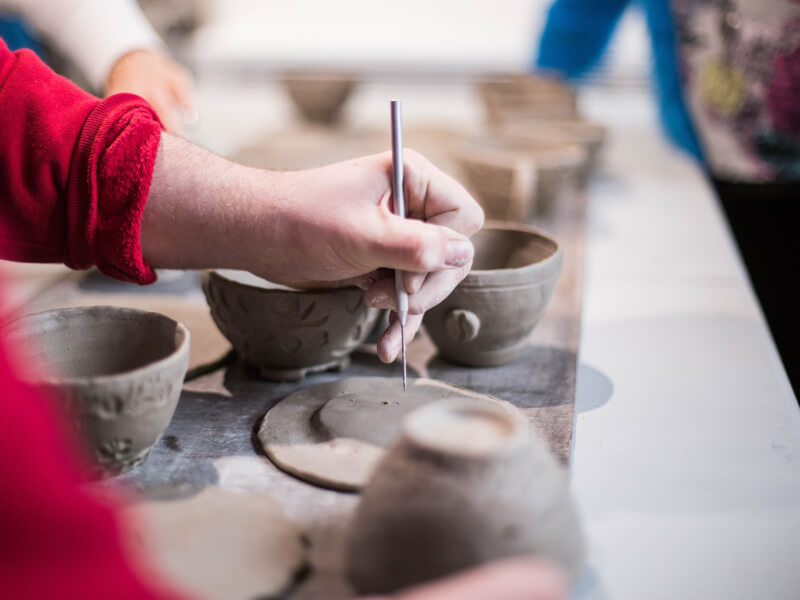 A beginner pottery class is the perfect form of art therapy
In these interesting times, it can be easier than ever before to fall prey to heightened stress levels, and even depression and anxiety. That's why it's so important to find an enjoyable and relaxing activity that helps you to cultivate a little calm, unwind and forget about all your worries.
Artistic pursuits are the ideal solution, as they engage the senses and focus the mind, providing a soothing outlet for your emotions and your creativity. Just wait and see - putting your name down for a clay and sip class could be just the activity you're looking for to add to your self-care routine. Each workshop provides a soothing and nurturing environment for you to learn some new skills, mingle with other like-minded people and forget about whatever is worrying you
As you master the art of throwing clay and pick up some helpful tips on how to gently pinch and mould the clay into the right shape, you'll soon feel your stress levels falling. By the time your pottery masterpieces are complete and ready to be painted in your favourite vibrant colours, you'll be feeling much calmer and a lot more positive!
Discover a fulfilling new hobby at your local clay studio
Once you've tried a beginner pottery class or two, you may find you enjoy it so much you want to do it on a regular basis. It doesn't matter if you don't have a lot of artistic experience, wheel throwing is an activity that is accessible to everyone, and with the help of your skilled teachers, it won't be long before your clay sculpting confidence is soaring.
For one thing, making your own pottery masterpieces is a lot of fun and a wonderful way to re-engage with your creativity. For another thing, there are so many stunning handcrafted items you can make, so there's never a chance to get bored. From elegant pottery vases, dishes and cups, to adorable flowers and Halloween pumpkins, or perhaps some gorgeous ceramic planters to put in your garden, there are so many cool projects to get stuck into!
Arrange a ceramics class for every Friday evening, and you'll have something fun and creative to look forward to each week – a guaranteed mood-booster!
Did you know pottery classes are the new meditation? Find out more here.
Treat your loved ones to some pottery classes
As well as providing you with regular entertainment and a place to channel your creativity, your local pottery studio is also the perfect place to send your nearest and dearest.
For instance, are your parents coming into town for a visit? Why not book them a wheel throwing session as a fun-filled artistic surprise? Whether you live in Brisbane or Adelaide, treating your folks to a clay and sip session is a thoroughly enjoyable way to introduce them to your city – and they'll have plenty of fun picking up some new clay sculpting skills in the bargain.
Pottery workshops make amazing hen party ideas
If your best friend or your much-loved sister is soon to tie the knot and you're racking your brains to come up with some unforgettable hen party activities, why not suggest a clay and sip workshop? These stimulating pottery classes make ideal hen party ideas, particularly if you book a private class just for you, your glowing bride-to-be and her hens.
You can bring some bottles of wine or champagne, as well as some tasty sweet treats, and enjoy your very own pottery party! Each of you will be guided step by step through the sculpting and decorating of a personalised pottery creation, which will then be glazed and fired so you can take them home as mementos of this special celebration!