If you're searching for fun things to do in Sydney, Melbourne, Brisbane or more, then look no further than these exciting couples cooking classes in Australia. Together, you'll rediscover your passion for each other while learning how to cook an exquisite collection of mouth-watering dishes, including superfood sushi, fresh pasta and aromatic curries!
Not only will you feast on a buffet of international delights, but couples cooking classes encourage you to spend some quality time together, free from social media scrolling. You might roll pizza dough in an Italian cooking class or experiment with unusual salad leaves in a vegan cooking class. Whatever tickles your fancy, every warm workshop environment cultivates cherished memories that last a lifetime.
Turn lacklustre meals into delicious culinary experiences
Thanks to our increasingly busy schedules, jam-packed with professional and personal to-dos, it can be tricky to find the time to cook nourishing food. Perhaps you've been swapping hearty dinners for a few slices of toast or missing breakfast entirely in between school drop-offs and Zoom meetings? While understandable, skipping meals will only leave you feeling sluggish and unprepared to tackle whatever tasks lay ahead.
Thankfully, there's a simple solution – couples cooking classes that feed your enthusiasm for exotic flavours! When you build your confidence at culinary school, you'll feel inspired to practise brand-new recipes at home. Best of all, learning how to cook together will give you something to look forward to in the evening. Who needs the television on when you could share the day's news over paella and pinot instead?
Tempt your taste buds with tangy South-East Asian cuisine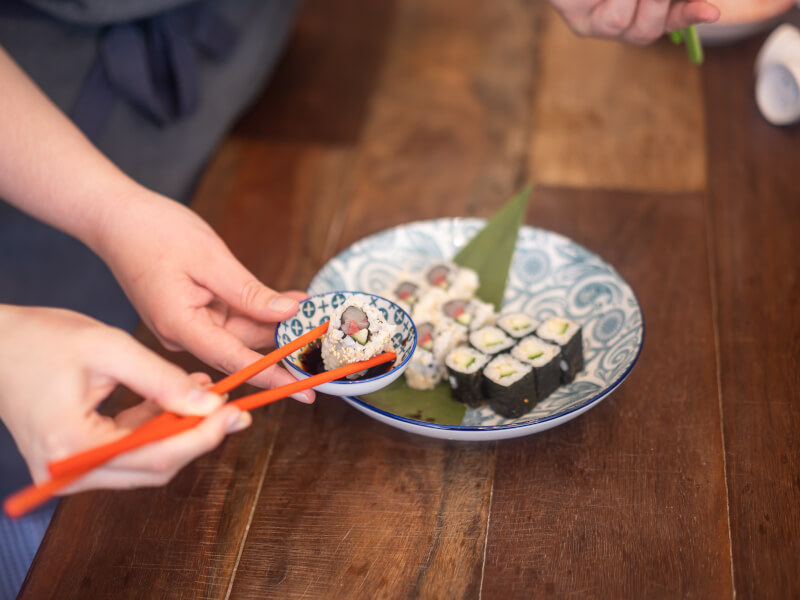 If you can't travel to far-flung locations, Thai cooking classes in Australia are the next best thing. You'll take your taste buds on a lip-smacking journey through iconic dishes like tom yum soup, pad thai and gaeng daeng. Perfect for spicy duos who love to step outside their comfort zone, these couples cooking classes promise to turn up the heat for your next date night idea.
Of course, no Thai cooking experience is complete without an introduction to the country's best street food. This hands-on Thai street food cooking class in Sydney will teach you how to prepare authentic massaman curries and beef salads oozing with unusual spices and flavours.
The accomplished Chef Pat will share her insider tips and tricks for professional-looking dishes throughout the course, while inspiring you with her boundless energy. Once the hard work's over, you'll enjoy your cockle-warming creations alongside a refreshing Thai beer.
Most importantly, you don't need prior knowledge to join these engaging cooking lessons because every workshop is beginner-friendly for aspiring chefs. Your talented local teacher will guide you through the cooking process step-by-step, answering your questions and providing feedback tailored to your needs.
Practice making Spanish paella and sugar-dusted churros
If you're on the hunt for must-do Perth activities, head to a lively Spanish cooking class and get creative with fresh seafood. This adventurous couples cooking class invites you to leave your inhibitions at the door and play with phenomenal, pheromone-enhancing produce like monkfish, lobster and clams.
As well as studying under the brilliant Chef Riki, who's a time management maestro, you'll also meet plenty of like-minded individuals to invite to your next dinner party. After serving and tucking into the main with your new friends, you'll don your apron for a second time to make melt-in-the-mouth churros and a hot chilli chocolate dipping sauce.
Savour breakfast-friendly cooking classes for beginners
It doesn't matter if you've never flambéed before because couples cooking lessons are suitable for complete beginners. Arm in arm, you'll master finickity techniques for tasty treats and work together to produce menus fit for the fanciest bistros. It's true what they say – teamwork makes the dream work!
Even the most nervous beginners are sure to adore this Brisbane breakfast masterclass, where there's ample time to brush up on pastry and bread making skills. You'll start by whisking a homemade hollandaise sauce for classic eggs benedict, before moving on to flaky croissants and fluffy brioche. If you've always wanted to spoil your significant other with a romantic breakfast in bed, this cooking class for beginners will help you swap boring bowls of cereal for a seriously impressive spread.
Recruit your partner for an evening of pasta making
Draw inspiration from the winding streets of Venice and indulge in your favourite pasta at this Italian cooking class in Melbourne. What could be more romantic than kneading and rolling dough while the heady scent of simmering tomatoes and garlic permeates the air?
In this easy to follow cooking class for beginners, you'll combine flour and eggs before feeding your mixture through a pasta machine. You'll focus on two much-loved varieties from the Emilia-Romagna region: tagliatelle and garganelli. To accompany your pasta, you'll stew a rustic gypsy sauce using rainbow vegetables and powerful aphrodisiacs like olive oil and basil.
Try a cheese making and tasting class for dessert
Forget about chocolatey puddings and heavy after-dinner delicacies – round off your meal by sampling a selection of cheese and fine wine! This cheese making class takes place in Adelaide's famous Barossa Valley, a renowned wine-producing region celebrated for its juicy Shiraz grapes and stellar nightlife.
Your knowledgeable instructor, Erin, will accompany you as you create a delicious round of Camembert cheese that could rival the best brands on your local supermarket shelves. Once you've grappled with maturation and pasteurisation, you'll try several kinds of cheese and sip on a flight of handpicked wines that perfectly offset the unique flavours.
If you're still hungry for adventure, how about making a night of it and hitting the valley's hottest bars? There's a wealth of restaurants, distilleries and breweries nearby that showcase some of Australia's finest fare and alcoholic beverages.
Still need convincing? Here are 9 reasons why you should learn how to cook at a culinary class.