Get into the flow of sketching and be inspired by something you love at drawing classes in Sydney. Learning how to draw is so easy and fun when you know that the end result will be your favourite person, pet or neighbourhood! Guided by a passionate and experienced local artist, you'll discover basic drawing skills and techniques to bring your muse to life and to create many more DIY drawing projects at home.
Drawing classes for beginners are a great way to unwind and practise mindfulness in a supportive and judgement-free environment. Take time out of your week to focus simply on creating lines, shading and contour on the page in front of you and let all your worries melt away. On the search for unique and classy hens party ideas? Invite your favourite ladies to a creative retreat where you can learn life drawing together, and celebrate with a bottle of bubbles. Sketching classes also make for great team building activities in Sydney. Try out a 'draw your colleague' workshop and create a stunning mural for your office with everyone's unique faces and drawing abilities on full display!
What could be more special than drawing a portrait or special memory for your loved one to cherish? The drawings you create at these Sydney workshops are truly meaningful gift ideas that'll make your special someone feel really appreciated. If they love getting creative as well, why not surprise them with one of these unique experience gifts? Learn how to draw portraits of your children, pets or each other and return home with beautiful, lasting memories.
Sketch from the heart with these Sydney activities and say hello to your new favourite hobby!
Learn how to draw a portrait of your favourite person
One of the best gift ideas for your special someone is drawing them a unique portrait of their face. There's nothing more romantic or sweet than showing your partner or loved one how much you care about them and how you notice every little special detail and feature they have. With so many portrait drawing classes in Sydney available, you can pick and choose the sketching style you like most to capture your favourite person's personality on paper.
Whether you've never sketched before or have some experience, there's something out there for all levels and abilities. Try a portrait sketching class in Tempe and start by learning drawing basics or explore portraits with more detail in Ultimo, perfect for beginner and intermediate artists alike! If you're looking to truly level up your drawing skills then this five-week portraiture course with live models will give you all the confidence you need to make your own DIY artworks.
Sketch your fur baby at a draw your pet class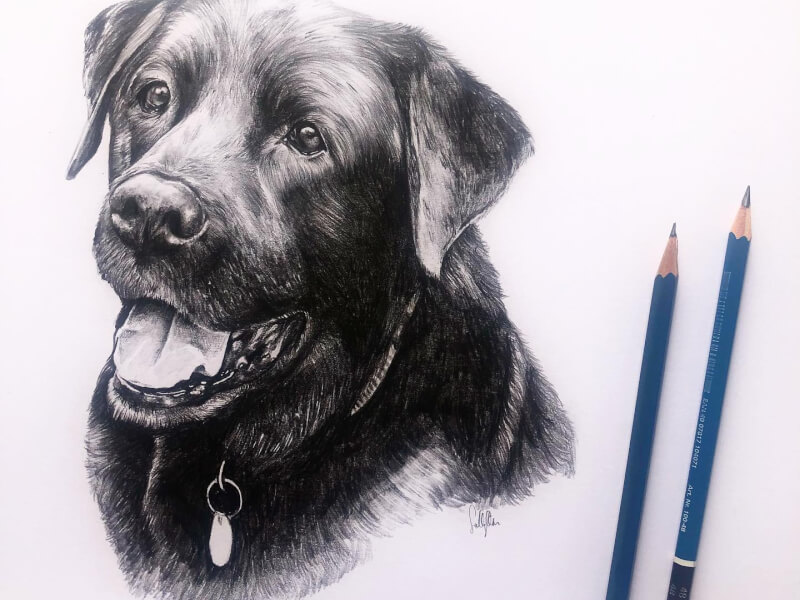 With these unique things to do in Sydney, you can draw your pet from any perspective and even practice shading and contour techniques for more depth and detail. You will take home a beautiful, framed paw-trait of your fur baby to hang in the hallway or in the lounge room for all to see! If you have a furry bestie, being able to draw them is a great way to capture every aspect of their personality in a fun and unique way. For animal lovers, learning how to draw your pets is so much more than just a hobby – it's an opportunity to get closer to the creatures that mean so much to you.
Capture those expressive, puppy dog eyes at this doggo drawing class in Redfern. Create a special memory together by having your best pal model for you over two and a half hours while you sketch their unique features on paper. You can even bring along their favourite toy to get that extra bit of personality into the portrait piece!
Love going for walks and other outings with your besties and their dogs? This hands-on class is a great way to get everyone (furry friends included) together for a relaxed hens night or birthday party. Not only will this be an adorable gift experience for all involved, but everyone will take home their own unique and special artwork to cherish forever.
Bring your favourite neighbourhood or street to life with urban sketching
Whether you've grown up in Sydney or have just moved here, there's nothing quite like exploring the streets you live on with a sketching class! Urban sketching is a unique way to bring the places you love to life and discover new perspectives as an adult.
Sketching can be a great way to unwind and let your mind wander as you turn the world around you into art. Urban sketching is all about capturing the little details of daily life, from people to buildings and everything in between. Take your favourite street or neighbourhood with you on your next trip and practise drawing it as if it's a landscape that might one day hang on your wall!
Try an intermediate or beginners urban sketching class at Sydney Community College with artist Elinor Pickard and capture the mood of all the sights you explore around Rozelle. Or head to Darling Square and learn how to sketch what you see with illustrator and art therapist Sally Conwell. If you're looking to add vibrant pops of colour to your urban landscapes then try a sketching course with painter and sketch artist Anna Barr in Mosman and learn how to create tone, depth and shadows in your drawings using watercolours. If you've been searching for unique team building activities where you and your colleagues can try something a little different, then get out and explore your neighbourhood with an urban sketching class!
Whether it's your special someone, your loyal pet or your favourite Sydney neighbourhood, drawing classes in Sydney are a great way to appreciate something you love all while gaining exciting new skills and making beautiful works of art. Get creative at these hands-on workshops and sketch your heart's content!
Drawing workshops in Sydney