Blair Zhang is a food-loving illustrator who paints puppies, flower petals and pastries for a living. A self-professed cat-lover and carb queen, she has a knack for capturing everyday objects (think vegemite jars and jelly beans) and turning them into something beautiful.
Attracted by the ease and simplicity of the medium, Blair discovered the mood-boosting benefits of watercolours while navigating life in a shared apartment. With no space for an easel or any extra equipment, she picked up a "watercolour for kids" kit back in 2014 and started to paint pictures of her daily eats.

Nowadays, the Sydney-based artist spends her time teaching the basics of brushwork to total beginners. With a focus on progress over perfection, Blair's philosophy is as uplifting as the splashes of colour in her work – because when it comes to painting, there's no such thing as right or wrong.
The first thing I ever made…
Was a paper-mache shark I created by following Art-Attack (yes, we watched Art Attack in China too – and the host spoke Chinese). My grandpa chucked the shark out because he didn't recognise what it was. It wasn't funny to the 5-year-old me!
I'm on a mission to...
Teach my students that mindset is even more important than mastering a smooth gradient in the first class. Beginners like to think about 'right' or 'wrong' when they start painting, but if you enjoy the way you paint and the way your work looks, that's totally fine!
When I'm painting with watercolours, I…
Feel relaxed but concentrated and patient. I don't notice how time flies. I guess this really shows how much I enjoy and love it because, the rest of the time, I feel like I'm running around.
Teaching others has taught me…
To be more considerate and try to think about things from another perspective and to be more logical and encouraging. At the very beginning of my teaching journey, I would sometimes forget to explain certain techniques. I wouldn't realise that what I was doing was considered a "technique" and assume that it was easy. Students would ask the simplest questions and then I realised that it was the same as when I went to a pottery class and kept on asking the instructor "is this cup too thick? Is this thick enough? How thick should I make it?". I started to look at the whole class from a beginner's point of view and plan the class with a good flow that gives them enough time to adapt and slowly add in more advanced techniques. Also, I sum up some common mistakes and then demonstrate them so when it happens my students don't panic. On another level, teaching has made me more empathetic in general. I've taught almost a thousand people and all of this has really given me an understanding of the fact that everyone is different.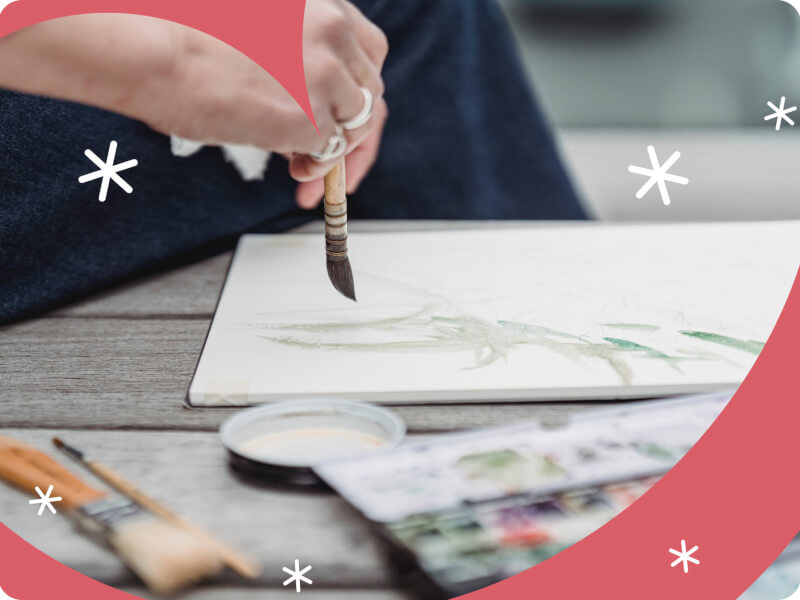 The holiday season smells like...
Like Asian street food, the mosquito repellent incense my grandma burns or the smell of cold cold air in winter. I might even breathe in a snowflake. I spend most of my holidays going back to (or at least stopping by) my hometown in China and it's the opposite season to Sydney.
This year I'm grateful for…
Everything so far – grateful for the blessing that my family and I are still safe and healthy in this pandemic, grateful that I am still able to teach classes online with ClassBento and bring people a peaceful and enjoyable experience with watercolours. I'm grateful that I still haven't burnt my kitchen down while learning to cook during lockdown. So, pretty much everything. I'm happy and grateful for everything now.
Watercolour Painting workshops