Transform your living space with eco-friendly homewares, handmade by you, at ceramics classes in Melbourne! Guided by experienced, local potters, you'll learn how to sculpt clay vases, mugs, bowls and more, using versatile clay and gain confidence with this fun, hands-on medium. If you're looking for fun things to do in Melbourne, try out these pottery classes and personalise your ceramics so that they look good in your home and minimise your eco-footprint too!
Instead of buying mass-produced, poor-quality homewares from the store, support local pottery studios in Melbourne by trying your hand at a ceramics class. Not only will you be able to make gorgeous, custom-made items, you'll also learn wheel throwing and clay hand building skills that you can use for your own DIY projects at home.
After ways to lift your team's spirits after a busy month of work? Connect over clay at pottery team building activities and experience the incredible wellbeing benefits of this mindful practice. Pair the class with wine and you've got your next special occasion sorted too. Gather your besties and try out a clay and sip hens night or birthday party event and enjoy a few beverages as you get messy creating eco-friendly homewares!
Follow this guide to the many sustainable items that you can make for your home at Melbourne pottery classes and brighten your day with clay!
Create a stylish, ceramic vase or planter
There's nothing worse than receiving a gorgeous flower arrangement or cute succulents and having nowhere to display them. With a pottery wheel throwing class, you can make a statement vase that will spruce up any bouquet. Or, try pinch pot techniques to create a unique clay planter and give all your little green friends a stylish new home. The best part? You can completely customise these fun objects and add your own personal flair with pottery painting and glazing.
Looking to add more greenery and decorations to your workspace? Try out one of these Melbourne ceramics classes with your colleagues for team building and make sure everyone has a personal and unique item for their office desk!
Update your kitchenware with ceramic art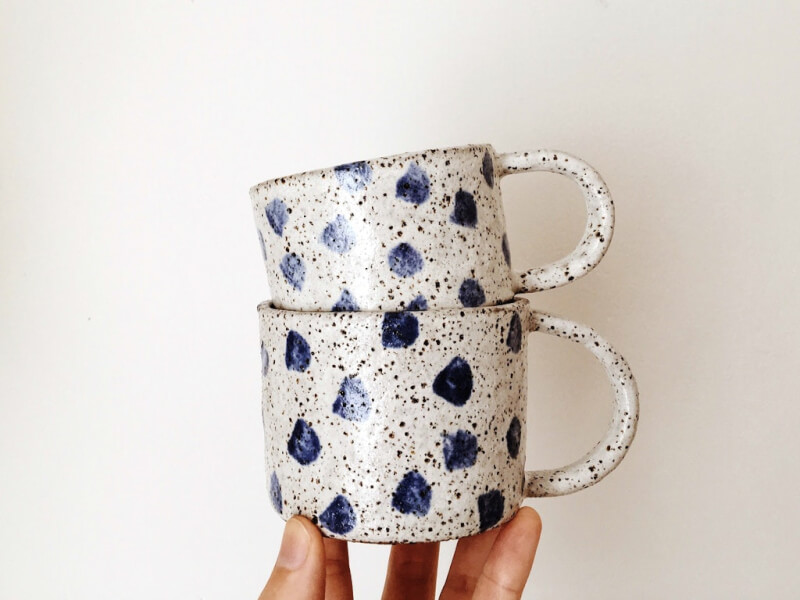 Learn pottery basics at one of these Melbourne workshops so that you can create your very own matching kitchenware set! After you discover how to shape clay into ceramic bowls, cups and plates, you can get familiar with pottery painting and experiment with gorgeous, vibrant colours, designs and ceramic art. Your beautiful, eco-friendly kitchenware will be the envy of all your dinner guests and a constant reminder of your relaxing and mindful ceramics class.
If you're looking for birthday gift ideas or Christmas present ideas for a hard-to-buy-for loved one, a handmade gift will really show them how much you care. Not really sure what their style is? Simply get an experience gift card so they can find a local maker that they love in their own time.
Transform your mornings with a DIY ceramic mug
Revolutionise your daily routine and enjoy your coffee in a comfortable, custom-made mug! Learn clay hand building techniques to shape your mug just the way you want it to fit perfectly in your hand and decorate it with your favourite colours and playful designs.
These relaxing pottery classes in Melbourne are a great way to really immerse yourself in the world of messy clay and practice mindfulness in a supportive and casual environment. You'll learn all about slab building, coiling and pinching from your experienced teacher, and after a few weeks, will be able to pick up your food-safe, glazed and fired creation!
Get creative at a sculpture making class
After something a little more decorative? Let your imagination take over at a sculpture making class! Sip and sculpt with friends as you learn how to make quirky clay pots in South Melbourne or travel out and create unique and colourful wall plaques in Mornington.
Clay sculpture workshops are also great options for the little ones. Get your child to build on their confidence as they play with hand building clay at pottery classes for kids, where they'll learn how to make everything from polymer clay animals to their own kooky characters. These Melbourne workshops are especially great if your child struggles with focusing or you want to help boost their self-esteem. Let their creativity soar and encourage them to have a go at some DIY projects at home, too!
Learn the meditative art of Kintsugi or Raku pottery firing
Try out something a little more unique with these Japanese experiences in Melbourne. These cultural activities are a great way to learn some new skills as well as learn the deeper meaning and history of these traditional practices.
Often known as Japanese gold repair, Kintsugi is an ancient art whereby you join pieces of broken ceramics together using gold lacquer. Philosophically, Kintsugi is all about embracing your imperfections, as it highlights the broken history of an object, rather than trying to disguise it. It's also super sustainable, as you'll learn how to repair and improve items you already have, rather than go out and buy more.
Looking for something that's even more unique? Discover all there is to know about Raku pottery in Mornington and learn how to fire your pottery pieces, perfect for a Japanese-inspired tea ceremony! Unwind outside at this fun and casual class and return home feeling completely rejuvenated and relaxed, with your newfound knowledge and rare ceramics.
Celebrate uniqueness and make clay boob vessels
Embrace body positivity and femininity with this hand building ceramics class in Melbourne CBD. You'll be able to sculpt your boob vessel into any shape, size and colour which can also be used practically to hold flowers or plants outside or inside your home. Each vessel will be unique and carry its own beauty, just like us!
When it comes to unique hens party ideas, there's no better way to celebrate your favourite ladies than with this mindful and cheeky class! If you're looking for things to do in Melbourne for couples, these workshops also make cute date ideas to try out with your partner.
Pottery workshops in Melbourne