If you've always wanted to learn pottery wheel throwing, there's no better time to start than now! With a wide range of local pottery classes in Melbourne, you can find a creative and rewarding hobby that enriches your soul. Whether you have sat behind the potter's wheel before or are a complete beginner, you'll be guided by friendly ceramicists who will help you create unique masterpieces with just a lump of clay and your own two hands.
As well as helping you make unique DIY homewares, Melbourne pottery classes are also a meaningful experience to share with your loved ones. Perfect for romantic date night ideas, team building activities or hens party ideas, there is something for everyone to enjoy! Looking for Melbourne activities for the kids? Why not try signing them up for some wheel throwing classes for beginners, where they can learn how to mould, shape and create at their own pace.
Read on to discover nine reasons why pottery wheel throwing should be your next hobby.
1. Anyone can start pottery wheel throwing
Whether you are stepping behind the pottery wheel for the first time or have dabbled in it before, beginners of all levels are welcome to pottery classes in Melbourne! Your passionate teachers will first show you how to work the wheel and then mould and shape clay with a hands-on demonstration. Then you'll get a chance to get behind the pottery wheel and start creating!
These pottery workshops are the perfect way to step out of your comfort zone and try something new. No matter your age or skill set, you can learn this beautiful art of making pottery for beginners. Check out an introductory wheel throwing class in Collingwood and sink your hands into some soft clay for a mindful and relaxing experience.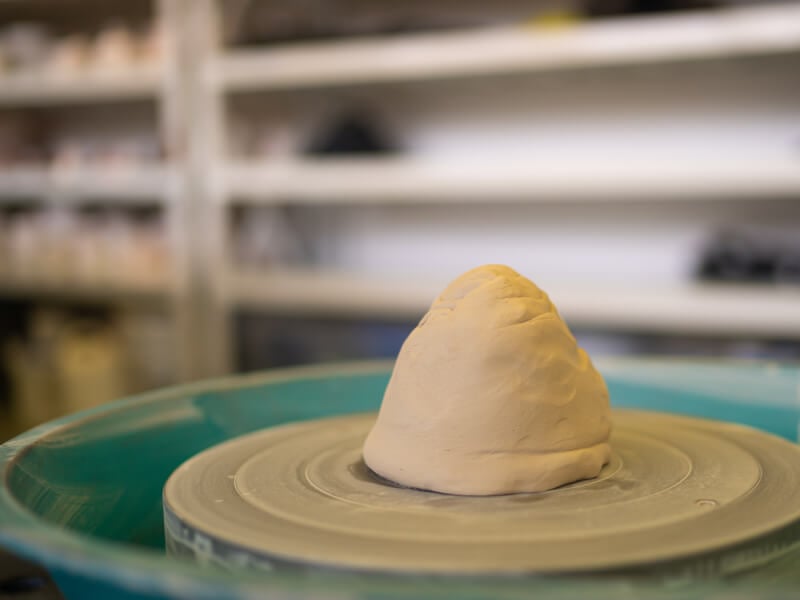 2. It helps you express your creativity
Learn how to create a variety of colourful and unique homewares in Melbourne pottery classes! Pottery can be such a creative hobby, where you get the chance to play and experiment with different shapes, sizes and textures! By learning foundational techniques of wheel throwing like centering the clay on the wheel or creating symmetrical cylinders, you can make a cute ceramic bowl, mug, vase or planter!
In each Melbourne ceramics class, you'll get the chance to make pottery from scratch. It's always new and exciting and you'll definitely be surprised by how your art pieces turn out! The joy of creating handmade pottery is that no two pieces are the same, which is why they're one of the best things to do in Melbourne this weekend.
3. Pottery helps you unwind from a long day
Throwing clay on the pottery wheel can help you relieve stress and unwind, and is the perfect mid-week pick-me-up. Enter the pottery studio and feel instantly relaxed in an intimate, cosy environment. When working with clay, it's so easy to get lost in the mindful practice of wheel throwing. Before you know it, time flies by and you would have created some beautiful pottery pieces for your home or living space.
Looking for team building activities in Melbourne? Join clay and sip classes, where you can come after work, drink some bubbles and unwind with your work colleagues. Searching for hens party ideas the bride-to-be will love? Sign up for a beginner pottery class and learn how to hand build clay for some cute DIY ceramics and quality time.
4. You can save money too!
Buying new home decor can be pretty expensive when it all adds up. But in pottery classes in Melbourne, you can enjoy making your own pottery from scratch and stop the splurge on new homewares! Stop your search for 'ceramic classes near me' and head along to a wheel throwing or hand building workshop in Melbourne. Use your hands and imagination to create a fully functional dinner set or pot planter, which will be the perfect addition to your home. With a little help from your friendly teachers, you'll see how fun it is to make DIY pottery and feel proud of what you have made. Your wallet will thank you too!
5. It helps you connect with your loved ones
Discover new Melbourne pottery workshops and round up your friends and family to have some fun with wheel throwing. It's the perfect way to get your hands into clay, get messy and have a drink or two! With laughter and ambient music in the background, you can feel more connected to your loved ones as you sit side by side and create together. Looking for cute date ideas to shake up your routine? Bring your partner along to a ceramics class, learn something new together and help each other along the way! The best part? You'll get to make some great memories and will always remember them with some beautiful ceramic pieces.
6. Beginner pottery classes are great for kids!
If you're looking for fun things to do in Melbourne with kids, come along to a beginner pottery class and get messy with clay together! It's time for kids to turn off their screens, don an apron and sink their little fingers into clay.
Making pottery can help kids express their creativity through art and develop their fine motor skills. Sign them up for a kids pottery class in Mornington, where their clay studio is the perfect place to feel inspired and make a pinch pot. Even from five years old, kids can start this rewarding hobby and can continue growing their newfound skills!
You can also join in with your kids as well and make pottery together. When you have a shared hobby with your kids, you can bond and relate to them in a more meaningful way. They'll absolutely love chatting about all things pottery and can even help each other along the way!
Ceramics classes can make for great birthday party ideas for kids, where your local teacher hosts the party and all you have to do is bring the kids! With no fuss, you can feel relaxed and enjoy seeing your kids have fun, which is exactly the experience you'll get in pottery classes in Melbourne!
7. Enjoy the tangible experience of sinking your hands into clay
There is something about working with tangible materials like clay that makes you get in touch with your senses in a deeper way. As you get behind the pottery wheel, you can use your hands to shape, mould and make with clay. Pottery classes in Melbourne are designed to not speed up the process but allows a safe space for you to practise and start again. You don't have to try creating the perfect piece every time but let your hands take over and feel immersed in a sensory experience. This way, you can enhance your self-care game in these fun and social ceramics classes and enjoy making something from scratch.
8. You can feel a sense of accomplishment
When you learn how to throw clay on the wheel for beginners, you'll see that the best part is yet to come in the firing and glazing process. After your pottery course, you can collect your finished handmade objects in a few weeks and it will be worth the wait when you see your unique masterpieces come out of the kiln. There is an incredible sense of satisfaction in seeing your pieces transform from clay into ceramic art.
Going behind the scenes in a pottery class will also help you appreciate the effort and time it takes to make your own DIY ceramics as you feel a sense of accomplishment knowing you made it!
9. Spoil your loved ones with unique ceramic masterpieces
If material gifts are their love language, why not try signing up for pottery classes in Melbourne and make a wonderful clay sculpture for your loved ones. Whether it's birthday gifts for Mum or anniversary gifts for your spouse, spoil them with these unique ceramic masterpieces. After all, creating handmade pottery is perfect for personalising a gift.
Ready to dive in? Check out our Melbourne pottery courses and be ready to discover your next favourite hobby!
Wheel Throwing workshops in Melbourne