People struggling with arthritis can often be at a disadvantage when it comes to classes and workshops with a hands-on focus. Our pottery classes in Melbourne may initially seem like a daunting task for people struggling with the disease, however, learning pottery has been found to help pain relief in people living with auto-immune conditions such as arthritis and fibromyalgia. Arthritis can be a debilitating condition where sufferers experience chronic joint pain on a daily basis. Admittedly, there's nothing about chronic joint pain that makes you motivated to take an arts and crafts class. But it may just be the best thing for it.

Pottery is art therapy
Arthritis affects one in seven Australians and is often a life-long condition, so it's important to establish healthy coping mechanisms in order to live a full and happy life. Art therapy has been a very popular method of helping people move past both physical and mental trauma and is considered a very effective part of the rehabilitation process. Often used to treat PTSD and depression, the medical community are now starting to see its benefits with people who are working through physical conditions such as arthritis and osteoporosis.
Art therapy can be crucial for people living with arthritis and other forms of auto-immune diseases. Creative expression and engaging the artistic right side of your brain has been found to lessen the physical impact associated with a chronic injury. Whilst ClassBento has many Melbourne workshops that are perfect for art therapy such as painting, knitting and terrarium courses, nothing aids in the relief of arthritis-like clay form and pottery.
When undergoing treatment for arthritis, it's crucial to keep the joints strong and mobile. There are many exercises for this and all are important, but taking a pottery class in Melbourne is an exceptional alternative. Hand-made pottery classes allow you to work at your own pace and skill level, and there's never any pressure to keep up with anyone else. Working with clay is a great method of strengthening your hand muscles that not only aids in long term pain relief but also allows you to express yourself, artistically. Exercising joints affected by arthritis can lead to increased movement and range, and when combined with over-the-counter or prescribed painkillers, work effectively in minimising day-to-day discomfort.
Unfortunately, there's no cure for arthritis, so effective pain management is crucial in living a healthy, fulfilling life. Learning pottery is not just one of ClassBento's creative things to do in Melbourne, but a wonderful way to engage with your creative side, and get those artistic juices flowing.
Pottery studios can help you to engage with the local community
Despite arthritis affecting people from all walks of life, it's most prominent in people over 65. Over 57.6 percent of people over 65 live with arthritis, and it can be very restrictive in your opportunities to be socially active. Our pottery classes in Melbourne have a strong focus on creating a warm and inclusive environment for people of all ages and abilities. Community is essential in cultivating happiness and living a full and healthy life, no matter your age.
Loneliness - particularly among older generations - can increase mortality rates by 30 percent. Combine those statistics with chronic pain and you're left with somewhat of a dire situation. That's why it is so important to make a small effort to improve your health by engaging with the local community. People who experience loneliness on a regular basis have an immune system that is less effective in reducing inflammation and aches, as chronic loneliness can be as physically damaging as long term tobacco use.
ClassBento's pottery workshops in Melbourne are all run by local arts practitioners and small businesses who have a strong community focus. Becoming an active member of your local community is a guaranteed way to ward off loneliness and make new friends. Our workshops also give you the added benefit of learning a new craft and aiding in physical therapy and rehabilitation.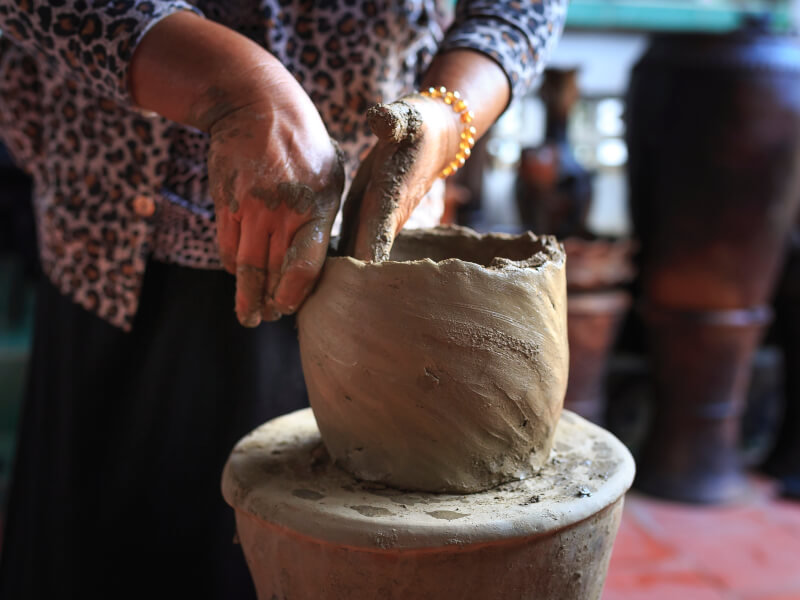 Three Melbourne pottery classes to try for arthritis
Fitzroy's Hand building with clay workshop is a great place to start if you're looking at getting into pottery. Instructor and artist Daisy Cooper has the experience to guide beginners into building beautiful ceramic works in a relaxing and inclusive environment. Arthritis sufferers will not have to worry about the intensity of wheel throwing or other heavy tools, as this class focuses exclusively on the art of handcrafted ceramics.
Try something different with a ceramic moulding class with a twist! Instead of building pots, teacups and saucers, it allows you to be more creative and mould a ceramic of your pet! This class - although suited for ceramic beginners - requires a higher level of dexterity. If you're suffering from arthritis, this class is perfect if you're already on top of your pain management and looking for a bit more of a creative challenge. Our instructors are aware that pottery is good physical therapy, so never hesitate to touch base with the class instructor prior to the lesson to let them know you may require a little extra attention or time.
Don't feel like travelling? ClayMotion's mobile group pottery class can travel directly to you! Arthritis and chronic pain sufferers can feel huge bouts of fatigue, and sometimes the difference between doing an activity or not doing it is the travel. ClayMotion solves this issue and can bring the pottery studio directly to you. You'll still cover the basics of hand building pottery without any of the inconvenience of organising travel.
ClassBento's pottery classes can be so much more than just one of the unique experiences Melbourne has to offer. Pottery can function as physical therapy for arthritis sufferers whilst also being emotionally rewarding. Art therapy is a tried and tested method of coping with chronic pain and illness, and with pottery being such a specific workout for your hands and fingers, engaging with your local community has never been healthier.