Trends come and go but when it comes to paint and sip classes in Australia, there's serious staying power. These fun-filled classes have gained loads of traction over the past few years and are now offered from Sydney to Melbourne and everywhere in between.
Read on to find out more about why wine and paint workshops are having a moment right now, alongside five reasons why you should consider embracing the trend yourself.
1. Get to know your neighbours
Whether you live in the Adelaide CBD or the suburbs of Perth, paint and sip classes are a fantastic way to connect with your local community. You'll love the chance to get to know fellow art enthusiasts in your city and of course, soak in tips and tricks from talented local artists. If you've been looking for an opportunity to expand your social circle and try something new, this is your chance. Don't worry if your brushwork isn't quite on par with masters like Sidney Nolan. All paint n sip classes are beginner-friendly and designed to help you build your skills in a setting that's fun, social and supportive.
Choosing your class is all part of the fun, with a bunch of options available. Wine and paint classes that teach you how to recreate famous masterpieces like Sunflowers by Vincent van Gogh, Water Lilies by Monet and the Great Wave off Kanagawa by Hokusai are always a popular choice. You'll also be tempted by themes like pet portraits and celebrities. Native Australian botanicals have been trending over the past few years, along with beloved birds like cockatoos, kookaburras and pink galahs. All of which you can immortalise in your own paint and sip class.
2. Discover a different side of the city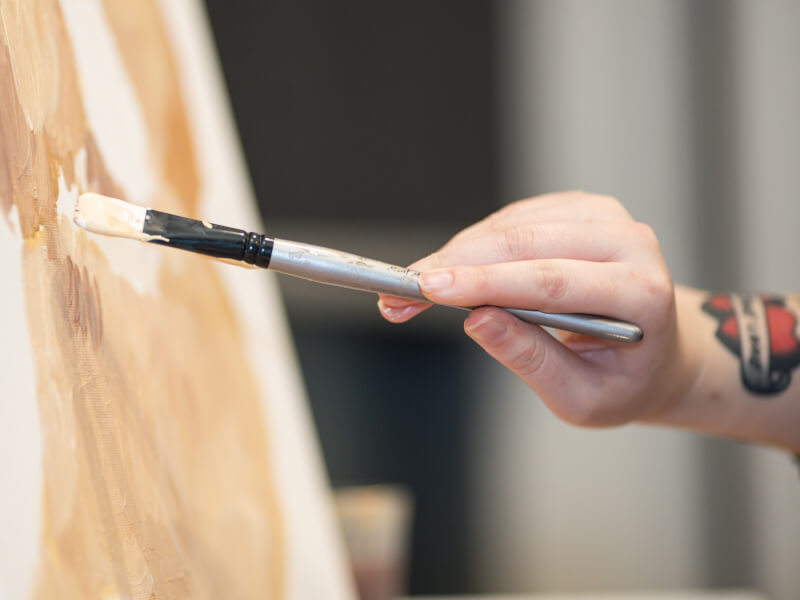 When you live in a city for several years, it's easy to become complacent and start to think you've seen it all. Part of the reason wine and paint workshops are enjoying a renaissance is the opportunity they offer to discover a different side of the city. From boutique studios in Brunswick to hip workshops in Surry Hills, wine and painting classes give you behind the scenes access to some of the best art spaces in Australia.
It's always good to have a few rainy day activities, especially if you live in Melbourne. The summers are gorgeous but let's be honest, winters can get a little gloomy. A paint and sip class is one of the best indoor activities in Melbourne, combining two of the city's biggest passions – art and alcohol.
If you're visiting from another town or city, a wine and paint class is a great addition to your itinerary. Sure, sights like the Sydney Opera House are not to be missed, but if you want to experience the city through a local lens, a brush and sip course will take you beyond the tourist trail.
3. Set your inner artist free
Art is an amazing medium and the mental health benefits of activities like painting and drawing are well documented. Paint and sip classes are the perfect way to dip your toes into the therapeutic benefits of art, without taking yourself too seriously. No worries if you haven't picked up a brush since high school art class. These classes are all about having fun and unleashing your creativity in a judgement-free environment. It doesn't matter if you live in the city centre or the suburbs. All studios are easy to access by car and public transport, so there's no excuse to keep your inner artist locked away for any longer.
4. Spend time with your loved ones
Whether you're looking for fun ways to reconnect with friends or date night ideas with a twist, wine and paint classes are a terrific way to spend time with your loved ones. Socialising is front and centre, with plenty of time to chat, clink glasses and share a laugh along the way.
Planning a group event? Why not host a paint and sip at home party? Fully-stocked kits are delivered directly to your door, making the planning process a breeze. All you need to do is stock up on your favourite bevvies. Wine, beer, bubbly or cocktails? The choice is yours when you host a wine and paint party. Group classes are an absolute blast and are perfect birthday party ideas for all ages.
If you've been tasked with planning a bachelorette, a sip n paint party is a classy way to celebrate with the bride to be. Art classes aren't just one of the best hens party ideas in Australia - they're also great for stag nights. Just head to Dan's, load up on your beer of choice and let the good times roll.
5. Support homegrown Aussie businesses
The past few years have been tough on small, local businesses in Australia. A paint and drink night at a local art studio is a fun and rewarding way to show homegrown Australian businesses some love. If you're looking for things to do in Hobart this weekend, you're sorted. As well as learning a new skill, you'll leave with a bespoke piece of artwork to hang on your wall. Now that's something the Kmart homewares section can never compete with!
You'll love watching your vision unfold on the canvas and seeing what your classmates create. Art can reveal a lot about an individual, which makes a paint party one of the best team building activities out there. Whether you work in retail, hospitality or corporate law, a wine and paint class will bring your whole team together in a relaxed and social atmosphere. Does your team work from home? A virtual paint and sip event is a fun way to bring everyone together for an online party.
Jump aboard the paint and sip classes bandwagon
With so much to love about paint and sip classes in Australia, why wait any longer to try the trend? You'll find classes across the country, including major cities like Sydney and Melbourne, as well as smaller enclaves like The Gold Coast. Wherever you live, you're just a few clicks away from booking a sip n paint session near you.