Surprise your creative queen this February with crafty Valentines experience gifts for her. These unique gifts are perfect for the type of girl who is always doodling in her notebook distractedly or has a new creative project in the works every second day. With one of these Valentines experience gifts your special someone can try something new and flex her amazing natural talents, or, if she is new to craft and nervous about starting her journey, there are plenty of beginner-friendly classes for her to try!
Wherever you live in Australia you can find crafty experiences that seem to be custom made for your partner's interests. Whether she would prefer to try out a handmade jewellery class in Melbourne or would like to learn wheel-throwing in Brisbane, there is really something out there to suit everyone's crafting hobbies. Craft classes and workshops are also available online, just order her a DIY craft kit and she can open up her laptop and enjoy learning from the comfort of your living room. Take a look at our top five crafty Valentines experience gifts and choose something that your partner will love!
Get her involved in a pottery class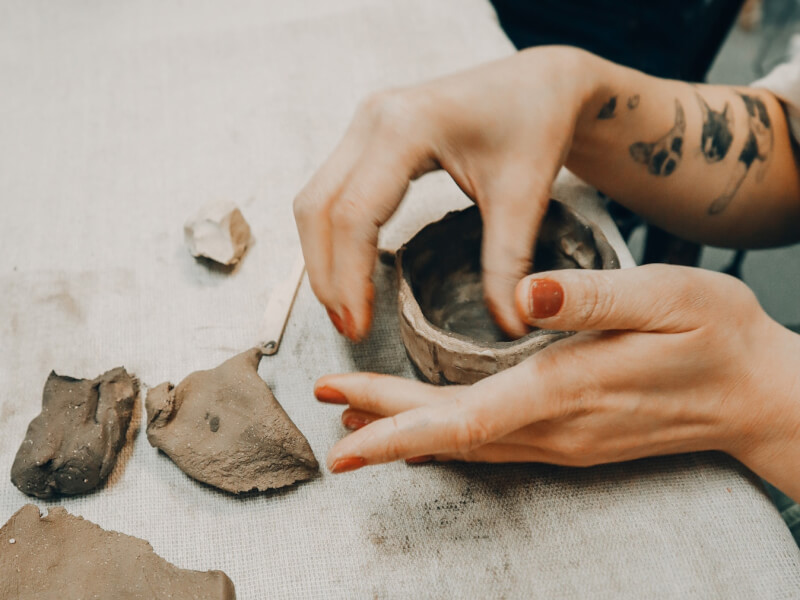 When it comes to pottery classes there are so many different experiences your partner can have. Whether she would be more interested in learning wheel-throwing, hand building with clay or even trying out the ancient Japanese art of Kintsugi, there is something for everyone. Pottery classes make the perfect Valentine's Day gift for the crafty woman in your life and are also proven to reduce stress and increase positivity.
Get your partner to try out a pottery wheel Perth workshop or if she would enjoy something a little out there, have a look at one of our favourite things to do in Sydney right now, a Kintsugi accessory workshop. Another great Valentines Day gift idea is an online class that comes with a DIY craft kit, which includes things like hand-building with clay. It has never been easier to learn pottery from home and make everything from cute personalised mugs to incredible human sculptures. The possibilities are endless!
Make earrings and other accessories in a handmade jewellery class
If your girlfriend or wife is always looking for her next big accessory you can't go wrong with a handmade jewellery class. The ability to personalise handmade jewellery makes it a perfect custom gift that will set your partner apart from the crowd. If your partner is a big fan of quirky, unique jewellery, made sustainably, she won't be able to resist trying out this great experience gift.
Take a look at our top handmade jewellery classes in Melbourne and Sydney and see what you can find for your partner. To make her necklace, earrings or bracelet even more special, she could even try out a polymer clay workshop, and literally mould her jewellery into whatever she wants it to be! Handmade jewellery classes are a great opportunity for your partner to get creative with some new materials and learn something fun and new.

Get her involved in a glassblowing or mosaic class
If your partner is more interested in creating something unique and enjoying the art and process of it, then a glassblowing class or mosaic workshop may be the perfect thing for her. Glassblowing is a great experience gift for Valentines Day and an artistic, meditative process that invites participants to listen to their inner voice and create something beautiful. If your partner is always looking up new techniques online or has tried her hand at glassblowing before, she will love this great Valentines Day experience gift!
Mosaic classes are another perfect experience for all the crafty ladies out there. Take a look at our top classes in Melbourne and Sydney that will teach her how to create incredible glass pieces or mosaic tiles that can be put to use on any surface. Your lover might even be interested in taking mosaics one step further with a Turkish mosaic lamp class! If you are in Sydney, she can have a go at creating a Turkish mosaic lamp in person with Art Masterclass in their studio, or if you are elsewhere in Australia, have a DIY kit shipped right to your door so your partner can enjoy this fun and popular activity from home.

She can get creative with macrame
Macrame is making a comeback, especially as more people start to think about how sustainable their lifestyle is. Macrame is a great way for your partner to make something unique and beautiful from all those little threads lying around the house. And it's fun! She can take her time in making a macrame piece and she will love the end result, especially if she gets to choose exactly what it looks like.
Macrame classes are super popular all over Australia, and you can find more than just your typical wall decorations. Have your partner create a macrame plant hanger in Perth, or even treat her to a macrame clutch making class in Sydney. There are also so many tutorials online with DIY macrame kits, which include everything she will need to create her own unique gift or piece of artwork.

Get her feeling artsy in a fun painting class
If your partner is a big fan of painting but hasn't been able to paint much lately due to busy work schedules or family commitments, why not treat her to a fun painting class? Painting is a relaxing and enjoyable experience that she can do with her friends and then be rewarded with something that she has made.
There are so many different painting classes out there for you to choose from, like paint and sip classes in Melbourne or Sydney acrylic pouring workshops. Take a look at our other painting classes for other art projects she can try, like watercolour painting or oil paintings. Our online paint-along classes are also great to have at home, so she can follow along with the video tutorials from her laptop and create something truly amazing.