What hot new craft accessory comes in baby pink and looks like it's straight from a 1980s action movie? We'll give you another clue. It shoots shaggy lines of colourful yarn when you pull the trigger.
That's right, a tufting gun! Like so many mesmeric crafts, the rise of TikTok combined with millions stuck at home with more time on their hands is behind the resurgence of this 1930s invention. And it should be at the top of your craft bucket list too.
Have a squiz at this hashtag and tell us you aren't intrigued? You'd be no different from the 150 million TikTokers finding joy and inspiration in the trippy wave mirrors, neon-check rugs and fluffy monstera leaf wall hangings all across their feeds.
Owner of Tuft City in Brisbane, Benjamin Reeve's addiction started in a similar fashion. "I was recommended a video of someone tufting and I was instantly like, what is that?" He first discovered the craft in early 2020 when his work as a mural artist and DJ quickly diminished as the world pressed pause on global events.
Get Tuft's sister duo, Jodi and Marnee also became fascinated with the craft thanks to its rise on social media during lockdown. "I rang my sister and asked if she had seen this before, [with] her background in textiles and fashion I assumed it was something she was familiar with," Jodi explains. "I was wrong but we both decided we wanted to try it out."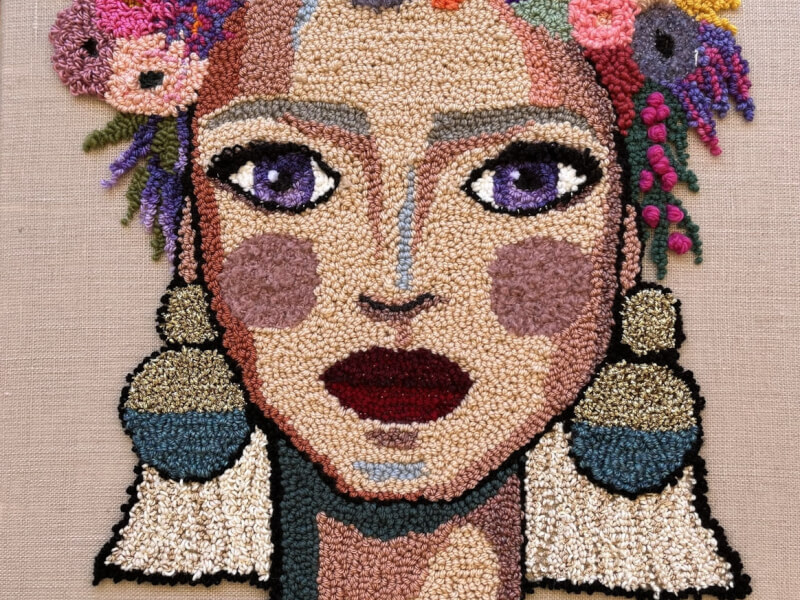 Why tufting is easy to pick up and hard to put down
Apart from being both satisfying and a ton of fun to do, it all comes down to speed. At Get Tuft's workshops in Melbourne and Perth, you can create an 80cm by 80cm custom rug in just six hours, even if you've never picked up a tufting gun before! To put it into perspective, you'd be working on a piece of that size for weeks with just a needle and yarn.
"What struck me was the instant gratification of the medium," says Jodi. For her, spending the day tufting orange slice cushions was just as fun as watching her parent's faces light up when they unwrapped the fluffy personalised gifts on Christmas day (sidenote: her parents own an orange farm in South Australia).
For Benjamin, it was the foolproof nature of tufting that won him over. "You can reverse the whole thing if you really want to. It's like, 'oh, I shouldn't have done that colour', so I just pull it all out and do a new colour. You can't do that with painting," he says.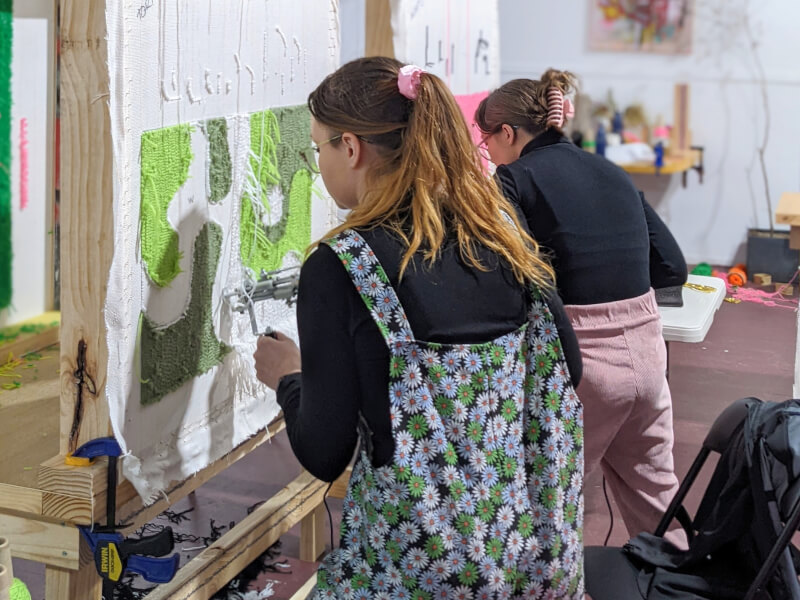 Keen to try it for yourself? Here's how you can get started
Since we listed our first tufting classes back in late 2021, they've been selling like hotcakes. Gone are the days of crisp white homes, it's clear that people are now looking to spruce up their space with cosy textures, warm tones and one-of-a-kind handmade pieces.
The best way to find a piece that showcases your own unique style is to craft it yourself! And the best part is, you don't need to be a pro to pick up a tufting gun. If you're keen to see what all the hype is about and create custom fluffy creations while you're at it, here are three top tips from Jodi of Get Tuft:
1. Start with mastering the basics and use good quality tufting machines, tools and tufting cloth to learn.
2. Experiment with different cloth and yarn once you know your limits.
3. Enjoy the creative journey, trust the process and don't focus too hard on the end result!
Given tufting is still relatively new in Australia it can be an expensive hobby to get started with. But that's where tufting classes come in! These guided workshops provide the perfect space to learn how to use a tufting gun, design a tufted rug (or mirror or wall hanging or cushion cover!) and even meet some fellow tufters.
Tufting is for everyone (yes, including you!)
Jodi and Marnee adore watching their students find their feet with this new craft, just as they did back in 2020. "You see the difference in people throughout the day, from a nervous beginner harbouring self-doubt who transforms with confidence," Jodi says.
"We have had so many different people join, the youngest being 15, the eldest being 68—people who have their own tufting set-up but want more guidance, couples on a double date and want to learn a new skill. Tufting really is for everyone."
When I ask Benjamin how tufting will survive in a post-pandemic world his response was unwavering. "I'm always trying out new things and that's the beauty of it [tufting]," he says.
"I was a street artist for a long time and some of those communities were really negative but then with tufting, it's all about sharing and that's a beautiful thing.
"It will survive because of that. So good on you tufting!"