Mother's Day is just around the corner, and what with all this self-isolation, searching for Mother's Day activities in quarantine is an entirely new struggle. No, seriously. We know mums, in general, can be hard to shop for, but being forced into quarantine and not being able to leisurely browse Myer and David Jones in search of a scarf that might tickle her fancy has made the job of Mother's Day presents a little more difficult than it should be.
Try not to despair, however, because ClassBento's new Craft Box service may just be able to help you and your mum out. Thanks to the current state of quarantine season, we've launched our new live classes online complete with our Craft Box delivery service! Our new craft boxes contain all the materials and resources you need to complete a workshop and expand your artistic skillset, without ever having to leave the home or even turn on the computer!
These not only make for fantastic Mothers Day activities but also work as adorable Mothers Day gift packs. Has Mum always wanted to learn how to embroider? Maybe she's looking at expanding the garden and doesn't know where to start. Whatever type of Mum you came out of, our new Craft Box service is shorter make an otherwise giftless Mother's Day feel like Christmas coming early.
Obviously, Mothers Day activities are easy to come up with if you still live with your mum. Or maybe she lives with you, whatever. The point is, chasing Mothers Day quarantine celebrations can actually be a source of discussion if your mum's there with you. Maybe you'll just spend a nice day watching Better Homes and Gardens. Maybe you can have a marathon of the Gilmore Girls whilst indulging in a classic mum beverage, such as chardonnay. No one knows your mum better than you do, but that's also why our range of ClassBento live workshops, as well as our new craft box delivery service, is so extensive and only growing more so. What makes our new LiveBox class such a great idea is it they work for individuals, but they're also a great option if you're looking for Mother's Day ideas for the whole family.
If there's one classic Mother's Day gift ideas that aren't the standard chocolates and flowers, it's beauty products. Mums love beauty products, but the body shop is not seen as an essential service. That doesn't mean you should write off beauty products when it comes to gifts for mum!
Instead of simply buying some shea butter and whacking a card on top, why don't you get your mum - heck, even the whole family - making her own range of boutique soaps! Offering your mum one of our LiveBox soap making classes is a fantastic way to show her how much you care, giving her the opportunity to complete a little project of her own. This is a fantastic way to pass the time whilst keeping the brain active particularly if your Mum is stuck in isolation. I mean, what better time to pamper yourself than quarantine season?
Our craft boxes make for beautiful Mother's Day gift packs! With our soap making class, you can even offer your mother a classic gift with a unique twist! Even if you were looking for something a little on the smaller side, our make your own coffee scrub workshop is a fantastic experience gift and a good way for your mum to think more sustainably when it comes to skincare products. Whether it's via our live stream class or our self-contained Craft Box, our Mother's Day gift ideas will remind your mother why you're the best thing she ever made.
Don't worry, it's not just beauty products that our Craft Boxes can help your mother get creative. As far as Mother's Day gift ideas go, we've got a swath of workshops and experience gifts ready to be packed up and shipped to your mum ASAP. Hey, hands up how many of your mums like working on the garden?
Mums and Nannas everywhere love a little bit of garden action, but if you're stuck in quarantine it can be hard to get out and give your plants the nurturing they require. If you live with your mum, swinging by a Bunnings Warehouse on your way back from the groceries isn't a bad idea when it comes to offering up Mother's Day gifts.
Getting out into the garden however is a different kettle of fish, particularly if leaving the house may heavily compromise your mother's health. That's why it may be time to give your mother some indoor plants. Our new live classes online have a growing range of botanical options, from traditional Japanese Moss balls (known as kokedama) and an upcoming terrarium building workshop, all the way to a Botanical watercolour class to show your mum how to paint her favourite flowers.
You can choose from either engaging and our live stream classes, where one of our qualified instructors will show your mum how to build an indoor garden in real-time, or our Craft Boxes require no internet connection, with all the instructions necessary packed within. As far as Mother's Day quarantine ideas go, redecorating the house with the green space is a great way to keep the living room fresh, in a time where your mum might be stuck there for quite a while.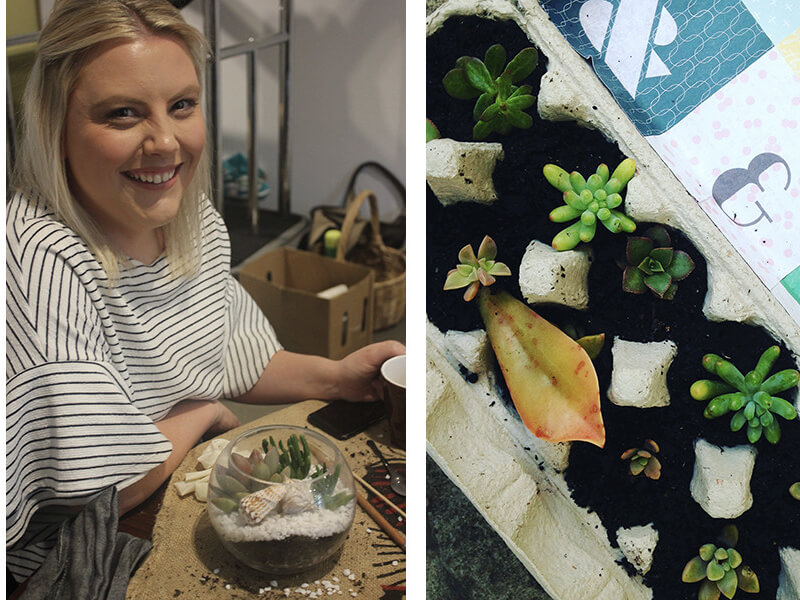 No matter how you choose to celebrate your mum this Mother's Day, if you're stuck in self-isolation, ClassBento is here to help. Coming up with Mother's Day gift ideas has maybe never been harder, but with our new LiveBox feature, you can offer your mum all the guidance, experience, and resources our classes would otherwise offer her, without compromising her safety. With fun and easily accessible Mother's Day gift packs, our Craft Boxes are sure to surprise your mum in a year where she genuinely was probably expecting nothing.