If you've been looking for team building activities that break the ice why not make a masterpiece with your workmates at paint and sip classes in Australia? At a sip and paint session, you and your colleagues will be able to step away from your screens, put your 'out of office' notification on and enjoy time spent in each other's company. You can get creative at a wine and paint workshop while sharing a few laughs and a drink or two in a relaxing environment.
No matter where you're based in Australia, we've got a paint party for you. Whether you and your team are based in Sydney or Melbourne, Adelaide or Perth, there are paint and sip classes a-plenty. These sessions are all beginner-friendly too, so it doesn't matter if neither you nor your colleagues have ever picked up a brush before. It's all about being enthusiastic, getting involved and having a desire to explore your creativity in a laid-back group setting.
Plus, if your team don't have a 'home' hub per se and are broadly virtual, you can also arrange paint and sip online classes. You'll have a paint and sip kit sent to your chosen location, ready for your colleagues to unpack and get creative virtually. You'll be able to skip the administrative questions and get down to the good stuff, sharing memories and sparking a genuine connection.
Paint and sip classes are for everyone, of all degrees of skill and knowledge. Your friendly teacher is also a local artist and they're there to share their tips, tricks, techniques and passion with your team. Take guidance and build on their advice as you finetune your newfound skills with your colleagues and explore the sensory benefits of a paint and drink session.
There are so many paint and sip workshops, you're guaranteed to find one offering what you're looking for. Maybe you're keen to paint a much-loved pet or perhaps you'd rather recreate a beautiful vista? Whatever your preference and choice for your colleagues, at a sip n paint session, you'll be exploring your creativity and leaning into the fun and playfulness of art. Take a deep breath and release the stresses of work as you all experience a shared mindful moment, letting tedious to-dos take a back seat.
So, without further ado, read on as we explain exactly why paint and sip classes make such fantastic team building activities, from boosting workplace wellbeing to improving performance.
Detox from Friday night drinks at downtown bars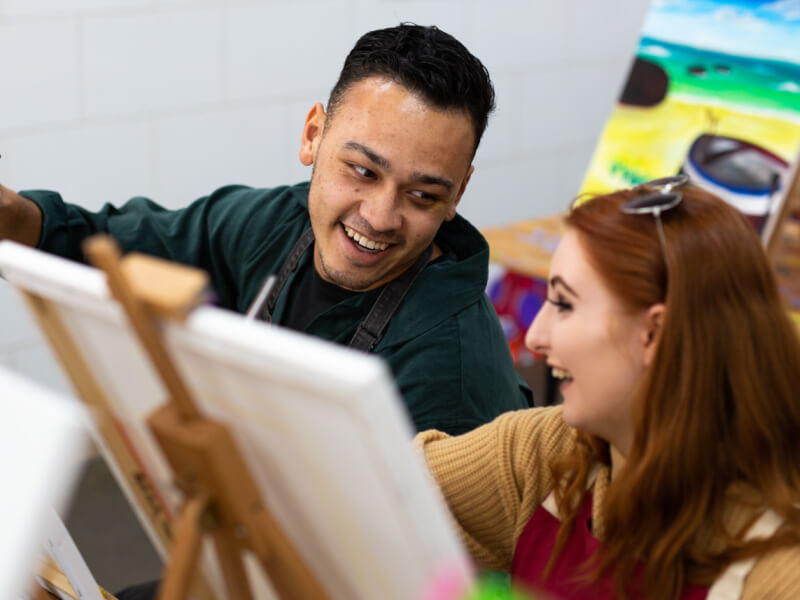 Heading out on the town with your colleagues may be one way to blow off steam, but an office-wide hangover is not an ideal scenario. Paint and sip classes provide the chance to drink responsibly and get creative all in one go. Learning how to paint is beneficial for mental wellbeing and allows your colleagues to relax and lean into the process. A paint and drink class combines the best of both worlds – the chance to explore your creativity whilst enjoying a measured glass of something delicious.
Paint and sip sessions are also more accessible for those of your colleagues who prefer structured events or need to get home early for kids. They're also fully inclusive team building events, as participants can choose to either de-prioritise the drink or enjoy an alcohol-free beverage.
Promote wellbeing and soothe stress
If your team have had a particularly hard month or quarter, paint and sip classes are a great way to reward them while encouraging relaxation. Self-expression and creativity are vital personal skills and enhance what an employee can contribute to a business.
Painting with a twist will allow you all to unwind and experience a mindful moment, grounding anxious or overwrought minds through the meditative nature of repeated brush strokes. You'll all leave feeling much lighter, having left your screens behind and reconnected with your inner artist. Trade conference calls for bristle brushes and connect with a sense of inner calm alongside your colleagues at a wine and paint night.
Paint and sip classes are non-hierarchical
Wine and painting classes are for all employees, no matter if they're a newly-joined intern or the CEO. You all start out on an equal footing and work collaboratively towards a common goal, breaking down social barriers through conversation.
Bonding over a shared experience is a great way to promote good feelings, as well as to initiate office friendships. Of course, if you want to introduce some friendly competition (like a prize for the best painting), that's up to you – a brush and sip class is what you make of it.
Encouraging creativity improves overall work performance
Creativity is essential in an office environment. It helps people to think outside of the box, allowing their imaginations to remain flexible and open to new developments. Innovation is critical to the formulation of fresh ideas and dynamic solutions, which in turn encourages a workforce to feel more equipped to overcome challenges.
Paint and sip classes are the perfect chance for you and your workmates to foster that creativity. Having happy employees translates to a better business environment, which can only be a good thing. Plus, wine and painting classes don't even feel like work – it's just the chance to enjoy a team night out fuelled by laughter, chat and a drink or two.
Mix up your office space with the paintings that you create
After a paint and sip session, there's no excuse for a dreary office space. You and your colleagues will all leave with a piece of beautiful artwork that you can use to adorn your office walls. Showcasing your work is also a fantastic way to boost morale during tougher weeks, reminding you all of the memories made and the experience you shared. It's also a great way to demonstrate the creativity and innovation of your team to visitors.
As you can see, paint and sip classes make ideal team building activities. These workshops are available Australia-wide and an international team can even enjoy a virtual paint and sip session. Beginner friendly and low-stakes, these classes will encourage a sense of cohesion in your colleagues, as well as allowing them to release their creative side and tap out of work stresses.