Have you always wanted to become a master in the kitchen or a pizza making pro? Well, now's the time to start your culinary journey at cooking classes in Brisbane! Designed for all beginners, you will learn to cook in a supportive, hands-on environment. Friendly, experienced chefs will teach you basic cutting skills all the way through putting the finishing touches on your masterpiece.
Learning how to cook might seem intimidating but when you are surrounded by other like-minded individuals and local cooking professionals, you're sure to walk away feeling confident in your newfound cooking skills. Cooking can empower you to create delicious meals for yourself, save money and have some fun too along the way!
Read our beginner-friendly guide to learning how to make your own delicious meals from scratch.
Start with the basics
The best way to learn cooking is to start with the basics. And that's exactly what cooking classes in Brisbane are for! With simple, easy cooking lessons and tips, you can feel instantly relaxed and ready to learn in a casual, friendly environment. Whether you're new to cooking or are a complete beginner, let local Brisbane chefs show you how to work your way around the kitchen at your own pace.
Unsure where to start? Join a pizza making class or a pasta making class, where you will discover how to make authentic Italian dishes. You will learn how to make your own dough, hand-stretched to perfection and choose your favourite toppings and herbs. By the end, you will be able to relax and taste your mouth-watering creations! You'll be so surprised by your cooking skills you will want to continue making your own at home.
Learn knife skills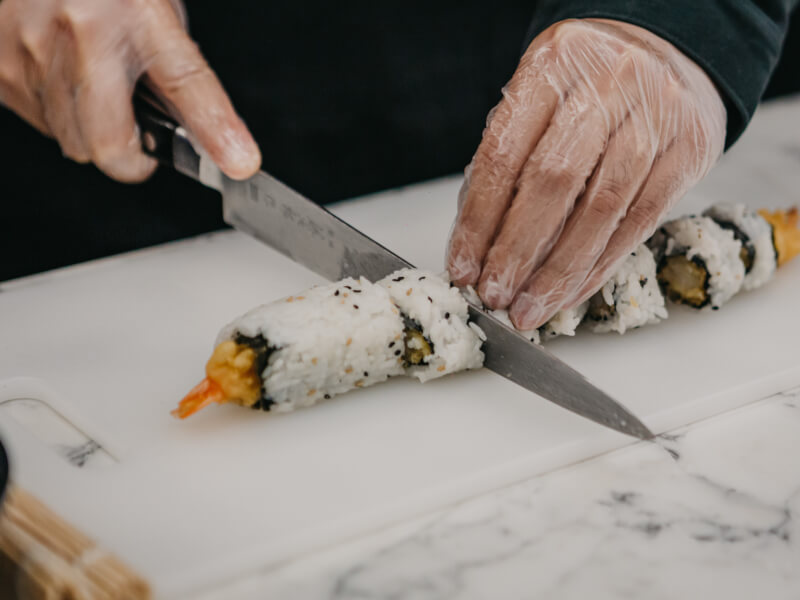 Learning how to cut ingredients may seem basic but once you have good knife skills, the world is your oyster! At Brisbane culinary schools, you will be taught how to hold and use a knife correctly and the different knives you should use for different tasks. Then it's time for you to learn classic knife cuts like chopping, slicing and dicing and how this allows you to prepare your food in a variety of ways. You will also know how to sharpen your knives so that you can ensure their longevity.
Once you have learnt those knife skills, it's time for you to put them into practice in cooking classes for beginners! Don your apron and chef's hat and start preparing your fresh produce so that it is transformed into a delicious feast at the end. These Brisbane workshops make it easy for any beginner to learn to cook simple meals at home and it can all start today!
Fire is your friend
Everyone can cook in the kitchen so there's no need to fear your hot pans or BBQ grill in cooking classes in Brisbane. Before any class, you will be guided on safety instructions, the right temperatures and how to cook your desired dish. So, whether you're stir-frying vegetables until crispy and tender or searing a steak on the grill, you're guaranteed to feel more comfortable in the kitchen.
Gather your loved ones, come along to a cooking class and get familiar with fire and heat. As you cook, a local, friendly teacher is there with you every step of the way and can give you one-to-one feedback. This way, you can feel relaxed and able to have some fun with your friends or family.
Get familiar with spices and herbs
Once you have learnt the basics of cooking, you can now move on to the fun part: learning what spices and herbs you like to put in your food! There are a variety of cuisines to choose from, so whether it's Japanese cooking or Thai cooking, you are bound to find one that suits your taste buds.
Come to an Asian street food cooking class, veg out on some Moroccan inspired dishes or learn how to make Spanish tapas. No matter what cooking experience you go for, there's something for everyone to enjoy and learn cooking for themselves. The best part? At the end, you'll get to taste the delicious food you made and dive into the rich culture of the cuisine.
Start a routine
Cooking doesn't have to stop once you've left a Brisbane cooking class. Inspired by the recipes and dishes you've learnt, you can now feel more confident to cook at home. Remember to start simple with the basics, maybe some scrambled eggs in the morning or tomato ragu pasta for lunch. Set out a routine for yourself and when to cook, whether it's during the day or night.
You can also keep coming back to cooking classes in Brisbane! The great thing about these Brisbane activities is that there are so many different classes to choose from. Like deciding on a particular cuisine, cultural dishes or even going down the sweeter side of learning how to decorate cupcakes or bake a classic carrot cake.
If you're looking for great date night ideas, head to one of our couples cooking classes and learn how to cook together. This way, you can bond and connect over a shared love of cooking at home. Date nights have never sounded so delicious!
Plan ahead and save time
Do you find yourself never knowing what to cook or always ordering takeout? Meal prepping and planning ahead can save the stress of leaving your dinner plans to the last minute and also save you time too! By meal planning at the start of the week, you can feel relaxed as you know what you'll be cooking when, which in turn helps you save money on groceries and minimise food waste too.
Perfect for team building activities, gather your work colleagues together for a night and learn how to cook together as a team. It's a great way to bond, unwind after a long day, as well as cook heartwarming dishes that will make you feel nourished and full.
Master delicious recipes at home
Now that you have learnt how to cook, you should be brimming with the confidence and knowledge to master delicious easy recipes that will impress your family and friends. Whether you're forming a delicious baguette in a French cooking class or making your pork filling in a dumpling making class, you will certainly love preparing these delicious meals and eating them too!
If you're looking for energising things to do in Brisbane this weekend, check out this vegan Italian cooking class in Newstead and learn how to make plant-based Italian dishes from scratch. During the vegan cooking class, you can make fettuccine and spaghetti pasta with a twist, as it's packed with fresh vegetables and herbs.
No matter what the occasion is that you're celebrating, from hens party ideas to birthday party ideas, or if you're just keen to learn to cook for beginners, cooking classes in Brisbane are the perfect place to connect, learn and ignite your creativity. Learn to cook together with your loved ones and make flavoursome, authentic dishes at home again and again!
Cooking workshops in Brisbane