If an anniversary is looming and your present ideas are lacklustre, opt for one of these adventurous experience gifts for couples instead. There are hundreds of unique activities across Australia to satisfy your daring duo's wanderlust!
Perhaps, Mum and Dad want to sink their teeth into an international cooking class overflowing with unusual ingredients and heady aromas? How about a professional photography course that captures Melbourne's boundless beauty for your best pals? The possibilities are endless, but one thing's guaranteed – the happy couple will walk away even happier.
Keep reading as we highlight several gifts for couples who like to travel. Every unique workshop is beginner-friendly and run by the country's most talented artisans – they're so exciting, you might want to join too (but remember, three's a crowd).
Experience gifts for couples in Sydney
Taste wine on a tour of the stunning Hunter Valley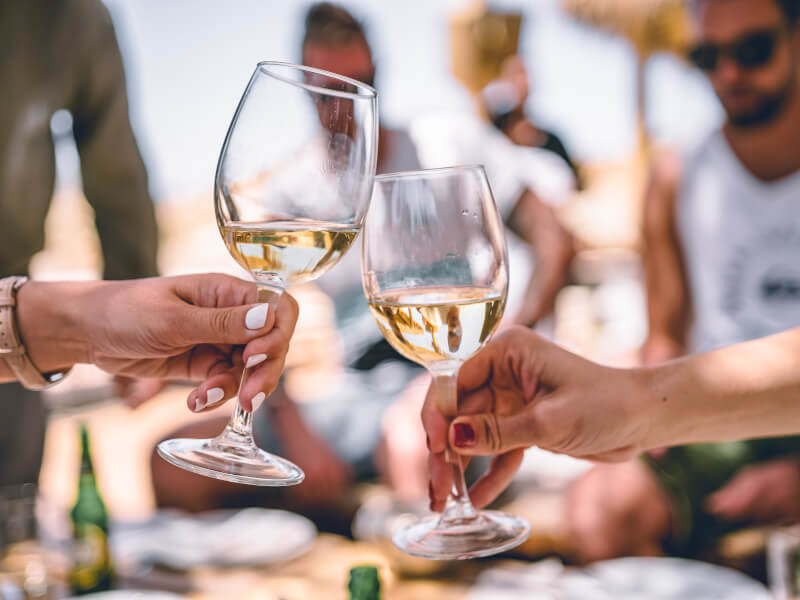 The Hunter Valley is the birthplace of Australian wine, home to an exquisite variety of semillon and shiraz. In this food and wine tasting tour, culinary-minded couples tantalise their taste buds while reclining in the destination's outstanding natural beauty.
On arrival, the group visits three esteemed wineries and a local distillery for a sneak peek behind the scenes. They'll learn how winemakers craft the nation's best-loved beverages and savour the distinct notes alongside an array of chocolate and cheese.
Make sure the couple leaves space for lunch! After touring and trying handmade treats, it's time for a gourmet meal with local wine, beer or cider.
Cook traditional Tuscan food using simple ingredients
Anniversary gifts for travel-mad couples don't get better than this – a mouth-watering Tuscan cooking class.
Simplicity is central to Tuscan cuisine, and chefs incorporate accessible ingredients without overpowering spice. However, don't be fooled by the stripped-back recipes – each dish packs a hearty punch and draws from the region's abundance of fresh produce.
During the session, students will prepare veal saltimbocca with salty prosciutto, zucchini focaccia, melanzane, marinated asparagus, tiramisu and more for a smorgasbord of Italian delights!
Experience gifts for couples in Melbourne
Explore the Japanese garden art of Kokedama
Head East and discover a unique Japanese planting style that swaps plain old pots for exposed roots and adorable hangers. Of course, we're talking about a Kokedama making workshop, where couples can play with earthy materials to create lush indoor gardens that brighten interiors.
Under the guidance of a florist, students will study soil composition, plant selection and tying techniques to keep their miniature moss balls thriving for years to come. The use of hardy houseplants and succulents mean the tiny ecosystems need very little maintenance – perfect for fearless explorers who are always on the move!
Capture Melbourne's skyline at night
There's no need to venture far and wide to experience something brand-new. This photography course encourages intrepid twosomes to view Melbourne through a different lens and exposes the city's fascinating underbelly.
As well as gaining a different perspective, couples learn how to take striking nighttime photos. The award-winning teacher runs through camera modes, exposure, colour balance, aperture and more for professional-looking results overflowing with detail.
Most importantly, they'll gain impressive skills that'll serve them on future trips abroad – we hope you're ready for hours of holiday snaps!
Experience gifts for couples in Brisbane
Feast on sophisticated French fare
If you're searching for a couples gift to appease luxury lovers, we suggest looking no further than this decadent French cooking class.
Over three hours, keen cooks master a heavenly three-course meal boasting delectable textures and creamy flavours. Although the menus change frequently to showcase the country's myriad famous dishes, expect confit egg yolk served with Parma ham, coq au vin, potato dauphine and apple jalousie.
Dabble in gourmet delights from around the world
Curious couples are sure to adore this jam-packed around the world cooking class – too much choice isn't always a bad thing!
Hopping from country to country, the group practises a wealth of cooking methods with help from an accomplished chef. They'll learn the art of culinary bling (a.k.a gorgeous presentation) and how to imbue their food with cultural authenticity.
They'll grapple with Argentinian empanadas, Indian onion bhajis, Moroccan lamb shoulder with fruity gravel and more – it's the ideal activity for couples who need dinner time inspiration!
Experience gifts for couples in Perth
Make pastry and buttery Parisian goodies
Anniversary gifts for couples should ooze romance, and you can't go wrong with a French patisserie dessert making class bursting with chocolatey aphrodisiacs! Plus, shop bought boxes of chocolates can't compete with homemade pastries before a busy day's work.
Led by a Michelin-star chef, students will make light and flaky pastry that's fit for a world-renowned restaurant. They'll roll shortcrust, mix brioche and whisk crème patisserie fillings to their stomachs content. Then, they'll transform raw ingredients into luxurious desserts, including mille-feuilles, profiteroles and caramelised tarts.
Celebrate Australia's history and native produce
For homebodies eager to uncover Australia's rich heritage, this native Australian cooking class won't disappoint.
Duos can join the innovative chef on an imaginative journey across the Australian landscape to discover ingredients unique to the country. Everything is respectfully sourced with indigenous wild harvesters in mind.
Muntari berries, lemon aspen, river mint and native game meats pepper the menu, and there's ample opportunity to taste test surprisingly moreish meals like crocodile fillet and aniseed myrtle heirloom carrots.
Make their anniversary one to remember with our adventurous gifts for couples
There are hundreds of thoughtful anniversary gifts for couples who love to travel for you to explore! Transport yourself to the Hunter Valley with a wine tasting experience or brighten up your home with DIY bouquets made in a floristry class. Got a partner who loves to go out to the bar? Bring the bar to them and learn how to mix muddle and shake classic zesty and sugary cocktails.
Every workshop is beginner-friendly and includes comprehensive personalised tuition, so your loved ones will walk away with a repertoire of brand-new skills. What's more, they run across Australia for unbeatable convenience in Sydney, Melbourne, Brisbane, Perth and more.