Experience all the feels with fun and social paint and sip classes in Brisbane! Whether you're a working parent or a full-time student, everyone can get in touch with their creative side and in turn, their feelings too.
In today's hyper-active world, it can be hard to find the time to let your creativity flourish and confidence bloom. But taking time to relax and unwind with paint and sip classes can be a great opportunity to spend quality time with others and give yourself a special treat. That's why they're one of the best things to do in Brisbane.
Perfect for date night ideas, team building activities and unique experience gifts, there is something for everyone to learn as they discover how to paint all while enjoying a glass of wine. Read on to find out five things you'll feel after coming along to paint and sip classes in Brisbane.
Feel creative
Feeling stuck in a creative rut? Break free of self-doubt at a wine and paint night and feel inspired by a friendly teacher or other students from your class. Painting classes in Brisbane are perfect for beginners and art enthusiasts alike, where you can enter a safe space to try new things and experiment with different colours or designs. From paint pouring to acrylic paintings, your friendly teacher can take you step-by-step through painting a specific artwork or making your very own abstract art.
There are no rules when it comes to painting, simply let your creativity take over and paint whatever your heart desires. Just like our street art paint and sip class in the West End, you can learn new art styles and paint with your friends or work colleagues. Anyone can be creative - it's just about making that first step and putting your paintbrush to the blank canvas.
It also doesn't matter if you're a beginner or not, as sip and paint classes in Brisbane have a playful and relaxed atmosphere that makes it easy to have fun and socialise with others. Discover your artistic side, learn how to paint for beginners and join a growing community of like-minded individuals who are passionate about art!
Feel relaxed
Painting is a relaxing and mindful process, where your brain switches off and you can focus on the strokes of the paintbrush and the myriad of colourful paints. It's a form of art therapy, helping to improve your mental health, reduces stress and depression and makes you feel at ease.
Compliment this soothing experience by sipping on some wine or bubbles in a cosy, intimate setting where you can have fun with your significant other and enjoy painting together. There's also something about the painting atmosphere that instantly makes you relax - the sounds of the palette knife as you mix two paints together, the cheer and laughter, music in the background and the dimmed lights in the room. It's perfect if you're searching for new date night ideas.
Working on a painting can take your mind off whatever's weighing you down and you can pour your emotions onto the canvas. Join one of these wine and paint classes in Brisbane and let your worries disappear as you come away feeling refreshed.
Feel connected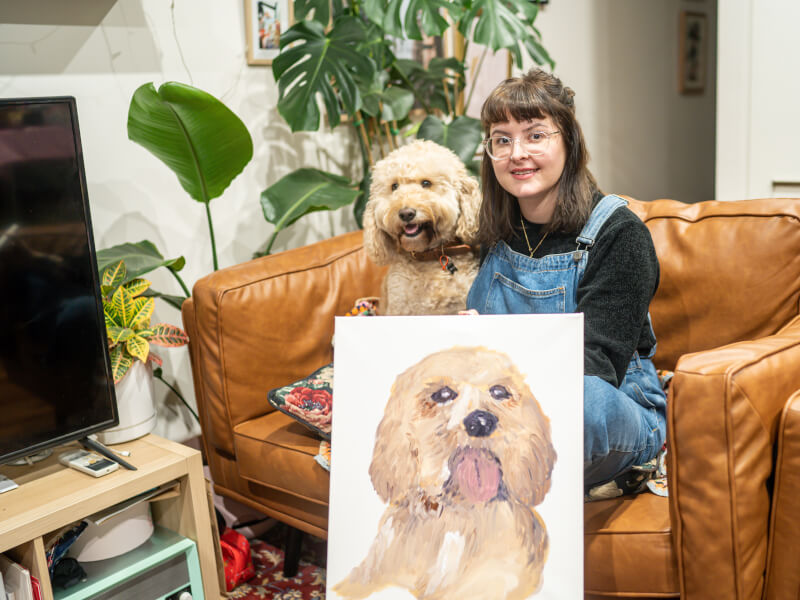 Painting classes are held in local paint and sip studios in Brisbane, where if you're coming alone, you can meet new people and make a bunch of friends. Or if you and your work colleagues are looking for team bonding activities, look no further and learn how to paint together!
Especially if it's the first time for everyone, you can embrace new experiences and share in common conversations. Talk to each other while painting and help each other through the creative process. Ideal for hens party ideas, family activities and date nights in Brisbane, painting can help build a more meaningful relationship with one other.
Go out and enjoy some quality time with your loved ones. Paint and drink classes in Brisbane provide the painting equipment and set-up and all you need to do is come along, bring your own food and drinks and paint the night away! Or if you prefer to go alone, get some self-care time, treat yourself with some champagne and feel more in touch with your artistic side.
Feel confident
When you finish painting your artwork, you're guaranteed to leave feeling a huge sense of accomplishment. Whether it's your first or your tenth time, there's nothing better than looking at your finished painting and hanging it up proudly on your living room wall. Not only do you leave feeling super proud but you also leave feeling confident in your new painting skills and techniques that you can carry with you. Learn how to make complete acrylic or watercolour paintings with a little help from the artisan and take your masterpiece home.
After the class, you'll get inspired to continue exploring your own painting style and what works for you. Try something new and experiment with fluid art painting by pouring the paint and moving the canvas around to create beautifully designed patterns and textures.
Whether you're in search of gifts for couples, 30th birthday party ideas or team building activities, painting is one of the must do Brisbane activities this weekend.
Feel renewed
Looking for Brisbane workshops that will make you feel renewed? With these paint and sip classes in Brisbane, you have the chance to spend two hours disconnecting from your worries and unwinding in a safe and fun environment. An experience like this helps improve your mood and allows you to be introspective and playful. With no pressure to be a great artist but enjoy painting, it is proven to make you feel renewed and refresh your soul. Leave the distractions at the door and join an inviting environment, where you can express yourself through art.
If you're someone who has painted before but stopped due to busyness or creative blocks, paint and sip classes are a wonderful way to get back into your painting journey and feel inspired by others. With these fun things to do in Brisbane, you'll never get tired of joining new classes and try out painting different pieces or techniques.
From a paint what you sip class to a sip and paint a portrait class, there is a wide range of painting workshops for you to choose from and enjoy. Celebrate your next event and give a wine and paint class a go!
Ready to try out paint and sip classes in Brisbane? Check out 11 of the best paint and sip studios in Brisbane!
Paint and Sip workshops in Brisbane