Relax by the water, party with RnB tunes, or let your creative intuition guide you at paint and sip classes in Sydney! Whether you're looking for a mindful place to learn how to paint or a fun atmosphere where you can drink and paint and socialise with friends, these Sydney activities are the perfect option for everyone.
Fun things to do in Sydney with friends? Check. Team building activities where you can break the ice over a bottle of pinot? Check. Classy hens party ideas outside with a picnic? Check! Paint and sip classes in Sydney are your chance to meet up with friends (or make new ones) and learn how to paint—no matter the occasion.
The best part is that you don't have to have any experience painting or consider yourself creative. Wine and paint classes are completely beginner-friendly, and you'll be guided on how to make a masterpiece step-by-step by friendly and passionate local artists.
Ready to find the best paint and sip classes in Sydney for you? Read on to find out more!
Enjoy a classic paint and sip class with Pinot And Picasso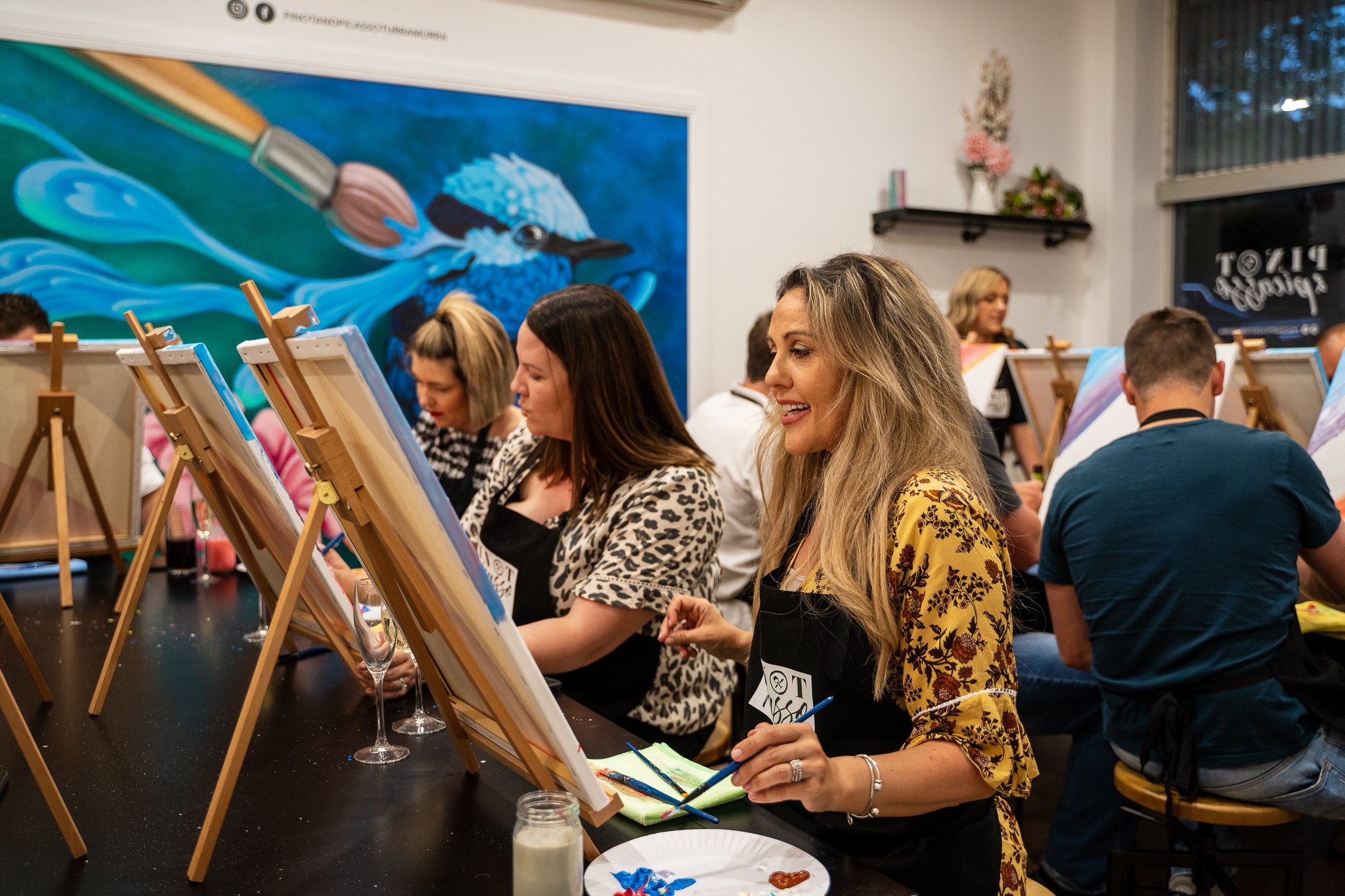 When it comes to a classic paint and sip class, Pinot And Picasso have got you covered. Fundamentally, paint and sip classes are about two things, learning how to paint and sipping your favourite drinks with friends—both elements that Pinot And Picasso nail every time.
Held at paint and sip studios from Randwick to Balmain to Penrith, these Sydney workshops are not just super fun, they're also super convenient too! Learn how to paint a portrait of Frida Kahlo, a colourful landscape or even paint your pet at one of their regular sessions and complete a masterpiece you can be proud to hang in your home.
Get the crew together for team building activities with Pinot And Picasso and purchase one of their gourmet grazing boards to nibble on as you create!
Choose your own creative adventure with Welight Art Space
Although they can be a lot of fun, paint and sip classes in Sydney are often limited to just one artwork that everyone paints together. However, that's not the case with Welight Art Space! Set in a cozy studio displaying local art, you'll learn how to paint a masterpiece chosen by you.
Get inspired by the variety of styles on display, including modern, classical, western, oriental and east meets west or bring along your own ideas. Although you'll get a free drink upon arrival, make sure to BYO drinks and snacks as refreshments are not available for purchase from this venue.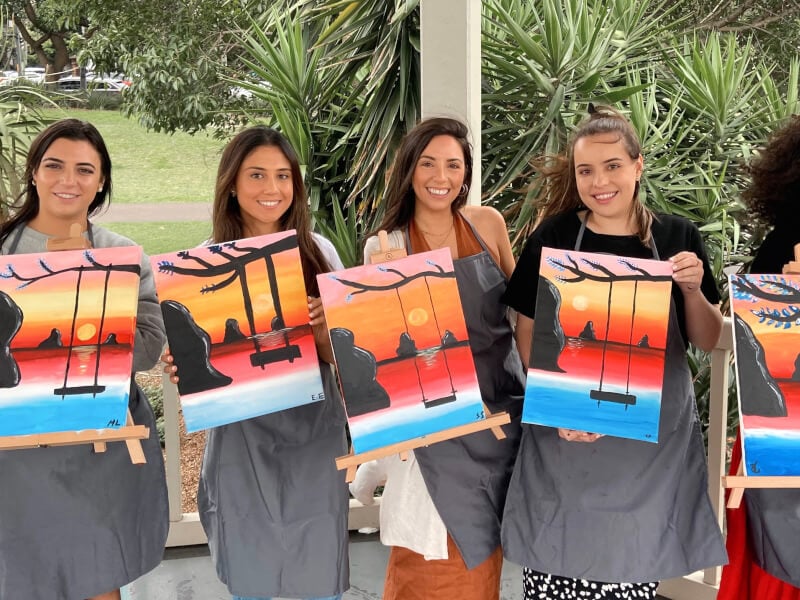 Get outside and amongst nature at this picnic-themed paint and sip class. Guided by Robertina at either Darling Point or Moore Park, you'll learn how to paint a beautiful, colourful masterpiece seated on picnic rugs and cushions.
BYO picnic basket, stretch out your legs and feel your creativity blossom with these outdoor activities! Searching for classy hens party ideas? This wine and paint class is the perfect place to connect with your besties and enjoy a lovely day out in the sunshine.
Hold a paint party with Drip Splash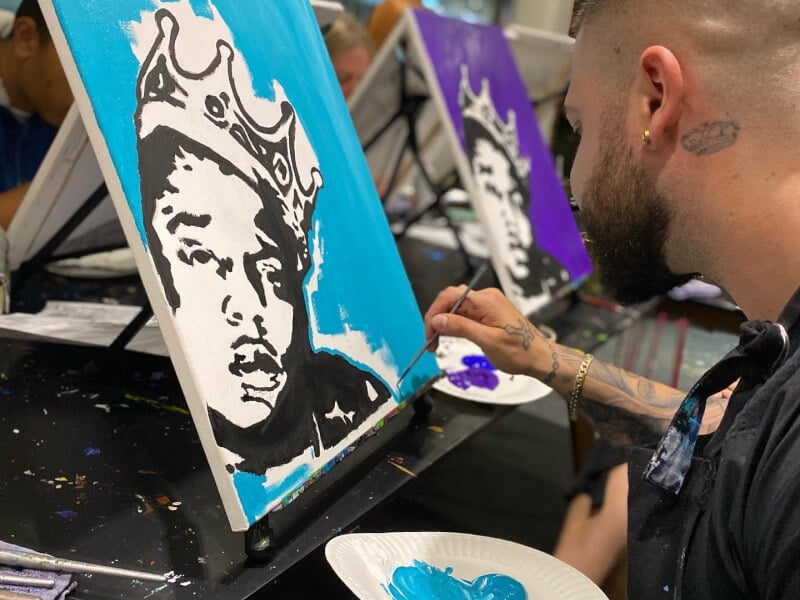 Try a paint and sip class that has a fresh twist and join Drip Splash at their Chippendale, Dulwich Hill or North Strathfield studio. In this fun and casual class, you'll learn how to paint classic RnB rappers Tupac and Biggie or modern-day icons Rihanna and Drake in a vibrant pop art style.
As you paint, groove to some funky beats and socialise over BYO drinks and nibbles.
Celebrate your RnB-loving friend with these unique birthday party ideas. Not only will they get to enjoy the best paint party in town, but they'll also get to take home a handmade keepsake of their idol!
Focus on mindfulness by the bay with Kylie Johnson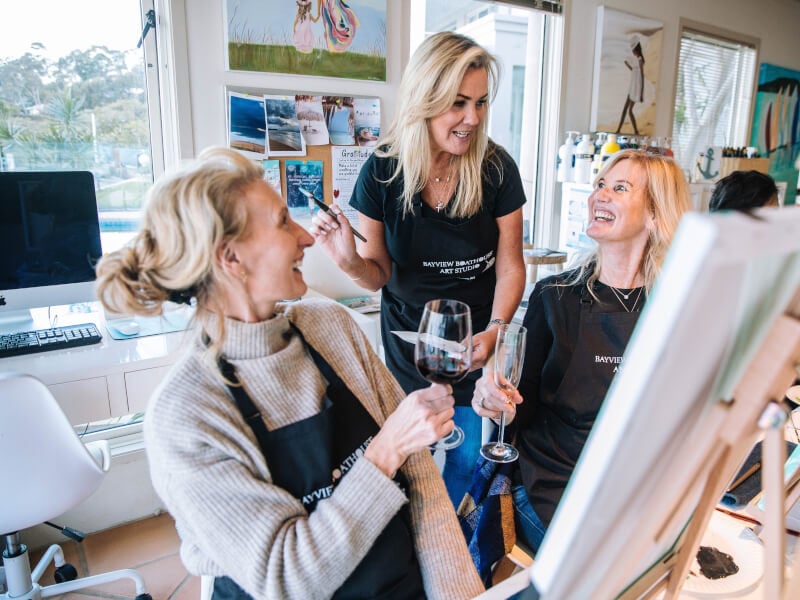 Switch into mindfulness at a paint and sip class with Kylie Johnson. Guided by Kylie, you'll create a masterpiece to the soothing sounds of the water, just outside her inviting home studio in Bayview on Sydney's Northern Beaches.
Kylie also offers private classes for hens parties, team building and those in aged care. Simply bring your own drinks and nibbles and your open-mindedness and learn how to paint a calming masterpiece.
Learn how to paint as you listen to live music with MR-Studio
Picture this. Mingling with friends and listening to soothing live music with a glass of wine in one hand and a paintbrush in the other. Sounds amazing right? Experience it all with MR-Studio in Willoughby!
Depending on class numbers, you'll get to tap your foot along to live Spanish/flamenco music on the guitar. If you find you're more creative with a bit of background music on, you can't miss out on this must do Sydney workshop.
Try this twist on paint and sip with Sydney Creative
Searching for relaxing indoor activities? Pair BYO drinks with the soothing art of textured painting with Sydney Creative in Redfern. Guided by a friendly artist, you'll learn how to use palette knives and beautiful soft paints to create a masterpiece.
Your teacher will guide you through the entire process, from mixing your paints to creating a background and of course, getting the perfect textured shapes for your artwork.
Get creative at the best paint and sip classes in Sydney
No matter what you enjoy or what occasion you're celebrating, sip and paint classes in Sydney are the best place to combine creativity and fun in just one night. Whether you're after a classic paint and sip experience or something a little different, you'll finish all of these Sydney activities with a personal artwork you can be proud of and unforgettable memories.
Paint and Sip workshops in Sydney