Looking for feel-good wine and paint classes to inject some fun into your weekend? Whether you're in Balmain, Crows Nest or Bayview, these paint and sip classes in Sydney have got you covered! Held in warm and inviting studios, they are the perfect place to learn how to paint your own masterpiece while enjoying your favourite drink. Under the guidance of local and passionate artists, you can feel inspired by the variety of different artworks in the room and start creating one of your own!
Perfect for any special occasion, whether you're searching for classy hens party ideas, fun team building activities or unique birthday party ideas, you are bound to find a paint and sip class in Sydney that will suit you and your loved ones.
Intrigued? Read on to discover the nine best wine and paint classes in Sydney that will have you socialising, sipping and painting the night away!
Release your inner Picasso
Looking for fun wine and painting classes in Sydney? Join Pinot and Picasso at their gorgeous paint n sip studio in Balmain and drink a glass of wine or two! Let your inner Picasso out as friendly and experienced artists take you step-by-step through the process of painting your own unique artwork. Their paint and sip classes are designed for complete beginners so you can feel relaxed and spend quality time with your friends.
Simply take a look at their huge variety of paint and sip artworks and see which masterpiece you would like to recreate. From the beautiful landscape of Mount Fuji to the sunset view at Santorini, the possibilities are endless to what you will create next! Spend your weeknights or Saturday evenings unwinding and socialising with your loved ones and most importantly, having fun!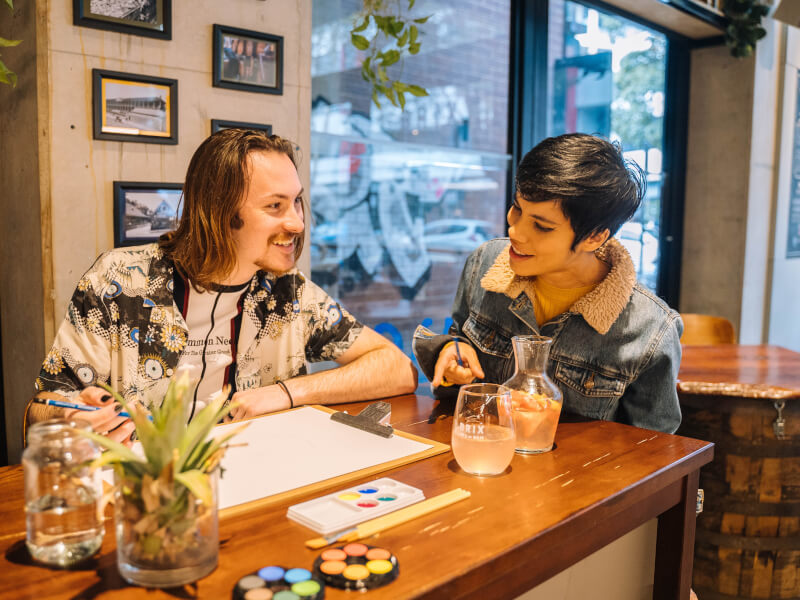 Become inspired by nature with Robertina Varga
Who says a wine and paint class has to be indoors? With Robertina Varga, she brings the paint and drink party outside and creates a unique outdoor experience in Sydney. You can paint and drink some bubbles while sitting on a cosy picnic set up with cushions and rugs. With no painting experience required, Robertina guides you through each step and allows you to try something new in a safe and non-judgmental environment.
If you're looking for social Sydney activities, these hands-on paint and sip workshops are the best way to get together with friends or spend some quality time with your partner. You don't have to run out of romantic date ideas when you can book a private class with Robertina and learn how to paint beautiful landscapes surrounded by sunshine and nature. Plus, with all art materials provided and a complete picnic setup, all you need is BYO snacks and drinks!
It's time to choose your own adventure at Welight Art Space in Chatswood! Their paint and sip studio has a variety of styles and artworks you can create, from everything to modern, classical to east meets west. You can choose any image from their gallery or you can even bring your own image to recreate and paint your own style - it's up to you! No matter what painting you decide, your passionate teacher will give personal support and one-to-one feedback to each student. The best part? You will be able to take home your own masterpiece on canvas, which is why wine and painting classes are one of the best things to do in Sydney this weekend.
Listen to live music at MR-Studio
MR-Studio offers a unique sip n paint experience that gets you into the painting flow while listening to live music! Yes, you heard that right! A live Flamenco or Spanish guitar band will be playing as you sip on some fine wine and mingle with your friends or colleagues. With laughter and funky music in the background, these sip and paint classes in Sydney combine fun and relaxation into one. Celebrate your next social event with MR-Studio and get inspired by their artist studio and gallery. This wine and paint experience is suitable for team building activities and unique experience gifts for art lovers.
Brush and sip the evening away at Sydney wine and paint classes! Head to Sydney Creative and enjoy a couple of hours painting with a unique twist. They offer a textured paint and sip class, where you can use tools like a palette knife to make small indents with paint, creating beautiful, colourful leaves onto the canvas. Their friendly team will show you how to mix your paints, create your background and how to form those pretty leaves. Before you know it, you will have created a textured masterpiece that you can keep for yourself or gift to a special someone.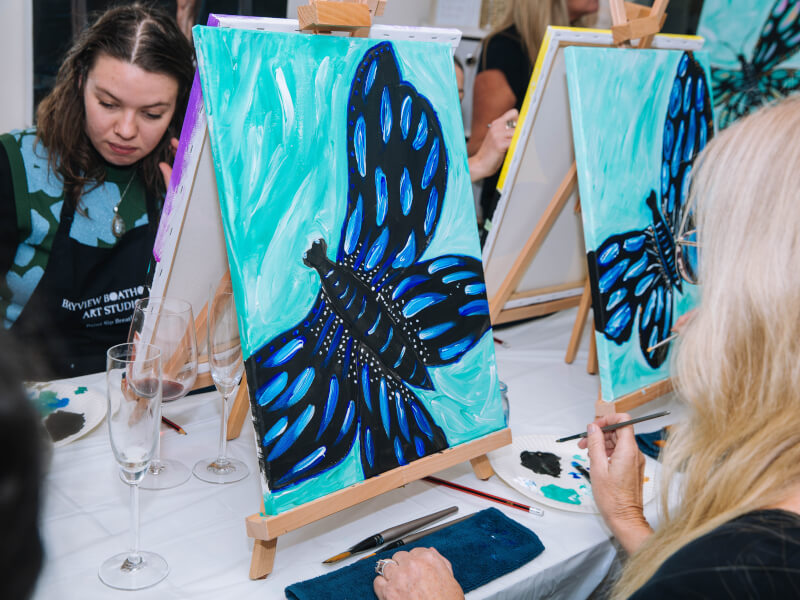 Paint alongside a pro
Held in Greenacre, Paint Along is the perfect space for your next wine and paint night with your friends, family or colleagues. Head to Mount Lewis Bowling Club and learn how to paint with acrylics in a relaxed setting. Come early, purchase some food and drinks from the bar and connect with friends or even meet new people! Whether you feel you're not creative enough or have some painting experience, their Sydney workshops welcome beginners of all levels to their safe and relaxing space. As you paint alongside a professional artist, you'll be amazed at what you end up with!
Hosting your own paint party? Come along to Drip Splash and learn how to paint pop art masterpieces of your favourite hip hop icons. From Tupac to Cardi B to Lauryn Hill, you have the creative freedom to replicate the original or paint your own interpretation of the artwork. Over three hours, listen to funky music, sip on a beverage of your choice and fall in love with painting! They offer so many paint and sip classes in Sydney that you'll want to keep coming back to savour their relaxing and social atmosphere.
Join Kylie Johnson for a mindful paint and sip session at her picturesque seaside studio in Bayview! During this casual, hands-on class, you will be guided by Kylie to create a beautiful piece of art that is perfect for your living space or home.
Kylie loves teaching students about the joy of painting and the many health benefits it can offer to your body and mind. Whether you're looking for relaxing hens party ideas, team building activities or kids birthday party ideas, there are so many wine and paint classes available to choose from! Like this paint and sip class for team building, she can bring the paint party to your office! Just book a private class and learn how to paint a unique artwork with a glass of wine in your hand. After all, painting art is a great way to keep your mind healthy and active as you let creativity run wild.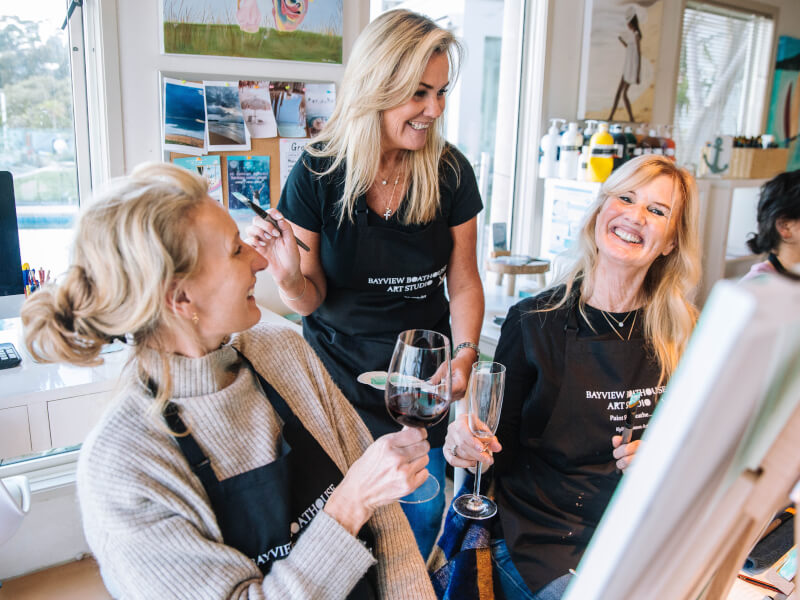 Paint like Monet
Don't know what to get your partner for Valentine's Day and want some cute date night ideas? Try something new and head to Monet and Moscato at their paint and sip studio in Crows Nest. Play with colour and sip on a glass of vino in a fun and relaxing environment. Under the guidance of local artists, you can learn new painting techniques that you've never seen before and discover your own artistic style. At the end of the class, you can feel proud of what you made and can even paint like Monet! Getting the best gifts for her doesn't have to be difficult when you can sign up for a wine and paint class in Sydney today!
Plus, wine and paint classes are the perfect way to help you stay social and bond with your friends, family or work colleagues. The best part is taking home your wonderful paintings and some beautiful memories with your loved ones.
Paint and Sip workshops in Sydney