Want to dive into pottery classes in Sydney but unsure where to start? With so many different types of pottery classes across the city, from wheel throwing to sculpture making, it can be overwhelming to pick just one. That's why we've rounded up our Sydney workshops to help you decide which one will suit you best!
Pottery classes offer a space for mindfulness, creative expression and of course, some hands-on, messy fun. No matter what kind of pottery for beginners class you choose, this tactile craft has been proven to decrease stress levels, boost your mood and foster creativity.
Taking just one off pottery class for beginners will allow you to tap into the mindful and fun aspect of pottery, all while learning the necessary skills to complete your desired type of pottery piece. Even if you don't become a ceramics expert, you're guaranteed to have a lot of fun! Besides, who doesn't love taking home their own handmade ceramics to use and admire every day.
Want to know how to make your own pottery in 2023? Check out our guide here.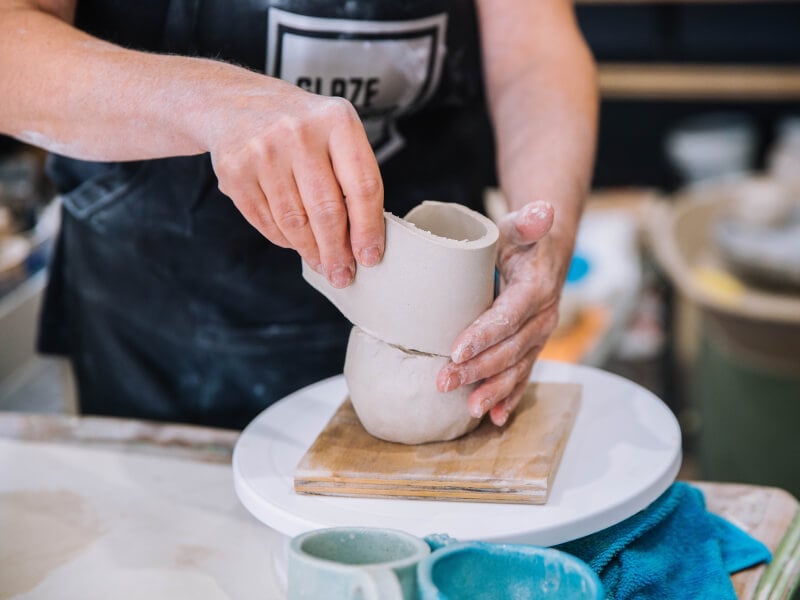 Searching for fun things to do in Sydney? Roll up your sleeves and get your hands dirty making your own ceramics! Clay hand building is the original method of pottery before the wheel was invented. This hands-on, messy craft not only produces rewarding results but it's also super fun to do as well. Hand building allows potters more control over their creations, so you can sculpt your own quirky mug, a unique figurine or a curvy vase - the possibilities are endless!
Here is a breakdown of the different clay hand-building techniques you can learn:
Press moulding
This technique is ideal for creating shapes that might not be so easy on a wheel. Press moulding refers to pressing your clay into a mould so that it takes on that shape. There are two main materials for moulds: the Bisque mould and Plaster of Paris. Clay can be moulded into a convex or concave structure, depending on the desired result. The clay must be pressed into the mould so that it fills every crevice and doesn't crack. In these classes, you will learn how to manipulate the clay and fill up the mould.
Slab building
Likely the method you used if you made a clay mug at school, slabbing is a traditional way to make pottery. This technique involves rolling out slabs of clay in any shape and building your creations with them. These classes are perfect for complete beginners. They familiarise you with the materials and techniques that make the basis for ceramic production. Like press moulding, it allows you to make shapes that you wouldn't necessarily achieve using a wheel.
Coiling
This specific technique involves starting out by rolling out your material into long, thin strips. Then, you choose how to use the long rolls to build up your creation. Sometimes the long rolls are stacked on top of one another in a ring shape. They can be smoothed down or left for a textured effect. Another way to use the coiling method is to make the rolls into circular, coil shapes, which can be stacked atop of one another or flattened into the structure.
Decorating
Some may say that the most fun part is decorating! This can be included as part of the other types of classes but can be a class in itself. In the latter case, these pottery studios in Sydney may provide pre-made pots or encourage you to bring your own unfinished ones. There are special techniques to decorating ceramics; ones that are best taught by professionals.
Clay hand building classes are perfect for: Anyone who is just getting started with pottery and likes to have full control of their piece. It's impossible to walk away from these Sydney pottery classes without a piece you adore!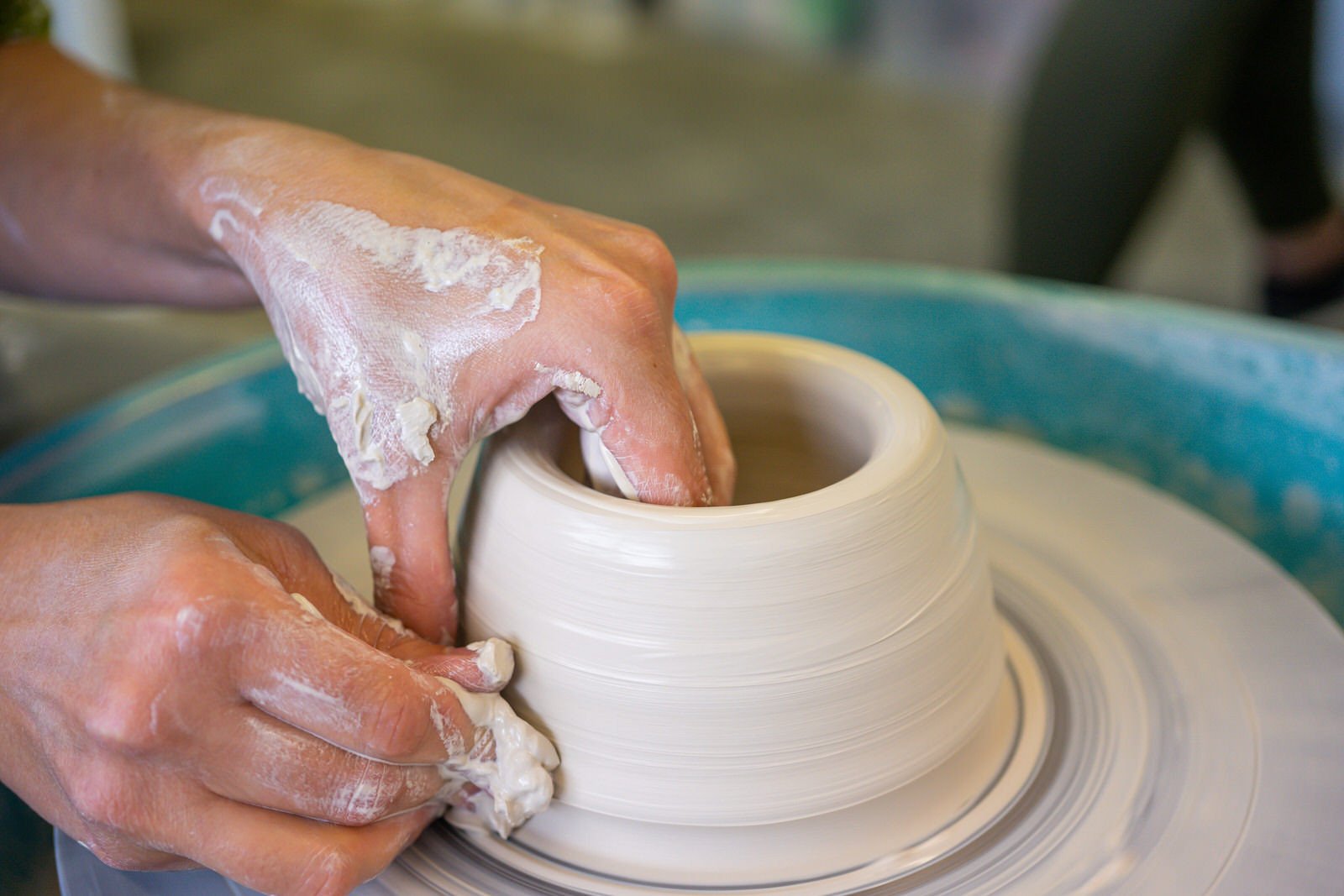 When most people think of the pottery wheel their mind goes back to that famous scene between Patrick Swayze and Demi Moore in Ghost. The pottery wheel might not be that romantic for everyone but there certainly is a cool, sensual aspect to it! Many of the pottery studios in Sydney offer date night wheel throwing classes where couples can use the same wheel, tuning into each other and the clay and ultimately, moving as one.
Exactly as you would imagine, wheel-thrown pottery involves the use of a rotating pottery wheel to achieve your desired shape. You will learn how to treat the clay, work the wheel and the best posture and gestures to optimise your experience. The name 'throwing' comes from the most fun part - throwing the clay mix onto the wheel!
Wheel throwing produces super sleek ceramics and you can craft everything from plates to bowls to mugs and planters! This mesmerising process also allows your mind and body to enter a state of 'flow' where you can forget about your worries and focus solely on the clay. So let your inner creative take the wheel and enjoy the ride - you're guaranteed to make magic no matter the results.
Wheel throwing classes are perfect for: Perfectionists who love symmetrical, sleek ceramics, as well as those who want the full fun experience of pottery and getting their hands plenty messy on the potter's wheel!
Mend your mind and heart with Kintsugi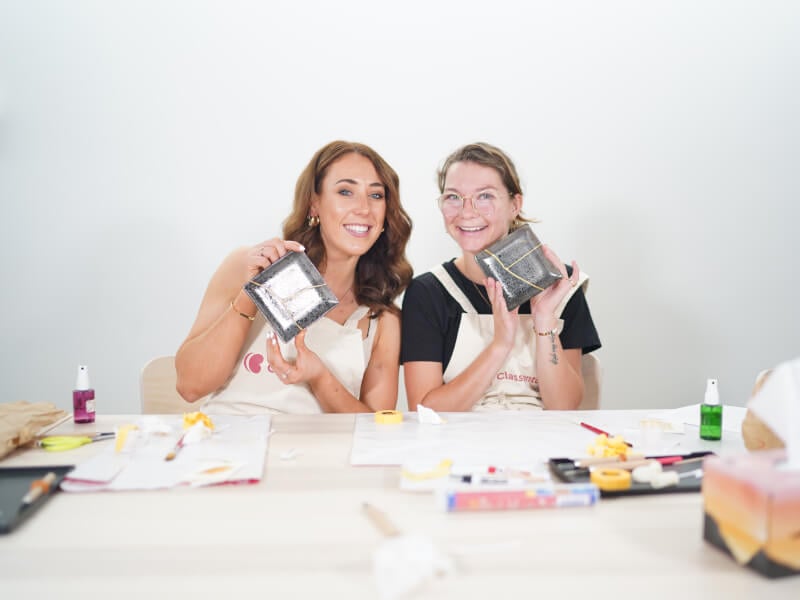 The Japanese art of Kintsugi (meaning "golden joinery") focuses on repairing broken ceramics with gold. This unusual method is believed to mend the pottery and the heart of those who make or repair it. It has been used in Japan since the 15th century and it's exactly what we need in today's world! The meditative process of mending broken ceramics helps mend our minds and hearts, making us more resilient and ready to embrace change and challenges. It makes perfect sense that this amazing method originated from a country like Japan, which is known for its mindfulness practices.
In addition to being an artistic repair method, Kintsugi also creates unique designs on ceramics which can be appreciated as they are or repainted by artisans with their own designs. In fact, there are so many different ways you can create beautiful broken pottery pieces that were once thought completely ruined. It's a great option for those looking for sustainable Sydney workshops given that it encourages upcycling and repair over buying new.
Kintsugi classes are perfect for: The sustainable-enthusiasts who want to learn more than just a pottery technique, but the whole philosophy behind it too.
Start your ceramics collection with clay sculpture classes in Sydney
If you're after a more hands-on and tactile pottery lesson, clay sculpture is the perfect option! This type of pottery class is super fun and makes for a great gift or statement piece for your home. Clay sculpting allows the artist to freely create whatever they want and there's no limit to what you can create. The possibilities are endless: you could make anything from small figurines made from one piece of clay to giant busts or even functional pieces like vases! You'll learn how to use different tools and techniques to craft everything from bowls and cups to lamps and benches!
Clay sculpture classes are perfect for: Anyone who just wants to let their creativity run wild in a pottery class!
Clay and sip, anyone?
Pottery and wine, it's what we like to call a match made in heaven. That's right, any of the above pottery classes can be paired with wine for a unique social experience! Sipping on your favourite beverage while trying out a new craft is a great way to make you feel more comfortable at the Sydney pottery studio, and is also a great pairing if you're looking at doing these classes for a hens party or fun team building activities.
From a clay and sip pottery class for date night (picture a couples pottery class channeling Ghost) to a wine and clay hand building class, you can try all types of pottery with a drink by your side.
From beginners to more experienced potters
All levels of pottery workshops are available from total beginner to intermediate to expert. You can choose to take part in a group class or a private, one-on-one session. Group pottery classes can be fun for experience gift ideas and family days out.
Many pottery studios in Sydney offer long-term commitments, short courses and day classes. Long-term classes, over 12 weeks for example, can be great for someone starting out, who is hoping to hone their skills and become better at the craft. One-off classes can be fun for people who want to try out pottery before committing to a longer period of lessons. They also make the perfect gift for a friend who loves trying out new crafts. Not only that, but they are great for families as many classes cater for little ones too. Speaking of kids, you will likely find schools that offer short or long courses specifically for children as well.
It's good to note that in most pottery classes in Sydney, your teacher will likely fire your finished creation for you. The process takes a long time, often up to six weeks, so be prepared to return to the studio to pick up your finished piece at a later date. Then you'll get to take home your unique handmade pottery to cherish forever!
Gift a unique experience
Pick a fun experience for them, or let them choose from our thousands of creative classes and kits.
Valid for 3 years.
card_giftcard Get a gift card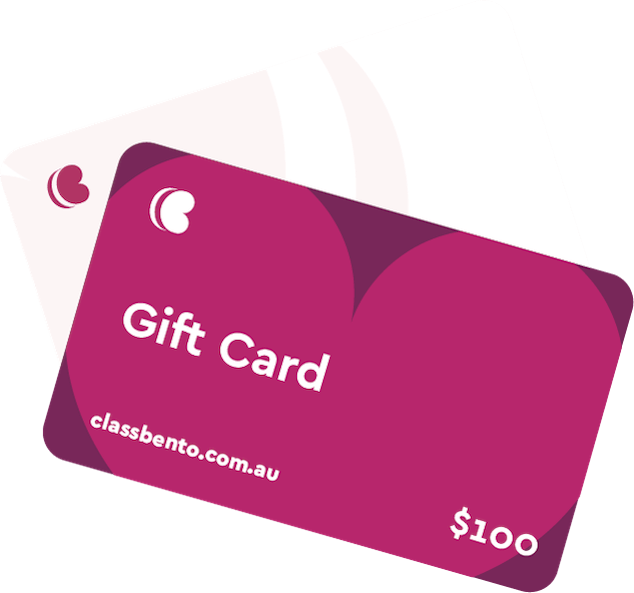 Pottery workshops in Sydney