When it comes to shopping for friends who have everything, unique experience gifts are a savvy solution. Classes and workshops take you beyond the realm of material presents and unlock an exciting new perspective on gift giving.
Ready to think outside the box? Read on for our inspiring guide to shopping for friends who seem to have everything. As well as popular experience gift ideas like wheel throwing and cocktail masterclasses, we spotlight some artforms and activities you may never have even heard of… yet.
Glassblowing
A fiery glass making class is the perfect gift for friends who have everything. Led by expert artisans and geared towards beginners, classes walk you through the magical art of glassblowing. No experience is necessary, making glassblowing classes ideal for creative souls and complete novices.
One of the best experience gifts for men, classes offer a chance to operate an oxygen-propane torch and master techniques like sculpting, joining, stretching, blowing and colour blending. Metalwork classes are another great gift experience for gents, with themes like knife forging, blacksmithing and wire sculptures guaranteed to spark interest. Chances are, your lucky recipient will leave with a brand new hobby to pursue.
Mosaic classes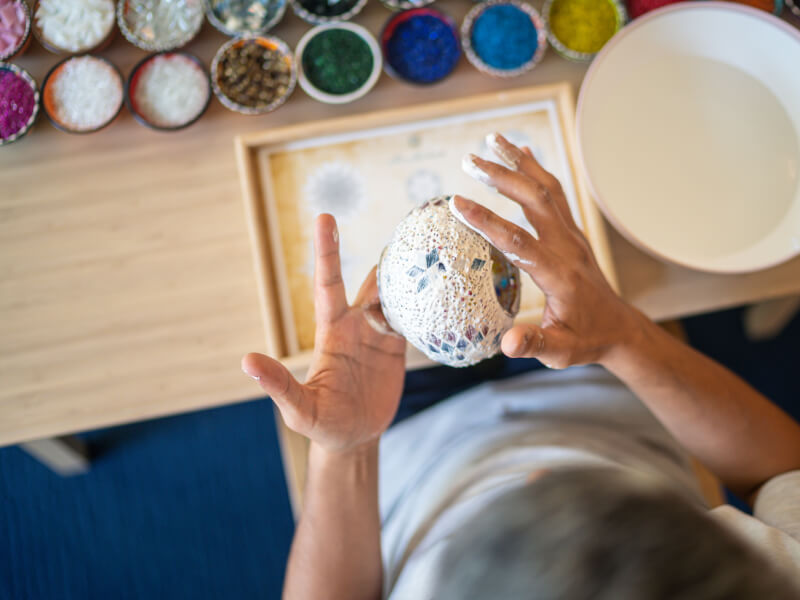 Candle holders, photo frames and wall art are just some of the masterpieces you can create in our mosaic classes. Colourful and creative, your recipient will learn how to make a mosaic from scratch using fragments of glass and ceramics. All classes are taught by experienced artisans who will walk you through every step of the mosaic art process, from the initial design to the final touches.
Classes are available across Australia, making mosaic workshops ideal experience gift ideas for friends who have everything. Send your partner in crime to our best-selling Turkish mosaic lamp workshop in Melbourne or opt for a stained glass lead lighting course in Sydney. You'll even find mosaic experience gifts for kids, so why not swap plastic toys for a hands-on art class? They make great birthday gifts and encourage kids to step away from technology and immerse themselves in an activity that's fun and creative.
Floral arrangement classes
While flowers make beautiful gifts, they only last for a week or so. Floral arrangement classes take a different approach and teach your bestie how to create their very own bouquets from scratch. From wildflower posies to seasonal wreaths, floristry workshops are one of the most fun things to do in Melbourne.
Armed with expert floristry skills, your recipient will have the confidence to hit up the local flower market and hand-pick their very own blooms. Floral arrangement classes are also thoughtful experience gift ideas for friends who have beautiful gardens filled with homegrown blooms.
From St Kilda and Fitzroy to the Mornington Peninsula, classes are run across the city. You'll also find flower arranging gift experience classes in other major Australian cities, including Sydney and Perth.
Kokedama classes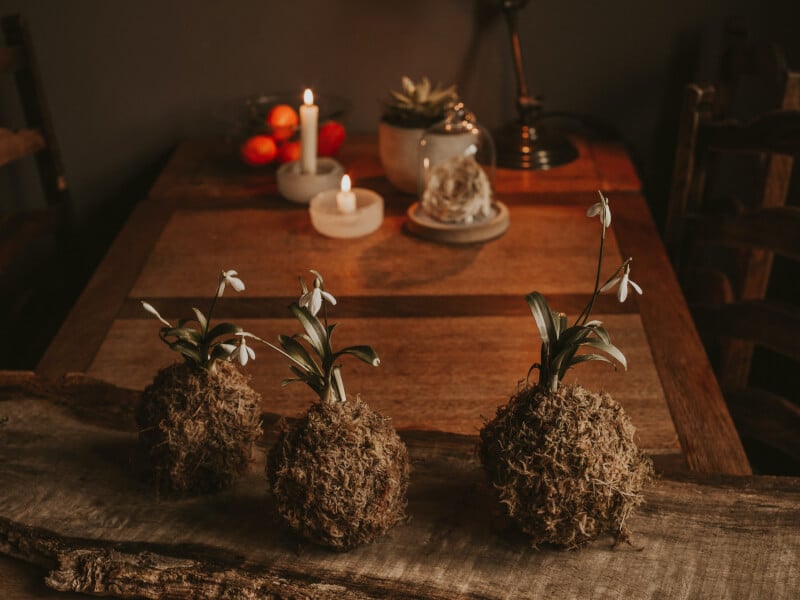 Forget succulents. Kokedama classes take you beyond the realm of cacti and teach you how to create your very own moss covered Kokedama balls. Originating in Japan, Kokedama is a centuries-old technique that blends elements of traditional bonsai and kusamono gardening. More than just a botanical technique, it has philosophical roots and was created to showcase the beauty of simplicity. If you're shopping for a deep thinker or a spiritual soul, our Kokedama experience gifts are guaranteed to delight.
No experience is necessary, making Kokedama classes ideal for green thumbs, as well as friends who can't seem to keep even the most basic house plants alive. Kokedama is gaining traction across Australia and is one of the top fun things to do in Brisbane. You'll also find hands-on Kokedama classes in Sydney, Melbourne and Perth.
Cocktail masterclasses
When you're fresh out of ideas for the friend who has everything, step behind the bar and gift them a cocktail masterclass. So much more exciting than wrapping up a bottle of wine, cocktail classes make great unconventional experience gift ideas and promise an evening of unbridled entertainment.
From Rum Spicing Masterclasses to Gin and Tonic Tastings, cocktail classes are one of our best-selling fun things to do in Sydney for a reason. Cocktail making classes also make perfect gift experiences for couples, combining fun, creativity and a dash of romance. To explore more unique experiences for couples craving quality time, click here.
Wheel throwing pottery classes
Wheel throwing classes not only teach you how to transform clay into art, but they are also famously therapeutic. Engaging both the mind and the body, pottery can simulate the benefits of meditation and send you into a deep state of relaxation. Some people may even find their heart rate and blood pressure dropping as they engage in the hands-on art of pottery.
The therapeutic nature of pottery makes our wheel throwing classes an ideal gift experience for friends who are struggling with stress, anxiety or mental health issues. Treating them to a wheel throwing class will encourage them to step away from the stressors in their life and enjoy some well-deserved downtime. Ceramics workshops also make thoughtful experience gift ideas for friends who love calming activities like yoga and meditation.
Gift shopping for friends who have everything
You can never have too many treasured memories, making experience vouchers a knockout gift for friends who have everything. Choose an activity you know they'll love or encourage them to broaden their horizons with something completely new.
Experience gifts are all about making memories that last, so why not purchase two vouchers and invite yourself along for the fun? Whether you're learning to wheel throw like a pro, arrange the perfect wildflower bouquet or master the art of Kokedama, experience vouchers are a fantastic chance to bond with your bestie.
Not just for friends, our unique experience gift ideas are also ideal for parents, siblings and other family members. Plus, they're a guaranteed way to delights your in-laws this Christmas or take your office Secret Santa to the next level.
Glassblowing and Mosaic workshops