Busy being a boss lady juggling kids, work-life balance and me-time? Discover the time-saving art of meal prepping at cooking classes in Perth so you can spend more time doing the important things! With a range of easy recipes for you to make yourself, switch up your usual routine and spend some time getting creative in the kitchen with like-minded people. You'll get the chance to learn from an industry expert and maybe even discover new dishes and ingredients you've never used before. With a range of cuisines to choose from, there's a Perth cooking class for everyone to try!
Everyone can think of a few things they'd prefer to do than wracking their brains for a quick and healthy meal after a long day at work. Instead of browsing through online recipes, join a Thai cooking class and learn how to cook traditional Pad Thai from scratch, or make your very own Massaman curry. Learn new skills to give yourself the confidence to get creative in the kitchen and maybe even create some original recipes too! With a range of fresh produce, you'll get the chance to add as many veggies and noodles as you like, it's the perfect quick and easy meal for any busy person!
If you're looking to make more healthy food choices, meal prepping is a great way to make sure you're feeding your body everything it needs to stay happy! Whether you're someone who likes to pump iron, hang upside down in a hot yoga class or maybe you're just starting on your journey to achieve your health goals, learning how to cook healthy recipes at Perth cooking classes is a great place to start! Discover the mindful process of cooking and create edible art on the plate with skills you've learnt from cooking school.
Got kids that are picky eaters? Join a pizza masterclass or pasta making class and learn how to make mouth-watering and flavourful simple dishes that will have your kids coming back for seconds! At these Italian cooking classes in Perth, you'll get the chance to learn how to make pizza dough and fresh pasta so you can make at home and store it in the fridge, ready to be rolled out with the kids at dinner time. Spend quality time with your kids and inspire them to sink their little hands into some soft dough and give them the skills to be able to make their own pizza too. The best part? Pizza dough and fresh pasta are easy to make in bulk. For any hard-working mum or busy dad, bulk cooking and meal prepping these simple recipes is a good time saver when you need to feed the kids fast!
Want to go the extra mile and get creative with your meal prep this week? Spice things up in the kitchen and learn how to make sushi at a Japanese cooking class! Not only is sushi great for anyone who needs a little snack to tie them over before dinner, but you can make dozens of little hand rolls for tomorrow's morning snack too! Meal prep a bunch of your favourite tuna and avocado rolls or get hands-on and make some homemade rice paper rolls to pop into your kid's lunchbox the next day. With a range of cooking classes for you to try, you'll discover a whole new array of dishes to try out and even pop in the freezer for later!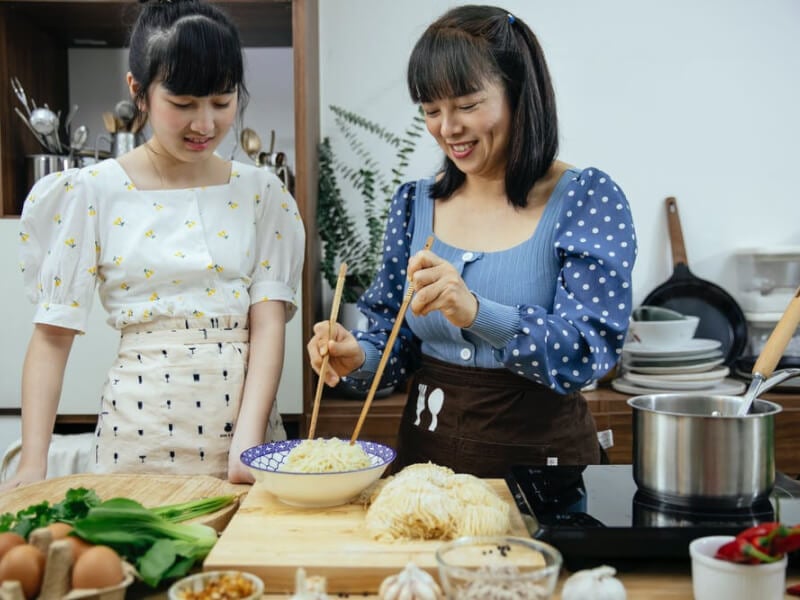 Join BBQ cooking classes to help you meal prep before the big Christmas lunch you're hosting this year! The festive season is always a great time to spend quality time with your friends and family, so instead of spending it over the barbeque, why not prep your food the day before and instead soak up the sunshine and the special moments. Whether your want to learn how to cook a piece of backstrap or perfectly tender ribs, you can learn it all from an experience barbeque master at cooking classes in Perth. If you're looking for unique gifts for dad or fun group activities to try with a group of friends then you can't go past this experience, it's one of the best things to do in Perth this weekend!
In need of a quick and healthy homemade meal? Join a cooking class in Perth and learn how to make a range of dishes that you can meal prep - you'll never have to order take-out again! From homemade pasta to dumplings and curries, there's a whole range of cuisines and cooking classes for you to try out and discover new flavours. Uncover the world of spices with cooking with spice masterclass or discover the unique sweet yet sour flavours of Vietnam. Get inspired by fresh produce and put your kitchen skills to the test and meet like-minded individuals in a fun and relaxed environment.
Whether you're looking for fun things to do in Perth or you want to learn new skills in the kitchen that will help you meal prep, cooking classes and teach you all the tips and tricks to cooking new delicious and healthy dishes to indulge in during the week. From traditional Spanish paella to homemade gnocchi to Moroccan tagines and more, there's a cooking class for everyone! You'll get the chance to learn from an industry expert, so if you know a keen cook who's got a birthday coming up, cooking classes make great experience gifts or birthday party ideas for anyone who likes to spend time in the kitchen. Discover the world of cuisines out there with Italian or Japanese cooking classes and make dumplings from scratch or knead your own pizza dough, it's one of the best things to do in Perth!
Cooking workshops in Perth