If you're looking for personalised gifts for her in Sydney, a ClassBento gift voucher will keep things personal, while still giving the woman in your life the freedom of choice. Although store credit or a gift voucher may not sound like the most thoughtful gift you can give, ClassBento's range of experiences allows you to add the personal touch to the gift voucher yourself.
Not really following? Allow us to explain how to take your gift voucher ideas for her in Sydney and transform them into experience gifts to remember.

Experience gift ideas for women that are hard to shop for
Buying someone a standard shopping centre gift voucher doesn't exactly elicit a well of excitement or emotion. With so many things to do in Sydney, coming up with gift voucher ideas for her can feel like a half-hearted gesture. Well, we're here to tell you it isn't! In fact with ClassBento, it's entirely the opposite.
If you're chasing experience gifts to really make that lady in your life feel special, our gift vouchers will give her the freedom to experience an ever-increasing range of Sydney's best creative workshops and classes. But don't worry, we're still going to help you out.
Romantic gifts for her don't tend to come in the form of a voucher, but with ClassBento's pottery classes, you won't just be surprising your lady, you'll be surprising yourself. With such an eclectic line up of options when it comes to our ceramics classes in Sydney, you'll be able to find the one that's right for her, but still leave a bit of wiggle room with the gift voucher.
Whether she's got her eye on the picturesque pottery technique of wheel throwing, the practical and playful hand building classes, or even the colourful creativity of ceramic painting and mosaic work, gifts for women that give them options to choose for themselves but also have a specific direction are a real winner.
If you're hunting down romantic gifts for her that really play to her passions, then identifying an experience that would help her grow in an area she's already passionate about is a fantastic way to go.
If your better half has already shown a keen interest in painting, one of the best gift voucher ideas for her in Sydney could be to take advantage of our excessive range of art classes! By offering up a ClassBento gift card you give her the opportunity to choose her own artistic path and to spend time focusing on the skills she wants to focus on!
Alternatively, our paint and sip nights are a fun and exciting choice if you're looking for things to do in Sydney that still have a strong emphasis on art but are also a casual and festive affair. Our paint and sip nights are one of our most versatile Sydney workshops, because not only do they make a fantastic couples activity, but they're superb group experiences for hens nights, bucks parties and even gifts for women who want some time to themselves in a creative space.

Gifts for women who love to cook
Cooking classes are so much fun, and thankfully our Sydney workshops are awash with expert chefs to help you and your partner start cooking with fire, both literally and metaphorically. When coming up with creative personalised gifts for her, a cooking class may seem like a surprising choice, but make no mistake, learning to cook together is one of those experience gifts that will bring you closer together.
Our Italian pizza making classes are one of the best things to do in Sydney if you want to offer romantic gifts for her that you can both join in. Our pizza making classes will show you how to make beautiful Italian-style pizza dough, all while sipping on a perfectly paired glass of red.
Many of our cooking classes offer the option of booking both through our public classes or arranging a private workshop, depending on the vibe. Thankfully, ClassBento's gift vouchers offer you the chance to do both, and give her the opportunity to plan it how she likes.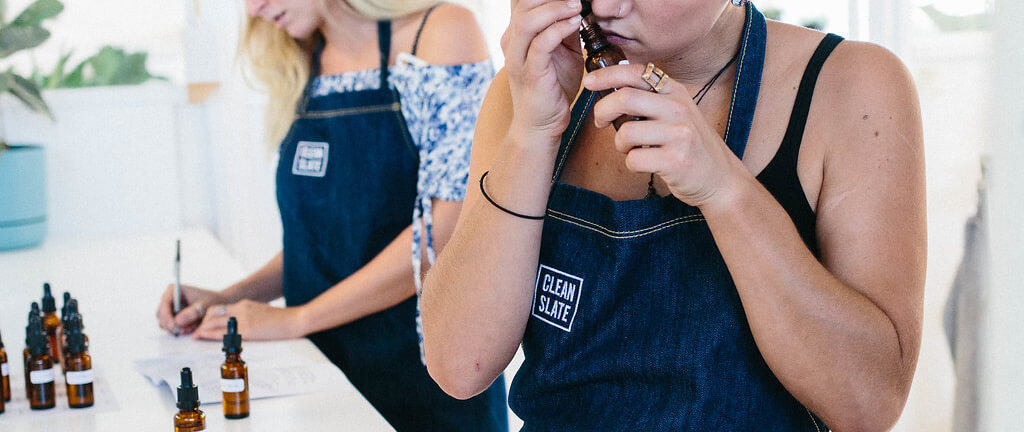 Experience gifts that can come to you
Booking with ClassBento doesn't mean you have to leave the house. With so many Sydney attractions to sink your teeth into, a whole world of experiences sits just outside your door. There are some days, however, where all you want to do is have the world come to you.
Thankfully, ClassBento's LiveBox classes do just that. With your instructor on live stream and everything you need for the class delivered directly to your door, you can offer some of the best personalised gifts for her in Sydney without having to leave the room!
Chasing relaxing experience gifts? Provider Store in Surry Hills offers one of the most engaging live stream workshops in the form of their candle making class! Although their in-person classes are a sumptuous event involving cheeseboards and champagne, their live streaming workshops still give you all the candle making goodies, you'll just have to supply your own bubbly.
If you're chasing other personalised gifts for her that can be enjoyed from home, our DIY skincare can have her making her very own line of organic beauty products from your own kitchen. Still unsure? Thankfully our gift vouchers are here to help you surprise her with the present, and let her pick the experience.
Whatever you choose, ClassBento has the best Sydney workshops when it comes to finding creative gift voucher ideas for her. Regardless of the occasion, ClassBento can help make the woman in your life feel as special as she deserves with a plethora of experience gifts and workshops. With classes that focus on promoting creativity, imagination and mental health, no matter what you choose for her will be a delightfully personal decision, and a ClassBento gift voucher will help her pick her own path.
Suggested workshops in Sydney