The relationship between employees is a massive driver of satisfaction and happiness within a company. Considering your staff spend their nine-to-five, five days a week with their coworkers, an office without positive employee relationships can have a negative impact on a company. Enter, team building activities! Team building is the perfect way to give employees the necessary time and space to bond. Fortunately, fun corporate team building activities in Melbourne are readily available and there will be something to suit every company.
The benefits of team building extends well past employee relationships and satisfaction. Well-planned team bonding activities have the ability to improve productivity, motivation, collaboration, communication, and creativity among coworkers. All these qualities make up awesome employees, ones that will ensure your business will thrive.
Use team building activities to promote corporate wellness
While you're investing time and effort into team building events, you can choose activities that also promote corporate wellness and employee wellbeing. These concepts are all about optimising the health of employees, including physical health, happiness and job satisfaction, and creating an environment that fosters healthy behaviour in the workplace. Team building and corporate wellness actually fuse together nicely, which means you and your employees are getting a really beneficial two-for-one deal if you pick the right team bonding activities.
In order to combine the two, you need to choose activities that not only prioritise teamwork but also promote a healthy lifestyle. Some other good tips to remember when planning team building activities are to establish goals for the event, provide motivation to employees and most importantly, don't make it a one-time thing. Team building and corporate wellness can't be one and done but are something that needs to be maintained throughout the year.
So when you are next planning teamwork activities or are looking for team bonding ideas, remember the importance of corporate wellness and try and infiltrate the aspect of wellbeing into these events. To make it even easier, check out these five fun corporate team building activities in Melbourne which also promote employee wellbeing!
Practice mindfulness with a Tai-chi class
Tai chi is a Chinese martial arts practice that has long been used for its health benefits and as a form of meditation. It clearly demonstrates effective techniques for relaxation and mindfulness, bringing awareness to the mind and consequently improving resiliency and reducing stress. This physical and mental activity is a great way to encourage employees to prioritise their health and even teaches them ways to overcome challenging situations at work.
Beyond corporate wellness, a tai chi class brings plenty of time and space to allow for team bonding. It gives employees something interesting to chat about in a relaxing environment. These classes are mobile, so they work well if you're looking for office team building activities that can seamlessly fit into the workday.
Lower stress with clay hand building
A pottery or clay building workshop may not be the first thought that comes to mind when you're thinking of team bonding ideas, but this alternate activity ticks all the right boxes. It's ideal for smaller teams and allows workers to step away from technology and improve their focus, all while getting to know one another outside of the work environment.
Sajo Ceramics runs a tailored team building pottery class at their studio located in the beautiful foothills of the Dandenong Ranges and while it may be far out for businesses located in Melbourne's CBD, you could make a great team building and corporate wellness event out of the trip.
If you're after something closer, perhaps a hand building clay workshop in Fitzroy is just what you're looking for. This class, located at Work-Shop, can cater up to 50 people in a private booking and is well suited for everyone from beginners to pottery experts.
Beyond team building, pottery has massive therapeutic potential and will encourage your own employees to take their mental wellbeing seriously. In fact, it only takes 45 minutes of clay play to reduce levels of cortisol, the stress hormone in the body.
Need to revitalise your team? Working with plants, a symbol of energy and life, is the perfect way to do so. You can reap so many benefits from these little green beauties, and they've been proven to make us feel good both physically and mentally.
Terrariums are low-maintenance and long-lasting, making them ideal for all sorts of plant lovers. A beginners terrarium workshop is a great corporate team building activity for small and large teams and is packed with employee wellbeing suggestions too. You could even encourage everyone to keep their terrarium in their workspace so the office is easily filled with greenery.
A kokedama workshop is another alternative class for corporate teams to try, great for both team building and employee wellness. These Japanese style hanging string gardens are super trendy and really easy for busy workers to care for.
If you already know most of your employees are avid plant lovers or you have some indoor plants in the office that need to be shown some love, an indoor plant workshop that teaches you how to best care for these plants is another unique option.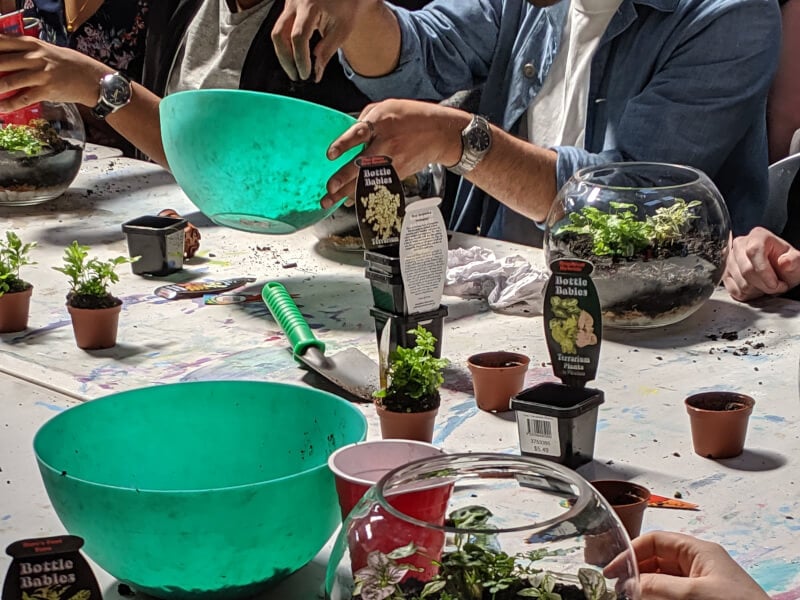 Collaborate at team cooking classes
Cooking classes are always a hit with corporate teams because it's a skill that everyone can benefit from. Many of these classes will require coworkers to team up and make their creation together, which is perfect for team building as it requires the delegation of roles within a team and good collaboration.
OTAO Kitchen even runs a cooking class for team building, a private workshop specifically designed for corporate teams. Since you can pick your cuisine for these classes, you could allow employees to vote for their favourite, which might make your team more excited about the activity. These teachers are also available to travel to a space of your choosing, bringing all of the necessary equipment to run the class, making it an easy fit into any sort of work schedule.
Alternatively, a Japanese cooking class or Thai cooking class are some popular cuisines to try out. They emphasise the importance of healthy eating and may even encourage employees to cook more of their own food as opposed to relying on less nutritious take-out options, a great initiative for employee wellbeing.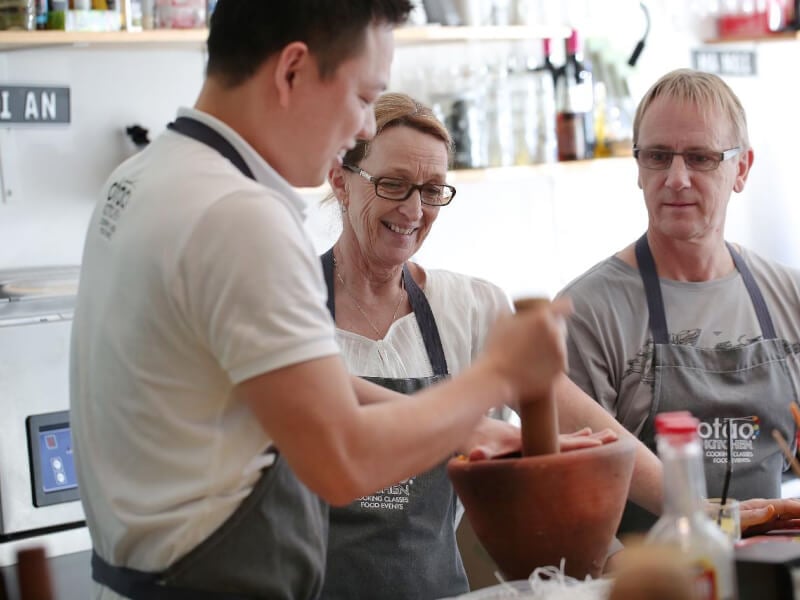 Stimulate the senses with a perfume making workshop
A fragrance making workshop is particularly fun for corporate teams made up of predominantly women, as you learn all of the principles of perfumery and aromatherapy, but that doesn't mean men won't enjoy it either! The beginners essential oil and fragrance workshop revives the forgotten act of smelling, which is a great way to nurture the mind. It also gives corporate teams plenty of time and space for team bonding as they learn about different essential oils and what combinations work well together.
This workshop can travel to your corporate office or another space, making it an easy activity to slip into a workday. Perfect for teams of all sizes, this unique workshop will allow corporate teams to reconnect with their senses and one another.