If you can't go to a pub because of lockdown, or just because, why don't you bring the pub to your kitchen? Mix six of the best cocktails to make at home by taking one of our online cocktail making classes. Blend easy cocktails to make at home and impress your partner and your best friends with tasty and creative drinks.
With our live virtual cocktail making class and cocktail making kit, it's not at all impossible to make the same drinks you've always watched the bartender mix for you. Making mojitos, margaritas, and cosmopolitans will become so easy that everyone will ask you to keep making more! Keep your party going by mixing the best cocktails to make at home by learning from a mixologist.
Cocktail #1: The all-time favourite mojito
Bright, fresh, sweet, and a little tart--these are just some of the reasons the mojito is well-liked by almost everyone during any season. It's one of the easy cocktails to make at home with just five ingredients: rum, lime juice, club soda, sweetener, and fresh mint. To make this refreshing drink, muddle mint, add rum, lime juice, and sweeter, and then shake it in your cocktail shaker. Before serving to your friends (or having another glass for yourself), top off the glass with club soda and add a slice of lime and a sprig of fresh mint.
You'll also get tips from the instructor on how to adjust the amount of lime, mint, sweeter, or rum to tweak the taste of your mojito. Take an online cocktail making class to learn more about creating an ultimate mojito at home. Online cocktail classes also make great Zoom date ideas!
Cocktail #2: The perfectly classy cosmopolitan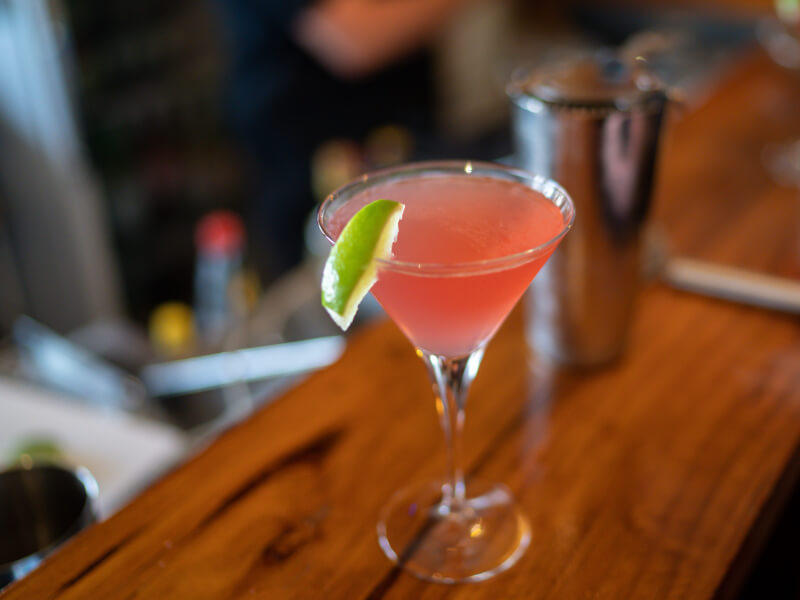 Sophisticated but suits almost everyone's taste buds, the classic cosmopolitan is the perfect drink for parties and makes rainy day activities with your partner pleasurable. This drink is lip smackingly sweet and sour with a beautiful bright pink colour. Even better, it only uses four ingredients, making it absolutely one of the best cocktails to make at home.
To make a classic cosmopolitan, you'll need vodka, triple sec, cranberry juice, and lime juice. Shake all of these ingredients in a cocktail shaker with some ice, and then strain it into a cute cocktail glass. You can add the garnish by placing a piece of orange zest on top.
If you're feeling confident about your cocktail making skills after participating in our virtual cocktail making class, then don't be afraid of being a little extra. Wave the orange peel zest over a lighter flame before adding it in so that the drink gets a nice aroma.
Cocktail #3: The timeless old fashioned
The old fashioned is a classic favourite for many whiskey drinkers. Easy to mix at home, especially with your cocktail making kit, the old fashioned is made by muddling sugar with water and bitters in a rocks glass and then adding whiskey or brandy. It's then garnished with an orange slice or zest and a cocktail cherry.
Because the old fashioned drink has a straightforward recipe, it's something you can easily prepare in your kitchen. And, with alcohol, bubbles, fruit, sugar, and bitters, you are guaranteed to have something good! You can also tweak your drink and make it more fruity, earthy, or even spicy by changing up the bitters you use, as well as using different spirits. With a virtual cocktail making class, you can learn how to create a tequila old fashioned with pronounced vanilla and caramel notes or even a smoky old fashioned by infusing tea with the sugar syrup!
Cocktail #4: The straightforward Tom Collins
Rumoured to have been the product of a practical joke, the Tom Collins cocktail is now a classic drink--and its taste is far from funny. This cocktail is refreshingly sweet, with a light citrus flavour. All you need to do is mix gin, lemon juice, club soda, and simple syrup together with ice in a tall glass. You don't even need a shaker or a strainer! Just pour everything in the glass, add ice, and garnish.
With this recipe in your pocket, there's no need to go bar hopping when you can be the bartender at your party. You can make your favourite cocktails for your guests, and your only problem might be that there are too many! The Tom Collins is one of the easy cocktails to make at home.
Cocktail #5: The classic margarita
Margarita lovers, rejoice! Your favourite drink is easy to make at home with this recipe. Almost everyone loves the crisp, smooth, balanced, and fresh taste of the margarita cocktail. If you're looking to have a good time, a glass of classic margarita is the best way to start a night of fun indoor activities.
To create this drink, your mixologist teaching your Zoom cocktail class will show you how to prepare a rocks glass with its outer rim rubbed with a lime wedge and then dipped in salt. You'll then be instructed to combine tequila, cointreau, lime juice, and ice in a cocktail shaker until chilled. Then, you pour the drink into the rocks glass filled with fresh ice. Garnish it with lime before serving. It's easy enough for a no-fuss party with your partner and friends.
Cocktail #6: The refreshing Strawberry Daiquiri
Whether frozen or shaken, the strawberry daiquiri is sweet, fruity, and refreshing, especially during a hot summer day. But, of course, who can resist its sunshine taste during gloomy rainy days, too? And yes, the fruity, sweet, and slightly tangy strawberry daiquiri tastes better when it's homemade.
The strawberry daiquiri requires light rum, simple syrup, frozen or fresh strawberries, lime juice, and ice. Blend all the ingredients until smooth, and pour into a chilled collins or margarita glass for the frozen version. For some IG-worthy shots, your mixologist might instruct you to garnish the drink with fresh strawberry slices.
Fun things to do at home: Online cocktail making classes
Get your cocktail making kits and join our mixology masterclasses hosted by experienced cocktail makers. They'll make the methods of mixing and blending alcoholic drinks much simpler and easier to follow. You'll have a new understanding of just how easy it is to create a mind-blowing drink as you learn about all the best cocktails to make at home!
Mixing cocktails is not as hard as you might think! We will teach you the six best cocktails to make at home, and you'll be a cocktail ace in no time. Looking for online team building activities for the office? Learning how you can concoct creative cocktails on Zoom with the team is sure to be a fun activity. At the next party, you may find yourselves outdoing each other at the bar!
Cocktail workshops - Virtual with Kits