Feeling a little uninspired by your current WFH setup? Try sprucing things up with a plant or two and learn all about which green friends are the best for your indoor space - whether that's the office or your living room!
Time and time again, plants have been linked to improvements in wellbeing, with a growing number of studies pointing to the benefits of adding a little more greenery into your life. In fact, a 2019 research review found that indoor plants can not only boost positive emotions and reduce negative feelings but even relieve physical discomfort! So, whether you've had some cacti in the past (RIP) or you fell in love with gardening in lockdown, adding some indoor plants to your home and learning how to tend to them will leave you feeling creative, calm, and ready to take on the day!
How do I keep my space feeling fresh?
The more green the better! A 2017 study found that leafy plants create better indoor air quality and are far better for your health and wellbeing than those with pretty flowers. Put down the Pansies and instead pick up a draping Devil's Ivy. These thirsty devils are easy to care for and ripe for propagation. Plus, there's nothing more satisfying than watching new leaves unfurl from this winding vine week on week!
What are some funky indoor plants to help me stay creative in my WFH setup?
If flowering plants aren't your jam, there are hundreds of weird and wacky succulent varieties that will shake things up and add a bit of natural colour into your space. Ever heard of a Calathea? It's more commonly known as the "living plant" because it opens and closes throughout the day! What could be more inspiring than a bit of greenery that looks different each time you glance at it?
What plants will help me be more productive at home?
Going for something understated, easy to look after and small enough to fit on your desk? Take a leaf out of a Peace Lily's book. With its big dark-green leaves and stark white simple flowers, this plant is popular for all the right reasons!
Studies suggest that the presence of indoor plants in a working environment may boost productivity, performance and even job satisfaction – so place this peaceful plant next to you and wait for your creativity to start flowing!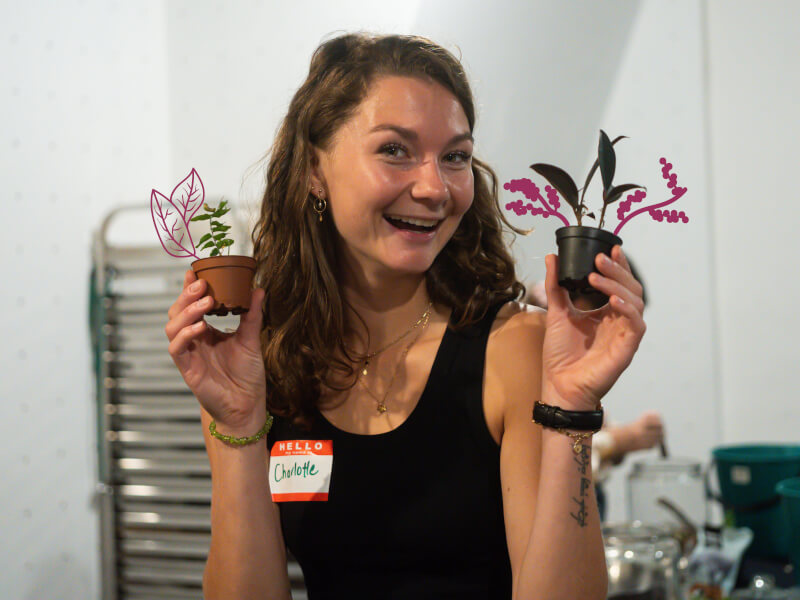 Will plants actually boost my mood?
Yes! A 2018 study shows that there is a definite link between mental wellbeing and interaction with plants. By bringing the outdoors in you'll not only indirectly clean the air in your home, but also make it a calming space that'll leave you relaxed and imaginative at the same time!
I want to level up my plant collection. What are some cool ways to decorate my home with plants?
With a little help from your local green thumb, you can make the perfect low maintenance desk friend faster than a trip to Bunnings.
If you're looking for a funky plant to add some oomph to a table or workspace, join a terrarium making workshop where you'll learn how to layer stones, soil, moss and succulents into an adorable miniature garden. If hanging plants are more your style, check out a Kokedama class where you'll mould and bind your way to a chic Japanese-inspired moss ball - the perfect addition to any living room!
Don't be-leaf us? Work with a green friend by your side for one day and see how you feel. And if you need it, our community of green thumbs are always here to help!
Flowers and Plants workshops