With ClassBento's new craft kits, you can have all the expertise of our instructors directly in your home! Our craft kits for adults and kids are a great way to pass the time during quarantine, and picking up a new skill can help keep you sharp and mentally healthy. Using both a live stream and a craft box containing all the resources you'll need delivered straight to you, our craft kits for adults offer you the chance to expand your creative talents as well as engaging with local creatives and supporting small business in this difficult time. We've compiled five of our craft kit MVP's for you to choose from if you're looking for fun indoor activities to burn through self-isolation!
Crafts kits to get you painting
Ok, fine. You got us. This isn't just one craft kit, it's several. But with such a wide variety of options - a broad stroke, if you will (painting pun number one) - we couldn't choose just one of our options. No matter what medium, style or methodology you're most interested in mastering, our painting craft kits come in all shapes and sizes, so it's impossible to paint them all with the same brush (painting pun number two).
It's no surprise that ClassBento's new LiveBox classes offer you a range of art classes and craft kits to choose from; our Paint N Sip workshops were one of the most popular options pre-quarantine. Thankfully, many of our artistic workshops have gone online, so you can cozy up with the instructor's live stream, your craft kit delivery and be inspired as you paint the self-isolation away!
Many of our craft kits for adults also contain enough resources for you to continue painting long after the class is finished, so you can keep exploring your creative side long after the paint from the first class has dried. We have classes that can show you how to paint like Van Gogh, Klimt, or even work out the basics and discover your own styles with our beginner's watercolour classes! Whatever workshop you choose, you'll find the decision to be a real stroke of genius (painting pun number three, this paragraph is finished).

A pottery kit, perhaps?
Pottery and ceramic art are - very literally - some of the oldest art forms our humble little species ever came up with. Dating all the way back to the monolithic period, we've been loving pottery well before bread was even invented. So you know, old. But don't write it off because of that! Like a good wine, pottery has aged spectacularly, and now a multitude of pottery skills are available for you to learn with our live classes online and our pottery kits. Yes, we're being a bit cheeky here, too. But once again, we couldn't just suggest one craft kit to you when we have several different pottery classes for you to enjoy.
For instance, our pinch pot workshop is one pottery kit that combines all the fun and therapeutic benefit of learning hand-built pottery whilst also giving you the chance to paint and decorate your creation! This double whammy class will send you everything you need to build and design your ceramics, and if you live close to the workshop hub (inner-west in Sydney) you can even get your work picked up and kiln-fired for an additional fee.
We also have an introduction to ceramics, as well as a clay planter workshop that requires no online class at all! All the instructions and materials are contained in the craft kit, and you can fire the clay planter in your own oven. With so many diverse pottery options come up no wonder we couldn't stop at just one craft kit for adults!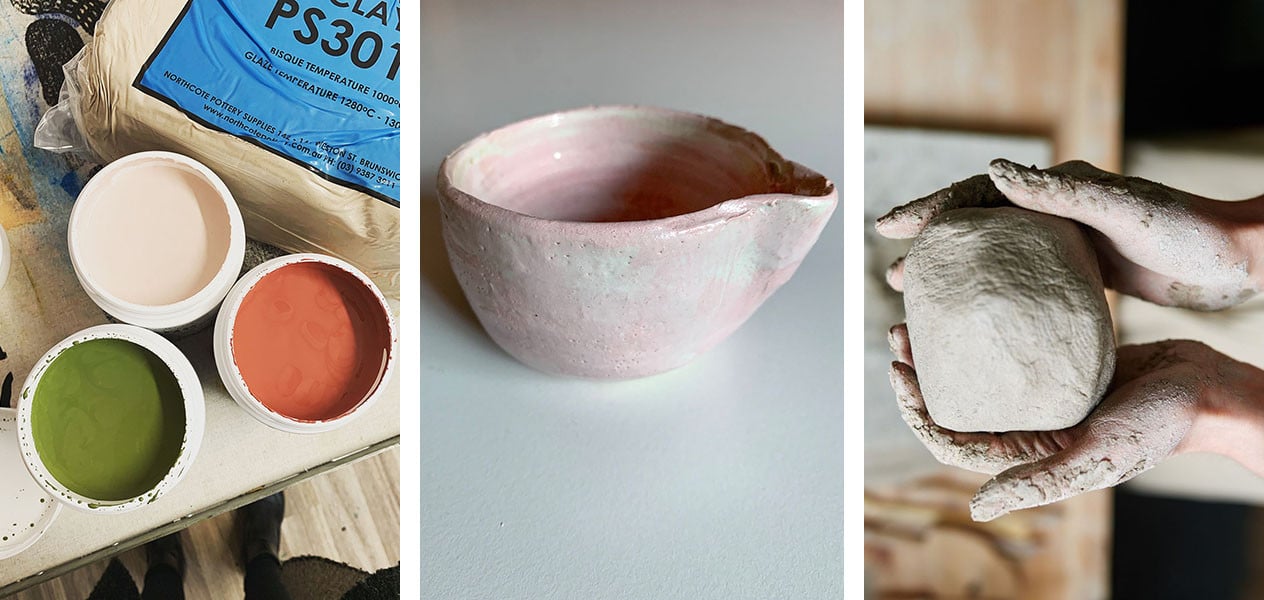 We even have a cooking kit for quarantine pizza
Here at ClassBento, not only are we mourning the loss of regular income, flexible office hours and seeing each other's delightful faces but by God, do we miss going out to eat. Like so much. We're sure you and your family are the same, and that's why Salts Meats Cheese is here to help. Salts Meats Cheese are experts in authentic Italian cooking; a rare treat in such a widespread and commercially successful franchise.
Unfortunately due to quarantine restrictions, enjoying their expertly-crafted cuisine has become much more difficult. That's why - nonna be praised - they're taking their incredibly popular pizza making classes online with their cooking craft kits! With a craft kit filled with fresh ingredients needed to make beautiful Italian pizza dough, as well as deliciously authentic, high-quality produce to top it off, you'll be indulging in a world of savoury goodness in your very own kitchen.

Try Sashiko mending with an embroidery and stitching kit
If you have a mountain of free time on your hands, an embroidery kit might be the perfect craft kit to help you repair those jackets and jeans that have been sitting around, gathering dust and holes. There's certainly this pressure to learn a new skill during quarantine, and although we believe you shouldn't put any pressure on yourself to do anything, this is undeniably a good opportunity to take care of any pesky stitching jobs you may be procrastinating on.
Sashiko mending is a Japanese form of repair stitching that, much like Kintsugi, doesn't hide the damage of a garment, so much as give it new life. Sashiko repairs the garment while simultaneously making them stronger and warmer, perfect as we get into the colder months. This is the ideal embroidery kit if you want to give some old clothes a new life.

Try a screen printing kit at home
If you're reading that sub-heading and thinking, "no way," don't worry, this one came as a surprise to us, too. Learning to screenprint usually requires enough accoutrement to warrant a warehouse space, but the clever cookies at Carizza Designs have found a way for you to bring the screen printing studios into your home. With craft kits containing all of the necessary tools, all you need to do is email the class instructor your design so they can assess its viability, transfer it to the screen, and soon you'll be well on your way to becoming the fashion designer you've always dreamed of. Seriously. Be your own Versace, we believe in you.