If you're looking for virtual party ideas for kids, then you've come to the right place. The right virtual place, at least. Hunting down kid's activities during quarantine can be hard, as every parent is hesitant about risking their child's safety just for the sake of a party or celebration. But there are plenty of arts and crafts for kids that can be enjoyed without having to risk the health and safety of the family and are still engaging and enjoyable to participate in.
With ClassBento's new LiveBox feature, we've compiled eight of the best kids activities, online workshops and things to do at home with kids to make sure they stay connected with themselves and the outside world in this difficult era of social distancing.
1. DIY crown jewels
One of our most popular kid's activities from Craft Nation in Sydney, you and the little ones can enjoy taking dress-up to the next level as you learn how to make your own personal crown jewels! With the accompanying craft kit delivered directly to your door and with a Craft Nation expert guiding the kids along on the live stream, this is one of the best things to do at home with kids whose imaginations need a good work out! Not only this, but Craft Nation also offer workshops in making traditional Indonesian and Venetian masks, so you can choose which one suits your virtual birthday party ideas best!
2. Get your kids cooking focaccia
Cooking classes for kids can often be expensive and time-consuming, but the fine folks at Salts Meats Cheese have distilled their expertise down into one of the best kids activities that'll not just teach them, but feed them! Learn along with them as a true Italian chef shows them the specific techniques to make beautiful, fluffy, Italian-style focaccia. Not only is this exceptionally enjoyable as one of our most delicious kids birthday party ideas, but it's also one of our top indoor family activities because everyone benefits, provided you can convince the kids to share, of course.
Although it's a safe bet that you don't have a kiln in your house, that shouldn't stop you considering pottery kits for things to do at home with kids! Ceramic painting is a wonderful way to engage the artistic brain without having to learn too many techniques to master it. These crafts for kids allow their imaginations to take the reins. Not only do they get to choose their designs, but when you book the accompanying craft kit, they'll be able to choose from a variety of ceramics that they'd like to decorate!
4. Dreamcatcher craft box
Dreamcatchers are not just fun for decoration, but they're also some of the best arts and crafts for kids! Designing and decorating your own dreamcatcher allows you to give it your own spin, and with this craft kit, there's no accompanying live stream! Everything you need to complete your own dreamcatcher is complete in the box, making this one of our most hassle-free things to do at home with kids!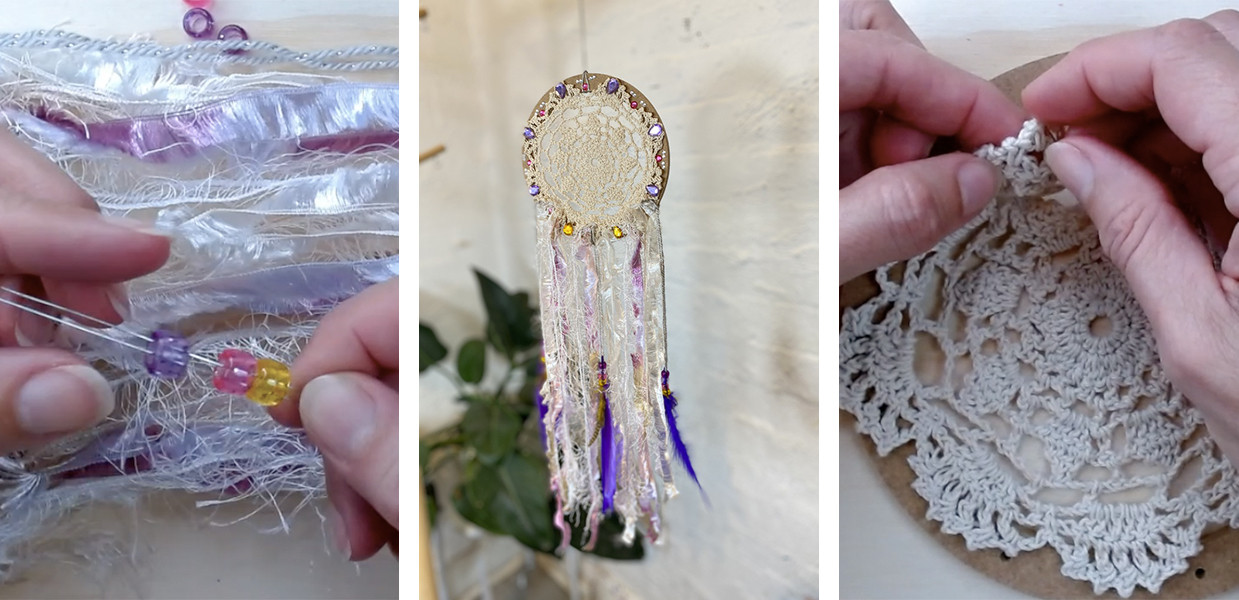 5. Pompom creations craft box
This isn't specifically designed to be one of our online classes for kids, but it's too much fun to not throw on the list! Your little ones can create their own fluffy pompom characters, complete with stick-on googly eyes! As far as crafts for kids go, this one is one of the silliest and most enjoyable! The class, however, does require some adult supervision, as certain aspects of knotting and cutting may be a tad too advanced for the much younger kids. Overall though, this makes for an incredibly fun option when looking for indoor family activities.
6. Make your own fairy garden
When looking for indoor family activities that really inspire the artistic mind, you can't look past this fantastic workshop. One of our most endearing online classes for kids, your little ones will craft a mini-ecosystem of their own, complete with polymer clay figurines that they can make and design themselves. The craft kit contains everything you need, and terracotta pots can be purchased as an additional extra if you don't have a spare one at home.
7. Creative soap making craft box
Part chemistry and part skincare, this soap making craft box has everything you need to make a variety of quirky and colourful soaps in a range of shapes, sizes and colours! Once again adult supervision is required, but the simplicity of this DIY craft box takes a lot of the complicated steps of soap making and offers up easy-to-use recipes, making it one of the most popular kid's activities ClassBento has available! Once again, everything you need is included in the box (no live stream attached) so you can spend time focusing on making the best soaps possible in this inventive crafts for kids workshop.
8. DIY mosaic craft box for kids
Crafting a mosaic is one of the more fiddly kid's activities, but if you have the time, it's certainly worth it. This DIY craft kit can help your little ones piece together their own mosaic in just over thirty minutes! When booking, you can choose from a variety of animals, objects and decorations to transform into a mosaic masterpiece! Not only this, but a wall hanger can be purchased for an additional fee, and the craft boxes have varying levels of difficulty, depending on the age of the participant. Much like our Make Your Own Fairy Garden workshop, this is one of the best indoor family activities that also double as an effective method of decorating the house.