Discover awesome birthday party ideas for travel lovers in Australia who are suffering from a serious case of wanderlust! Are you missing the idea of exploring other cultures around the world while taking in the sights, sounds and taste of somewhere new? If you're eager to book an around-the-world ticket as soon as you can, it only makes sense to plan an amazing birthday with gift experiences from cultures around the world. That's right: no flying necessary. We'll bring the culture to you and your nearest city in Australia! Whether you're looking for birthday party ideas or birthday gift ideas, there's something for every travel-lover under the sun.
Maybe you've got a long list of places you know you need to tick off your bucket list and you simply can't wait to get out into the world and explore again? Let us help you discover some of the countries you're itching to explore with birthday party ideas you may have never considered before. Discover the art of Japanese tradition of Kintsugi in Melbourne or a fun French cooking class in Sydney! No matter which destination has caught your eye, there are so many awesome birthday party ideas for travel lovers around Australia.
Don't worry too much about feeling like you're missing out on travel experiences. Make the most of staying put in Australia, save heaps of money and learn from cultures around the world, right in the heart of your nearest city. Instead of going to a local restaurant for your birthday meal this year, change things up and celebrate with birthday ideas to help support local businesses whilst getting your travel fix. Choose from thousands of cuisines and pick a fun cooking class with friends and family. Be transported to Turkey and learn how to make beautiful Turkish mosaic lamps, or take a fun flamenco fusion dance class and imagine yourself moving in the streets of Buenos Aires.
While you might not be able to travel right now, we guarantee that our birthday party ideas for travel lovers will help you get your travel fix and make for a memorable birthday in Australia!
Eat tacos like you're in Mexico
One of the best birthday party ideas for travel lovers is to spend the day at a Mexican cooking class in Sydney. Learn how to make authentic tacos with Sydney Cooking School in Neutral bay! If you love the idea of relaxing with a cold cerveza and feeling like you could almost be on a beach in the iconic Tulum (looking out at the epic turquoise ocean and tucking into some delicious tacos, of course) then you'll love a Mexican cooking class in Sydney.
In this two hour cooking lesson, you'll learn how to make and press masa flour corn tortillas which are gluten free! During this fun and engaging Mexican class, you'll learn how to make fresh fish ceviche, Mexican blackened Arrachera, salsa pico de gallo, tomatillo salsa and salsa roja de Chile arbol. Expect to also learn how to make unbelievably delicious pulled pork served with a Mexican slaw. Once you've learnt these awesome classic Mexican dishes, you'll sit down to eat it altogether at the end of the class. Complete the birthday party theme with Mexican fancy dress and continue the party on by hitting up some of the best Spanish bars in Sydney afterwards! Never planned a party and need a little help? Check out our birthday ideas for first-time party planners!
Go to The Netherlands with a paint and sip Van Gogh class
If you're longing for the ability to explore Europe but unable to do so right now, enjoy a fun Van Gogh paint and sip class in Melbourne. Held by Ladder Art Space in Kew, you'll immerse yourself in the universe of this world-renowned artist and learn how to paint one of Van Gogh's famous art pieces – The Starry Night.
Are the canals of Amsterdam on your list to visit? Close your eyes and imagine you're wandering around the remarkable Van Gogh museum as you learn the history of his famous paintings, as taught by a local teacher. As you sip on a glass of wine during the paint and drink class, you'll learn his famous brush strokes while settling into a fun beginners class, perfect for anyone who has never painted before.
Why not carry on with the Dutch birthday theme and bring some snacks and drinks to complete the party with a fancy dress option? Encourage everyone to join in and offer up some prizes for the best dressed! You'll no doubt make some awesome memories with one of the best birthday party ideas in Melbourne.
Get creative with a Japanese kintsugi class in Brisbane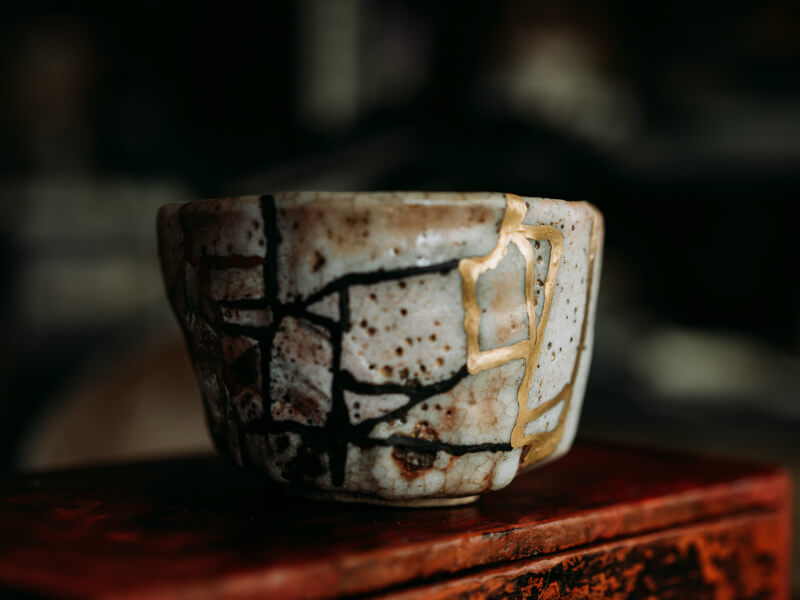 Ahh Japan… it feels so close to Australia, and yet, it's just a little too far away right now. If you're looking for birthday party ideas for Japan-lovers, you can't go wrong with a kintsugi class in Brisbane. Kintsugi is an ancient creative art form that's all about mending broken ceramics with beautiful gold lacquer. Dating back to the 15th Century, the philosophy of this Japanese art form is to fix broken pieces of pottery, highlighting their beauty and history despite the cracks they may have.
As one of the more unique birthday party ideas in Brisbane, this kintsugi class is taught by local experts from Kintsugi Australia. Expect to be blown away as you mend future pieces of jewellery, pots and so much more. Art lovers will love this popular workshop and will absolutely adore this fantastic themed party idea. Relax and unwind as you discover one of the best things to do in Brisbane.
Want to help support local businesses and learn new things in your city to celebrate your birthday? Our classes are the perfect opportunity to bring friends and family along as they are all designed for beginners. What's more, with so many travel-themed birthday party ideas to consider, you'll truly feel as if you've stepped off the plane on a totally new adventure! Don't worry about any egos being present at our workshops, as the classes are about having fun while creating memories with your loved ones. You never know, these birthday party ideas might spark a new found hobby, to create more life long happiness and joy.
Suggested workshops in Sydney