You know you need to find some absolutely fabulous hens party ideas in Australia, but you might need a bit of inspiration to help you come up with something so unique. You know it will be a day the bride certainly won't forget in a hurry!
While every bride might have an idea of what kind of hen's party in Australia they have always dreamed of, it may feel like a big task to make her dream come true. Trying to logistically work out how to keep everyone happy and engaged at a hens party might be tricky when you have women of all ages attending. You could have loved one's who will want to get a bit creative during the day, and whilst others might just be thinking about drinking alcohol, you know you need to keep everyone happy.
Luckily, we're here offer you amazing hens party ideas so you can organise an epic hens party the bride will truly love. Whilst we have thousands of hens party experiences you can choose from, we'll share some of our most popular hens party games from the best local experts around Australia.
Firstly come up with a hens party theme
Every hens party needs to come up with a theme to put your own stamp on the big day ahead. There's no better way to get everyone in the mood to celebrate than with a fun fancy dress theme.
Opt for an outrageous theme and get your hens supplies ready to dress the bride in something really funny! If you think the bride would prefer something a bit more low key, get everyone to wear the same colour, with the bride wearing the opposite colour. Just add a classic bride to be sash and you're good to go!
Make sure you invest in some fun hens party decorations for your chosen activities so you can create an excellent hens party-worthy atmosphere throughout the day. As for hens party activities, you could include an action-packed day full of loads of fun things to do at a hens party.
Sydney hens party ideas
If you're looking for Sydney hens party ideas, look no further. With hundreds of unique hens party ideas to choose from, our circus hen's party in Sydney would make the perfect activity, everyone will love. If you have people in the party who might not know each other very well, starting the day with a circus activity will certainly break the ice. Get everyone out of their comfort zone in this fun and engaging class run by the amazing Circus Akimbo.
Did we mention the circus hens party is an aerial party? This means you'll learn how to climb and fly learning how to use the basics of three apparatuses, aerial silks, ring and trapeze. The two-hour intense class will have the whole party in stitches and will get everyone buzzing for the next activity as it will definitely kick the hens party off in the best way possible. If you have older people attending, they can sit back and watch everyone have a go at pretending to be in the circus!
If you're looking for something a bit tamer, you could start the day with a beautiful vintage style jewellery making hens party class in Sydney instead. If you're stuck for ideas for a more unique hens party, then you can't go wrong with a beautiful jewellery making class like this one by Christine Smalley in the Inner West. For groups from 6 to 30 guests, you'll have everyone engaged as they learn to a gorgeous piece of jewellery as a reminder of the awesome day they're about to embark on.
Keeping in theme with the hens party ideas in Sydney, this jewellery making workshop will include stunning vintage cake stands, champagne (of course!) and tea and coffee served on beautiful floral vintage china tea sets. Start the day in a lovely way bonding with your nearest and dearest before the celebrations continue into the evening.
Discover fun hens party ideas for foodies here.
Melbourne Hens party ideas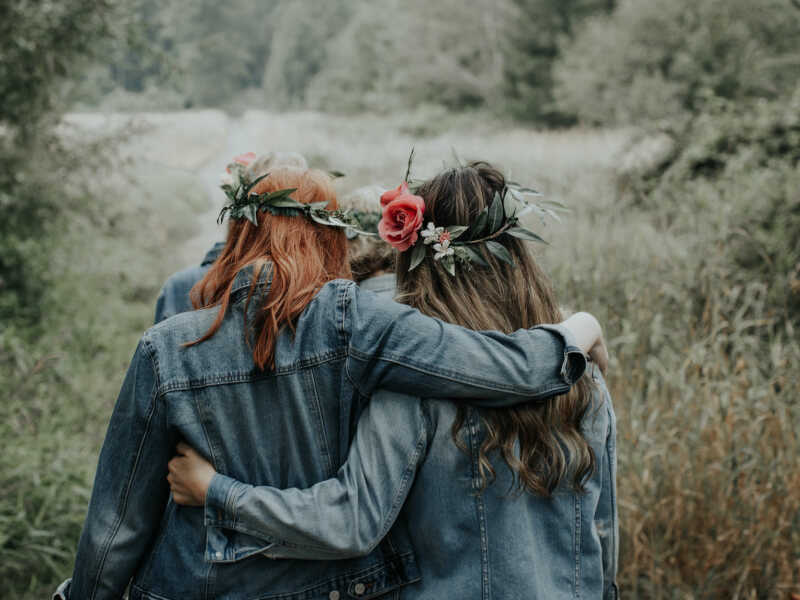 If you're looking for hens party ideas in Melbourne, we've got some classic activities everyone will love. Start the day with a classic flower crown workshop to complete the hens party look before the day continues.
In this two hour workshop which is perfect for beginners and even those who have never ever arranged flowers before, you'll learn all the basics about how to construct the most beautiful DIY flower crown you've ever seen. Choose your own flowers and whilst everyone will have their very own custom made flower crown, you'll be able to match it perfectly with your outfit.
Imagine how amazing the hens party photos will look when you've completed your hens party theme with a gorgeous flower crown?
We then recommend continuing the day with a hilarious hens party paint and sip class. This is a fantastic activity to keep everyone engaged, regardless of whether they are big drinkers or not.
As you'll learn how to recreate a modern masterpiece, you'll be able to relax and enjoy learning how to paint with a glass of wine in the other hand. Paint & Sip classes are hugely popular with hens parties because they combine so many elements which many people hope to find when looking for hens party ideas in Melbourne.
Whilst we have thousands of hens party ideas in Australia to choose from, we hope some of our most popular Sydney and Melbourne activities have inspired you to know there is literally something for every bride in Australia! Make a day of it and include multiple activities to keep everyone engaged and excited about the epic day ahead.