Whether it's a picnic or a garden party, there's something special about celebrating in the sunshine. And of course, given the state of affairs around Australia in 2021, outdoor Christmas party ideas are the perfect way to enjoy the festive season sans stress.
While backyard party ideas have always been popular, current COVID restrictions have turned outdoor gatherings into the social event of the century! Picnic hampers are walking out the door, camping chairs are dotted across local parks and bocce balls are experiencing a veritable revival.
With limits on the number of people we can have inside our homes, hosting a Christmas picnic or garden party is the ultimate way to reconnect with your loved ones. In fact, if you want to make the most of summer in 2021, throwing a backyard party is one of the best things to do with friends and family.
Whether you're keen to celebrate Christmas in the park or you want to organise a summer soirée in your yard, these outdoor Christmas party ideas will make for a memorable moment with your nearest and dearest.
Throw a Christmas picnic
Looking to celebrate in style? One of our most luxurious outdoor party ideas, this premium picnic experience is perfect for anyone who likes a healthy dose of opulence and merriment. Hosted by Potts Point establishment, Honkas Bar + Eats, this all-inclusive outdoor party idea includes a divine picnic spread, fabulous French champagne and drinks, a butler to whip up your first martini and some lawn games (think croquet and boules) to keep you entertained for hours.
You and your guests will spend the afternoon nibbling on lobster, trout and gourmet cheese before tucking into some sumptuous sweets and chocolates to end the feast. The best part? Everything you need for this glorious garden party is provided by the team, so all you need to do is show up. Yep, that's right, the crew at Honkas Bar + Eats will even pack up when you're done! Keen to get your guests feeling extra festive? Ask them to wear their favourite Christmas earrings or Santa hat! Looking for ideas for your office Christmas party? We've got you covered.
Host a garden party
Hosting a summer soirée is one of the best ways to celebrate Christmas in 2021. This season, why not decorate the yard (or your local park), invite your nearest and dearest around and make the most of the warmer weather?
The key to pulling off a successful backyard party is getting creative with entertainment. Don't settle for small talk, but instead, get everyone involved in a hands-on activity. This will take the pressure off the conversation and help everyone ease into the afternoon feeling comfortable and calm. After months of self-isolation, getting back into the swing of things might not be easy, but by having some fun Christmas activities planned, you'll be able to host your party without worry.
From DIY dreamcatcher classes to flower arranging, there are plenty of ways to connect with your friends and family while learning something new. Why not learn how to make your own delicious Christmas cocktails before playing some fun lawn games with your friends? There are plenty of mobile cocktail classes that can come to you and help you bring your backyard party ideas to life.
One of the best things about throwing an outdoor Christmas party is that there's no need for extravagant seasonal decorating or over-the-top food. Simple touches like fairy lights and fresh greenery (and a DIY Christmas wreath, of course) are all you really need to make your yard look magical. If you're keen to make your backyard party as low-fuss as possible, why not ask your guests to pitch in and bring a plate of their favourite nibbles? There's nothing like a piece of homemade Christmas cake to make you feel merry and bright.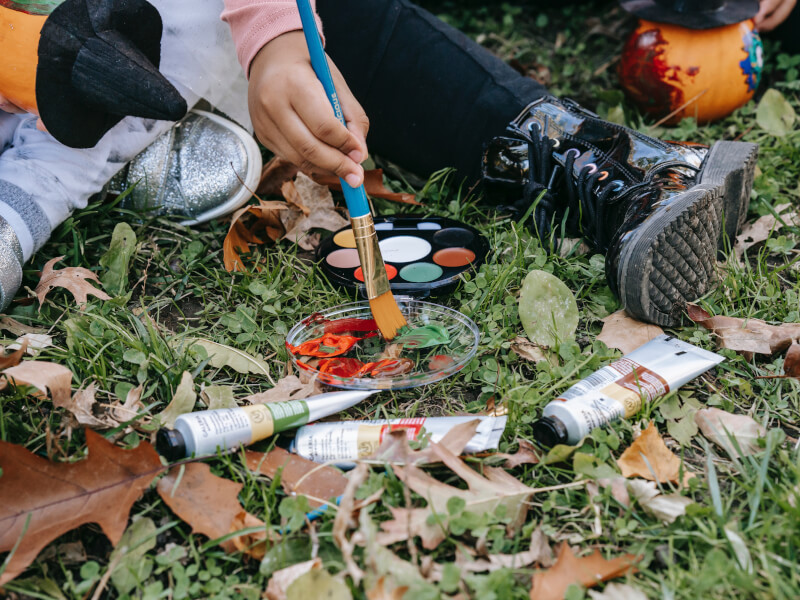 Organise an unconventional outdoor party
Depending on your guest list, you might like to go for something a little more unconventional like a Hula Hoop workshop! Fun for adults and children alike, this entertaining outdoor Christmas party activity is perfect for anyone who likes to get active and have a laugh. You and your guests will be giggling in no time at all – and sneak in a secret workout at the same time. After a challenging year, laughter really is the best medicine.
This private tipi party in Victoria (complete with a ceramics class or watercolour workshop) is a wonderful way to get together with friends and skip all of the holiday hoo-ha. BYO picnic food and beverages and get set for an arty afternoon with your nearest and dearest. And don't forget your camera – this outdoor party idea is seriously Instagram-worthy!
Looking for crafty outdoor party ideas?
Celebrate Christmas in the park and learn how to paint! Hosted by the friendly folks at Paint for Fun Melbourne, this laid back paint and sip class takes place at Gasworks Arts Park and is a licenced event, meaning you can BYO bevvies and snacks. Hosting up to 30 guests at a time, paint and sip in the park is perfect for family groups, friends and office Christmas parties. To add a festive touch, ask your guests to wear their daggiest Christmas t-shirt (or sweater, weather permitting) and bring some of your favourite festive fare to munch on throughout the class. After you've painted your masterpiece, why not continue the fun and set up a themed Christmas picnic nearby on the grass? We guarantee that everyone will want to hang around for a chat after the ice has broken!
When planning your outdoor Christmas party, be sure to check the regulations in your local area, as well as state restrictions. All guests must be fully vaccinated in order to attend by October 11th. After December 1st, guests who are not fully vaccinated will be able to attend. The number of guests you can have at your Christmas picnic will depend on the outdoor gathering limits in place. While brainstorming outdoor Christmas party ideas or booking your backyard party, be sure to check out the current restrictions in Sydney – or wherever you are in Australia!