If there's a woman in your life who likes to break boundaries and defy stereotypes, she probably wouldn't go for a floristry workshop or a course in watercolour for beginners – no matter how excellent they are as gift experiences for her!
But don't panic, we have plenty of unique gift experiences for women that will meet her preference for less conventional experience presents. Whichever one you choose, your giftee will be working with her hands, learning new skills, meeting like-minded creatives, and forging new memories.
Our non-traditional presents for her are available across Australia and we also have a host of virtual classes if she'd prefer to take part from home. No matter where your loved one is based, we have gifts galore from crafty Sydney activities to fun things to do in Perth.
Get your girl to a glass blowing class in Sydney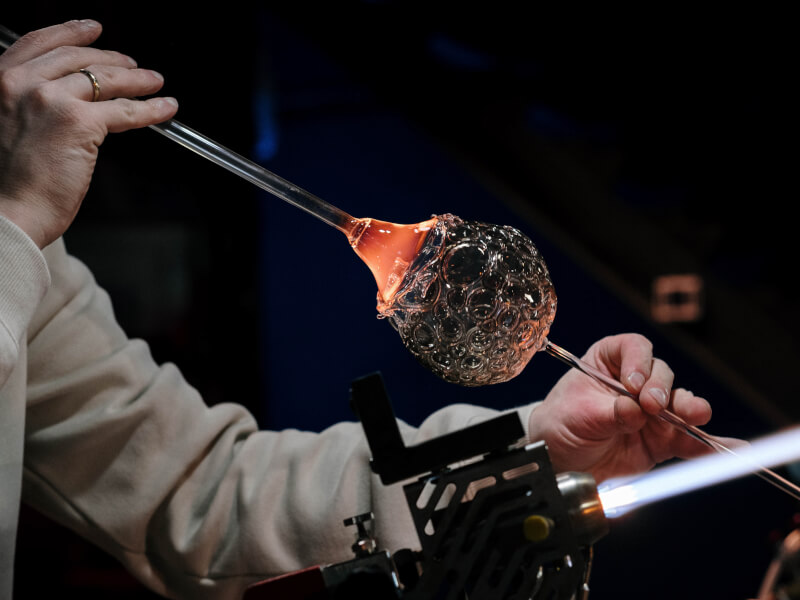 Glass blowing requires serious skill – and a good deal of safety. It's also fascinating and highly satisfying, ranking amongst our best unique presents for her. At this glass blowing class for beginners, glass artist Mark Eliott will guide participants through the art of glass blowing over the course of two hours in his Redfern glass studio. Students will learn the basics of glass blowing using an 'oxygen-propane' torch, discovering how to use both clear and coloured 'borosilicate' glass rods and tubes to hone techniques like sculpting, joining, stretching, blowing, and colour mixing.
There will also, of course, be a thorough safety demonstration and instructions so that all participants feel confident in their new-found glass art skill. Everyone will leave with at least one hand blown glass ornament – earning them serious bragging rights – which can include a small glass animal, pendant, or abstract creation.
Classes are kept small so that Mark can guide everyone through the process step-by-step and give them the attention they need. Just remember to advise the lucky recipient of this gift experience to wear long sleeves and long pants made from a non-flammable material, as well as covered shoes and tied-back hair. Looking for presents for your aunty? Here are 8 awesome gifts for aunties who value quality time!
Make a metal wall hanging in Melbourne
If you know a Melbourne-based lady who's always on the lookout for quirky Melbourne activities with which to fill her days, consider booking her onto this DIY metal wall hanging workshop. These craft classes are hosted by Kat Relish at Guild of Objects, who will teach everyone how to use recycled materials in order to make their very own wall hanging. Using either brass or copper, students will learn basic techniques including hand stamping and hammering in order to develop their metalwork skills.
Typically, these craft workshops last for around two and a half hours, at the end of which everyone will have their own piece to take home and proudly hang up at home.
Discover the art of an American barbeque in Brisbane
For serious carnivores, you'd be hard-pressed to find more appropriate presents for her than an American smoking BBQ cooking class. Brisbane-based BBQ School delivers a hands-on course where participants will learn to cook BBQ recipes using the best American BBQ techniques from Texas, Kansas, Memphis, and more.
A complimentary beer will be given to everyone before the class kicks off, at which point your expert chef from the cooking school will take students through the menu and the session plan. Participants will learn more about how to BBQ via the Texas crunch method, as well as the different equipment and techniques that are used in the smoking process. Everyone will also get top tips on rubs, timing, temperatures and the perfect accompaniments, trying the pre-smoked meat.
The menu will include American BBQ items such as Memphis-style pulled pork, smoked baby-rack BBQ ribs with apple bourbon sauce, and Texas-style low and slow bass strait brisket. Get this on your list of gift experiences for women who love a good barbecue and want to learn more about this al fresco style of cooking.
Give a caffeine addict the chance to take a barista course
If you know a Melbourne-based woman who's seriously into her coffee, you won't find a better experience gift than this barista coffee making course. This coffee course will give all participants the chance to establish and develop their barista skills, preparing a variety of espresso coffee beverages under the expert guidance of a teacher.
As well as learning how to make coffee, everyone will undergo barista training in the use of a coffee workstation, the selection and grinding of beans, and how to best extract and monitor different qualities of espresso and milk. This barista course is for the serious fan, as everyone will leave with a certificate to prove their attendance and newfound barista experience. If a lady in your life is keen to break into the world of coffee and undergo thorough barista training, add this to your list of presents for her.
Learn how to make sausages in Perth
Let The Cooking Professor guide your meat-loving friend or relative through the process of making delicious homemade sausages at their sausage making workshop. All participants of this cooking class will learn the art of mincing, stuffing and twisting sausages, practising and perfecting techniques to take home and develop their newfound skill.
If you know a mother and daughter combo who would love to get involved in a hands-on cooking class, consider adding this to your list of gift experiences, as participants will be dividing into pairs in order to follow the recipes and create delicious sausage recipes. Typically, a menu will include the likes of Spanish chorizo, Boerewors sausages, and English bangers or chipolata sausages.
What's more, everyone will have the chance to enjoy their creations with a glass of something at the end of the cooking school course, providing a perfect experience to reconnect over a delicious meal. It's BYOB, so remind your giftee to bring along a bottle of their favourite tipple!
Glassblowing and Mosaic workshops