There is a vast and dazzling array of kids party ideas in Sydney your 5 year old will love, so how do you choose? But don't panic! Here are some of the best party ideas kids will love, perfect for those 5 years old and under. There is something for everyone, no matter how big or small your budget and guest list are and how much time and effort you have to spare.
Vintage birthday party
One of the best party ideas for 5 year olds is to ditch the grand ideas of hiring expensive jumping castles and keep it simple. Adopt some classic kids birthday party games to help your little one and his or her friends have a heap of fun. When they're 5 years old and under (and even a little older), the old favourites like Pin The Tail On The Donkey are a hit (use safe sticky stuff like blu-tak instead of actual pins!) - and you can even switch it to Pin The Nose On Olaf, Pin The Crown on Elsa, Pin The Scar on Harry Potter or whatever suits your child's favourite character. For Egg and Spoon races, use ping pong balls if you don't want to waste those precious eggs or boil them first if you don't want the eggy mess! Hessian Sack Races, Pass-The-Parcel and Musical Chairs are really popular for a reason - kids never seem to tire of them!
Eco-sustainable party
If you're looking for fun party ideas for a birthday, let the kids do what kids do best - get dirty! If you've got some outdoor space, collect some pots, potting mix, spades and some easily-plantable succulents for the kids to enjoy a bit of fun gardening time. And at the end of the party, they've made their own favour to take home (no lolly bags required!) You could even gift the kids with a little packet of seeds as well, so they can go home and plant some beans or strawberries.
Messy art party
Outdoors is definitely the best spot for this one. A series of easels and canvases, or just paper fastened to walls or fences with tape will work for this party. A whole lot of paints, brushes, pots of water and aprons are all you need for the kids to enjoy some arty time! If you have a backyard fence that kids can easily stand in front of, you can hang large sheets of paper all across it and let the kids go wild painting whatever they like. Dependent on if you're looking for party ideas for girls or party ideas for boys, they could paint something in the theme of the day. Lay a big tarpaulin on the ground to catch all the paint and water mess. If you're looking to dessert for party ideas inspiration, the perfect complement to this 5 year old party idea could be a Colour Wheel Cake.
Craft table party
This is for the quieter kids who really do like sitting around making things (probably strictly 5 year olds, the younger ones might not last long with this!). It might be more suitable as a party idea for girls. Mask making, simple finger knitting, all sorts of papercraft or simple string and bead dreamcatchers are just some of the many crafty party ideas for 5 year olds. You could combine the craft theme with some ideas from the Cupcake Decorating Party (below) so the kids can studiously decorate their own party dessert! This makes a great option if you're looking for party ideas for introverts as there will be an activity for them to focus on if they're feeling shy.
Cake decorating party
Bake a tray of cupcakes so the kids can add their own icing (have some aprons handy!) then adorn with sweet treats. Hundreds and thousands, jelly lollies and chocolate freckles are some classic options, but if you're not so into artificial colours and truckloads of sugar, there are plenty more natural-but-still-sweet alternatives. Chocolate or cacao nibs, toasted coconut, a variety of nuts (check allergies of your guests first!) and fruit (raspberries and blueberries work a treat) are amongst the modern kid's favourite ingredients and perfect for cupcakes.
Treasure hunt/scavenger hunt party
Draw a map (or have your little one do it) and write some clues to have your party gang find their way to some treasures in the garden. A scavenger hunt is an alternative idea - you can have the kids find things that are naturally in the garden - pebbles, leaves, flowers or grasses - or things you've hidden around the place.
Music and dance party
If your birthday kid loves music or dancing or both, a music themed party is a great party idea for 5 year olds and under. You can have the kids play games like Musical Chairs and Limbo or you might even have a Karaoke machine. A fantastic class run by ClassBento is the Drumming Workshop, where kids as young as three can have a go learning different sounds, basic rhythms, call and response and even African Beats. They'll play with their hands, drum sticks and thunderous mallets. The instructor will also bring a PA and cordless microphones for some extra fun!
Pyjama breakfast party
It might suit your schedule to have an early morning party, which you could embrace as an opportunity to get the party over and done with early so you can enjoy the rest of the day with your birthday child. The other parents have one less thing to do before getting their kids out the door because they get to come in their jammies! Have coffee and tea on hand for the adults, as well as some breakfasty foods like pancakes or pikelets, fruit and yoghurt, homemade muffins or banana bread or little egg frittatas baked in a muffin tray. If it's particularly early, kids can play quiet games like Sleeping Lions when they first get there (but it's sure to get rowdier at some point!)
Superhero party
This theme is one that all kids love to embrace and superhero party supplies are easy to find, making this a no-brainer as a party idea for kids. Send out themed invites, or have your child draw a picture of their favourite superhero and copy it for the invites. Ask your child's friends to come dressed up as their favourite superhero. You could also incorporate a crafty workshop into your party. The Maker's Loft in Cammeray (lower North Shore, Sydney) offers some great things to do in Sydney with kids and hosts a Superhero Craft Class for kids ages four to six. Kids will get to design and make their own superpower cuffs, a hero mask and cup.
And finally, the all-out lavish birthday do
If you really want to impress your friends and give the kids a special experience, you could consider a range of big-ticket options like a farmyard petting zoo (or even reptiles!), an inflatable waterslide, and of course, a jumping castle. Party planners and party hire businesses exist all over the country, and while they might cost you a small fortune, if you're time-poor, it might be worth getting some of these experts to put together the perfect kids party for your 5 year old.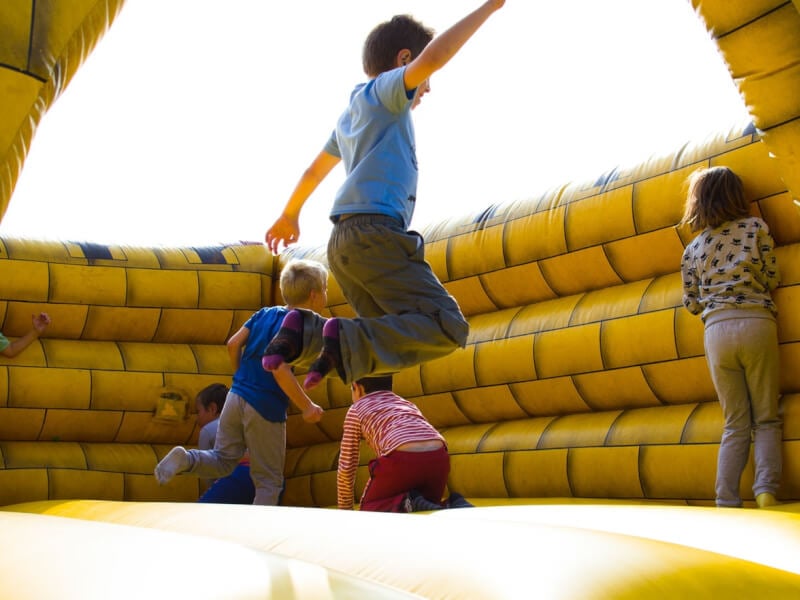 Suggested workshops in Sydney