Calling all flower lovers! Get creative and hands-on at floristry classes in Sydney and discover the wonderful wellbeing benefits of playing with fresh and dried flowers. At these fragrant indoor activities you'll learn how to create beautiful bouquets, vase and flower arrangements, plus get some expert advice on how to nourish yourself with nature's bounty.
These Sydney workshops are not just for the ladies either, men can also learn how to make their own floral gift baskets and top-quality floral arrangements. Whether you're a complete beginner or have a little bit of experience arranging flowers, these workshops are sure to leave you feeling invigorated from head to toe!
Whether it's a birthday party, hens party celebration or Mother's Day surprise in 2023, we've got all the tips to help you bring your space to life with beautiful blooms.
The benefits of floristry are quickly becoming lauded by healthcare professionals and many hobbyists are turning to the activity as a way to improve physical and mental health. DIY floristry has always had a special place in Western society, and the best place for a budding florist to start is with the trade's rich history.
---
Top 5 Best Floristry Classes in Sydney:
Flower Arranging Workshop: Booze and Blooms with Stardust Flowers

Ikebana Flower Arranging Class with Setsuko Yanagisawa

Flower Arrangement Workshop: Hand-Tied Bouquet with Mona Han

Dried Flower Arranging Class with Blume Flower School

Flower Centrepiece Class with Nikki Zeng
---
So, just how far back does this go?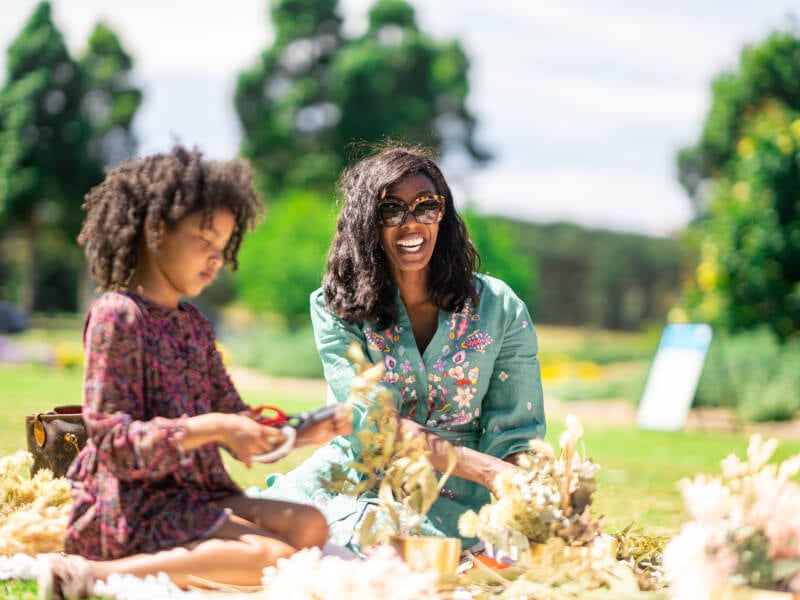 Human civilization has seemingly always been fascinated by flowers. The history of floral design (1) tells us that Ancient Egyptians decorated their architectural masterpieces with floral designs, while Olympians and Greek warriors were rewarded intricate floral wreaths for victory. We can also thank these societies for the innovation of perfume made from the essence of flowers.
The importance of floristry is closely tied to the development of European art, as well. Throughout European aristocracy, nobles and ladies were often painted holding flowers or lounging next to grand flower arrangements. According to historians (2), botanical imagery contained important societal significance as early as the fifteenth century, and art dedicated solely to floral design has continued to be popular with artists as renowned and worshipped as Van Gogh and Monet.
So, it's no surprise that today, floristry plays an important role in Western society. A wide array of events, from funerals to graduations to courageous acts of love, require the keen and creative eye of a seasoned florist. Even the First Lady of the United States has a close professional relationship with the White House Chief Floral Designer.
Why pursue floristry as a hobby?
Cultural significance aside, floristry is a fun and beneficial hobby, with some very wonderful effects on our overall wellbeing.
Can floristry positively impact a medical setting? According to scientific evidence coming out of Kansas State University, the answer is a strong yes. Based on a 2008 study (3) of patients undergoing abdominal surgery, researchers discovered that patients exposed to flowering plants and floral arrangements not only reported feeling less anxious but were recorded to have lower blood pressure and heart rate on the day of surgery and subsequent days of recovery. Similar studies have found higher pain tolerance for patients exposed to floral arrangements.
Given the intensity of surgeries, the significance of these findings cannot be understated. For, if bouquets of flowers can help us during our most stressful moments, what can they do for us as a part of our daily lives?
Well, the journal Evolutionary Psychology (4) reveals that flowers have both immediate and long-term effects on our mood, increasing happiness and invoking intimacy. Interestingly, men and women both benefit from the presence of floral arrangements, despite social preconceptions of flowers as inherently feminine. This goes to show that having flowers in the workplace or at home can boost your wellbeing and mood, which is no wonder why people always love getting indoor plants!
Are there any other perks to DIY flower arranging?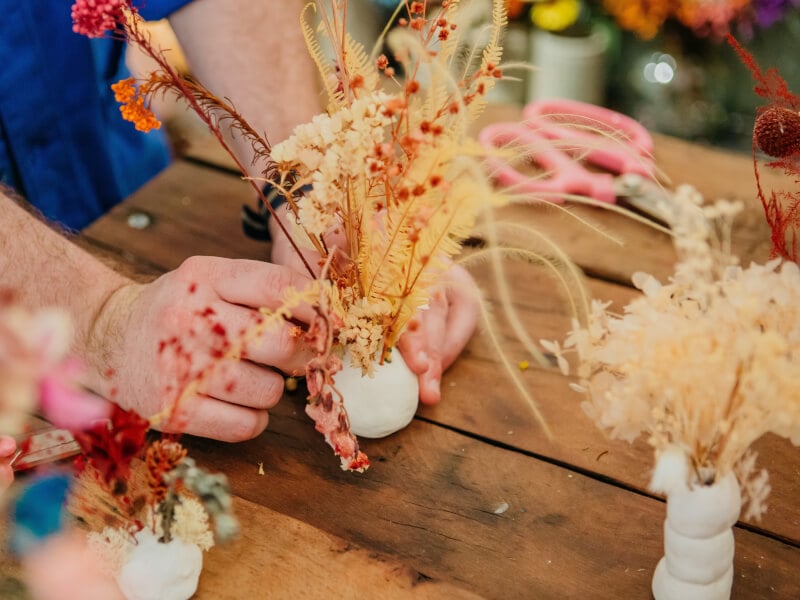 Excitingly, floristry has a few other hidden benefits as well. As a creative outlet, floral design requires its students to hone in on specific visual arts skills which could improve cognitive processing and memory. For instance, a study (5) from Georgia Southern University revealed by "engaging in a highly creative act, individuals may be able to process the information on a deeper level, then generalise to another task."
In addition to improved brain functioning, floristry offers benefits such as creative expression, enhanced focus on detail, and problem-solving.
What exactly does a floristry class in Sydney cover?
If you're excited about improving your mental health by learning more about floristry in Sydney, a beginner's class is a great place to start. Even at a novice level, there are plenty of options to choose from: you can start with a class on home flower arrangements, floristry for special events, or even floral design for very special events, like weddings.
Learn the art of Ikebana in a hands-on class with Setsuko Yanagisawa in Glebe. If you're looking for classy hens party ideas in Sydney, come and sip drinks and learn the basics of floral design at booze and blooms flower arranging workshop with Stardust Flowers.
On the search for more unique things to do in Sydney? Learn how to arrange dried flowers into beautiful bouquets at a dried flower arranging class with Blume Flower School. Dried flowers are fun and on-trend and the perfect opportunity to make something unique and special that will last forever.
Depending on the workshop you attend, a typical introductory class will cover basics, such as vase selection, seasonal pairings, and simple floral designs. Most classes are between two and four hours, so be prepared to spend an entire lovely morning surrounded by your favourite flora. Better yet, invite your friends for an enjoyable social engagement at your local floristry school in Sydney.
That's the gist, now find out for yourself!
With floristry, the sky is the limit. By simply engaging in the craft as a hobby, you can be sure to have access to a creative outlet that is available virtually anywhere in Australia or even the world! You may even start to feel the benefits to your wellbeing after just one workshop.
Or, if your first workshop completely sweeps you off your feet, consider pursuing a certification in the field. What better way to achieve personal fulfilment than to make your floristry hobby into a career!
References:
(1) Flowersacrossmelbourne.com.au
(2) metmuseum.org
(3) greenplantsforgreenbuildings.org
(4) aboutflowers.com
(5) digitalcommons.georgiasouthern.edu
Gift a unique experience
Pick a fun experience for them, or let them choose from our thousands of creative classes and kits.
Valid for 3 years.
card_giftcard Get a gift card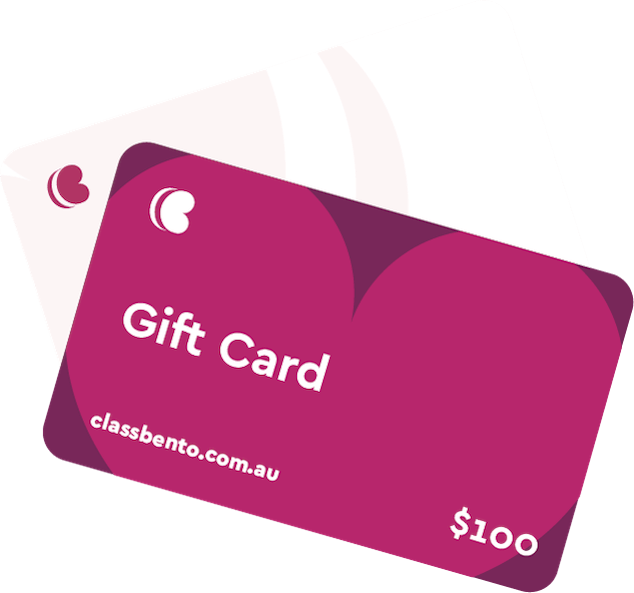 Floristry workshops in Sydney