Are you looking for a unique way to celebrate the festive summer season with your nearest and dearest? If so, you'll love these exciting virtual Christmas party ideas. It's time to build new traditions and create lockdown-proof memories that'll last a lifetime!
Choose from hundreds of Christmas party ideas for friends, including online pottery, painting and pasta-making classes. Partying in the Zoom room has never been easier because all the hard work is done for you – simply choose a date, and your teacher will send you a jam-packed DIY kit alongside a link to your livestreaming online class.
Best of all, these beginner-friendly classes are bucket loads of fun and run by Australia's most talented artisans. Thanks to their thorough instruction, you'll walk away with brand-new skills and enhanced self-esteem (there's nothing more confidence-boosting than mastering DIY projects).
Keep reading as we briefly explore the benefits of virtual Christmas party activities before suggesting five awesome adventures to pursue with your pals.
Why are virtual Christmas party ideas for friends so amazing?
Everyone can agree that Australia's lockdowns have left many of us feeling lonely. But thankfully Zoom activities can help. Virtual Christmas party ideas allow you to reconnect with your loved ones in a warm and welcoming environment.
Restrictions and venue location cease to matter because online experiences are omnipresent – you can join from anywhere in the world while relaxing in your lounge, kitchen or garden. Plus, you don't have to worry about last-minute cancellations or queueing for bars in the sweltering heat!
Best of all, these virtual Christmas party ideas for friends promote mental wellbeing (much-needed amid the COVID craziness). Paint and sip parties encourage stressed city dwellers to let their hair down, and pottery making is remarkably meditative. Fervent foodies might prefer to make fresh pasta from scratch in a cooking class, where heady aromas and sensuous flavours trump to-dos and deadlines.
The possibilities are endless, but one thing's guaranteed – you'll leave with a repertoire of impressive knowledge. Under the guidance of experienced makers, you'll learn secret tips, tricks and techniques that'll serve you for years to come.
5 Christmas party ideas for friends to ignite your festive cheer
1. Mix, muddle and shake three lip-smacking cocktails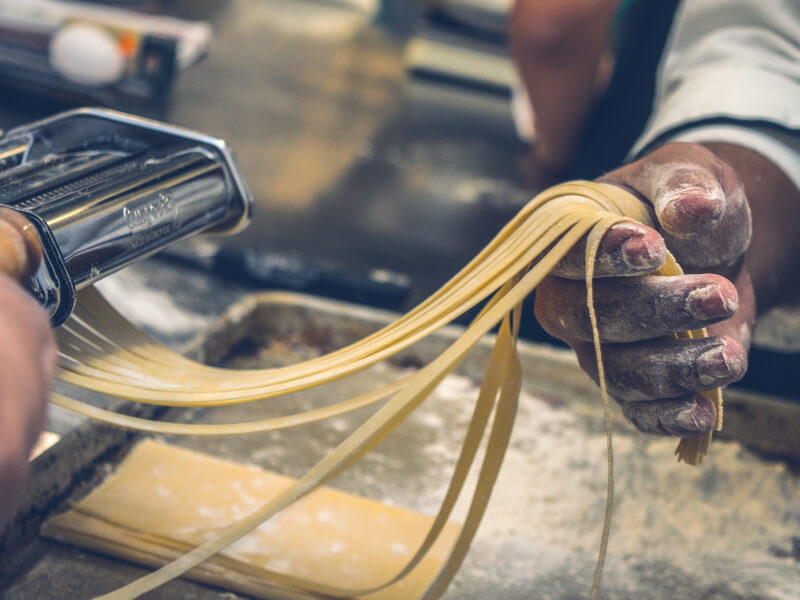 There's nothing like a tipple or three to unlock your party spirit! In this virtual cocktail making class, you'll e-catch up and concoct three refreshing beverages in a COVID-safe environment.
It's the perfect Zoom activity for virtual team-building events or mates who like to mingle because it's bursting with Yuletide joy. You'll learn the best recipes for flavoursome cocktails and show off flashy flair moves like the spoon flip, bottle stall and tin pivot (just make sure there are no unsuspecting family members nearby).
If that wasn't enough, there's also a few rounds of mind-boggling group trivia to test your general knowledge – Christmas isn't the same without some healthy competition!
2. Capture the Australian landscape and emulate Picasso
If you can't get outside, how about an online paint and sip class that recreates Australia's breath-taking desert landscapes? With help from an accomplished artist, you'll capture cacti in bloom with vibrant acrylic paints.
Not only will you achieve a masterpiece while sipping on a Curatif cocktail, but painting grounds anxious minds. Tension melts with every brushstroke and the repetitive application of colour on canvas anchors flighty thoughts.
Above all else, the subject focus is a brilliant reminder of earth's natural abundance. Your imagination will surpass the four walls, transporting you to a moonlit world boasting lush greenery and soothing cricket chirps.
3. Revolutionise mealtimes and make pasta from scratch
Christmas party ideas for friends should include a feast fit for royalty! Revolutionise your summer fare by learning how to make fuss-free fresh pasta in an online cooking course.
Your generous DIY kit includes a wooden board from Italy, semolina flour, a recipe booklet and a bottle of the finest Dolcetto D'Alba red wine from Borgogno Winery in Piedmont (we told you it was fancy). You'll also receive an ingredients list to help you choose high-quality fresh produce next time you go shopping.
Once you've rolled pici from Tuscany and cavatelli, it's time to simmer a delicious vegan or vegetarian gypsy sauce with olives, mushrooms and tomato. Towards the end, you'll sit down and taste test your goodies with gusto.
4. Write thoughtful handwritten notes and quotes to each other
In this age of disconnection, handwritten letters have become even more meaningful. In this virtual modern calligraphy class, you'll practise the cursive art of brush lettering to surprise friends and family with handcrafted cards – soulless emails and texts can't compete!
During the sophisticated afternoon's escapades, you'll socialise over good food, conversation and ink. The instructor will walk you through traditional pointed pen calligraphy with a modern twist before allowing you to get loose on paper.
The ultimate goal is to discover your personalised style. There's no right or wrong – just unashamed self-expression and fearless creativity.
5. Play with clay and shape treasured trinkets
There are plenty of crafty Christmas party ideas for friends, including this charming online pottery class, where you'll use traditional tools to make two beautiful items.
A passionate potter will explain how to use the equipment and demonstrate age-old hand-building techniques. Then, you'll mould premium white raku clay into a gorgeous cup and bowl that'll turn Christmas dinner guests green with envy!
After the clay is dry (it usually takes between 24 and 72 hours), you can send your pieces for complimentary firing and glazing for a professional-looking finish.
Celebrate this summer with our virtual Christmas party ideas
There are hundreds of virtual Christmas party ideas for you to browse this party season. From cocktail making and cooking up a storm to hand-building clay and painting pretty pictures, there's something to sate every unique taste.
Most importantly, all of these virtual workshops are hassle-free to book for a chilled-out Christmas, and entertaining teachers endeavour to make the special occasion one to remember!
Painting workshops - Virtual with Kits