Putting together a hens night to remember has never been easier. We've curated a host of hens party ideas that will give you and your group of girls a chance to reconnect and make memories galore. We've got classes all across Australia, so whether you're keen to make your own candles, mix and match your own unique DIY perfume, or discover the art of flower design, we've got tonnes of hens night ideas that will make the bride-to-be beam with delight.
Take the girls on a food and drink tasting experience in Sydney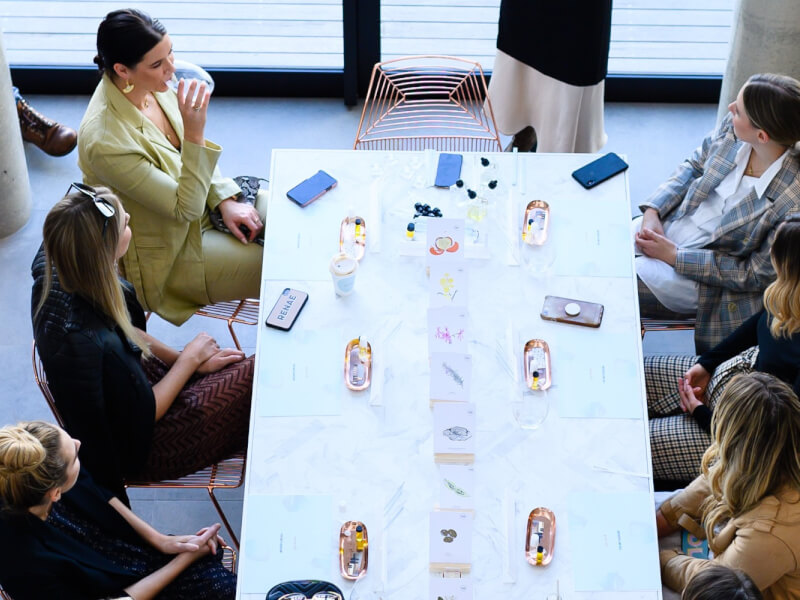 Sure, you've heard of a wine tasting experience, but have you ever heard of a coffee, chocolate and sweets tour? If your group of girls are Sydney-based, fans of food and drink, and would enjoy an alternative hens night experience, then pop this chocolate and coffee tour on your list of great hens party ideas.
Over two and a half hours, you'll all dive into Sydney's chocolate and coffee scene, discovering the city's best producers and learning the art of both coffee and chocolate making. Caffeine fans will learn how to grind coffee beans to perfection, and how the beans are sourced, roasted and blended to create a cup that tickles the taste buds.
From there, everyone will move on to a chocolate factory to learn how chocolate is made, before heading to a traditional Italian sweets' emporium. Get the gang together and explore the best that Sydney has to offer for coffee and chocolate aficionados.
Get the group together for a Melbourne jewellery making course
Create pieces of DIY jewellery that will last for years to come, reminding everyone of a hens night spent in each other's company. At Heecho Oh's stacked silver rings workshop, your group will be crafting four stacking rings made from 925 silver, meaning it's neither harmful to skin nor affected by water. Over the course of this jewellery making class, your group will learn the art of working with silver safely, coming away with a set of distinctive rings that can either be stacked on one finger or worn across several.
Discover the art of dried flower design
Book a hens party to remember with The Flower School's dried flower bouquet workshop. This class in dried flower design will have you all working with dried and preserved flowers and foliage in order to put together a bouquet that you'll treasure for years to come. Dried flowers last longer – and are more sustainable – than fresh flowers, meaning that you'll have these bunches as a reminder of a hens night spent in good company creating a beautiful, dried DIY flower bouquet. Looking for more sustainable hens party ideas? Discover the 7 simple swaps you can make to have a more planet-friendly party!
Create your own perfume in Melbourne
A perfume making course makes for a fabulous hens night, allowing everyone to learn about the art of blending a scent that's unique to them. At this natural perfumery class, Samantha will take the group through the process of how to make a perfume from over 50 natural essences and 19 flower essences. All tools and materials will be provided, and at the end of the two hours, everyone will leave with a 10ml roll-on Eau de Toilette that they have selected, blended and created themselves.
Head for a weekend away with a food and wine tasting experience
At this weekend food and wine retreat, your group will enjoy delicious food and wine, as well as some serious peace right in the heart of Yallingup. You'll all be spending a weekend at the secluded Yungara Estate, where you can take in the glorious ocean views and find time to reconnect with each other.
Naturally, this wouldn't be a food and wine tasting weekend without the chance to sample some delicious meals and drinks, so you'll all go on a full-day's wine tour and enjoy dinner at Caves House, alongside some other foodie benefits. Don't forget to rebalance yourselves at the Injiidup natural spa, too!
Experience the Zen of soy candle making
If you're after hens night ideas for a Perth-based group, consider booking Graze and Gift Co's soy candle pouring workshop. Everyone will learn how to make candles using soy wax, leaving with two gorgeous homemade candles and a set of six tea lights to show for it. You'll also all enjoy a G&T and a graze board as you learn the art of making candles, making this a supremely sophisticated girl's night activity for your hens.
Craft a dried flower wreath to hang around your homes
The Eddies' Studio's everlasting dried flower wall hanging workshop is entirely mobile, meaning these floristry workshops can come to your preferred location. Everyone will come away from the class having learned more about dried flower arrangements and the tips and tricks of flower arranging from an expert. You'll all leave the wreath workshop with a piece to be proud of, ready to hang around your houses.
Prepare some perfume in Perth
Craft a new scent with La Donna's essential oil perfume making workshop, where you'll all learn how to make perfume in a hands-on sensory experience. Over the two hours, your group will be guided through the basic perfume making process, discovering how to combine your intuition as well as mindfulness techniques to craft some DIY perfume out of your favourite essential oils.
Your teacher Sarah Ciara will provide a comprehensive overview of the history of perfumery and the theoretical knowledge for using different fragrances. She'll also cover their psychological and emotional health benefits to help you choose the perfect scent for you. Taking a mindful moment is the name of the game at this perfume making workshop, so you'll all leave feeling more balanced and with a sense of restored calm.
Make your mark with a statement earring jewellery making class
Gather your Brisbane babes together and make the most of this statement earring workshop. Over the two hour workshop, you'll learn how to make earrings from a variety of different beads and decorative extras. You'll also discover how to make the different findings – that is, the bit that goes through the piercing – work for your chosen design. That certainly sounds like a stylish hens night idea to us!
Food and Drink Tasting workshops