Support local makers with art classes in Melbourne and keep your vibrant and creative community thriving! Guided by artists and creators from around the city, you can learn how to paint an artwork, take good photos on your DSLR camera or let your worries go with fluid art. Designed for absolute beginners, these Melbourne activities are a great way to explore your inner artist in a supportive, hands-on environment.
There's no denying that Melbourne is Australia's arts and culture hotspot and with all that's happened over the last few years, it's essential to support those who make this colourful city what it is. From resin art to paint and sip classes, there are plenty of ways to give back to your community while learning a fun new skill in the process.
Not to mention, these Melbourne workshops are a wonderful place to connect with friends and family. Whether you're looking for team building activities to break the ice or unique birthday party ideas to get all your friend groups mingling, these art classes are the perfect place to celebrate a special occasion.
Let us introduce you to the makers behind the best art classes in Melbourne and help you find your new creative passion!
Sip and paint with Nikki from Senoritas' Art Workshop
Take a trip out of the Melbourne CBD for the day and learn how to paint as you sip sangria with Nikki Carter from Senoritas' Art Workshop! Senoritas' Art Workshop began in 2019 when Nikki invited five friends over to learn painting. From there, Nikki's love of teaching grew and she now offers a range of paint and sip classes at her heated outdoor garden studio in Monbulk.
Gather your loved ones together for a paint and sip class like this one and enjoy a delicious Spanish paella and glasses of sangria as you get creative.
Learn photography with Penny Koukoulas
Get outdoors, and explore Melbourne through a whole new lens with Penny Koukoulas Photography. With over 25 years of experience in the industry, Penny is the perfect person to show you the ropes and get you started on your photography journey. With everything from night photography workshops to film photography classes, these Melbourne activities will have you ready to take unique, quality photos in manual mode!
Capture some truly artistic shots of the Melbourne CBD at her photography class for beginners or get more in-depth tuition at a private photography class. Looking to boost workplace wellbeing? Gather your work crew together for a creative and hands-on photography lesson and enjoy team building in the fresh air.
Paint a natural landscape with Amelia Phangez
Learn how to paint a landscape that's just as beautiful as the real thing with art and design graduate Amelia Phangez. Amelia is passionate about passing on her art skills to students and giving them the space and freedom to use their imagination and create incredible scenes from nature.
Join Amelia for her natural landscape acrylic painting class for beginners and learn how to paint a landscape masterpiece using perspective, spacing, colours and more! Looking for indoor activities for mother-daughter bonding time? Painting classes in Melbourne are some of the best gifts for Mum — spend quality time together making something beautiful and connect with one another like never before.
Make eco-resin coasters with Liza from Lily And Lark Living
On the hunt for eco-friendly resin art classes in Melbourne? Discover how to make your own set of DIY eco-resin coasters with Liza from Lily And Lark Living. A lover of all things craft, Liza happened to stumble across eco-resin and completely fell in love with this mesmerising and versatile material. She began making her own resin homewares and holding small workshops so she could share her passion with others.
Head over to Doncaster East where Liza will show you how to make your eco-resin coasters with your choice of colours. Looking for classy hens party ideas? All of Liza's intimate classes come with complimentary wine and nibbles, making them the perfect place for a fun and casual girls' night out.
Try acrylic pouring with Julie from Live For Art
Get into the flow and learn the dutch pour technique with Julie from Live For Art. Julie's passion for fluid art began over seven years ago. She believes that art can be transformative and allows people to find and express their own innate creativity.
You can find this fluid art workshop in Richmond where you'll be shown how to pour your paints from a cup and use a hairdryer to create stunning cells, blooms and effects on your acrylic pouring masterpiece. If you're after unique date night ideas to keep things exciting then these Melbourne activities are sure to add a colourful splash of romance back into your relationship!
Learn how to draw with Glowworm Studios
Discover how to bring inanimate objects to life with artist Alex of Gloworm Studios! Alex has studied a fine art degree in Australia and is multi-skilled in a variety of areas like painting, pottery and gold leaf gilding. Her expertise is in realistic portraiture and surrealism. She'll show you how to draw your own beautiful artworks at this drawing course for beginners.
This course is perfect if you're looking for meaningful gift ideas — there's nothing that says "I care" more than receiving a personalised portrait from someone you love!
Master watercolour basics with Wendy from Gallery47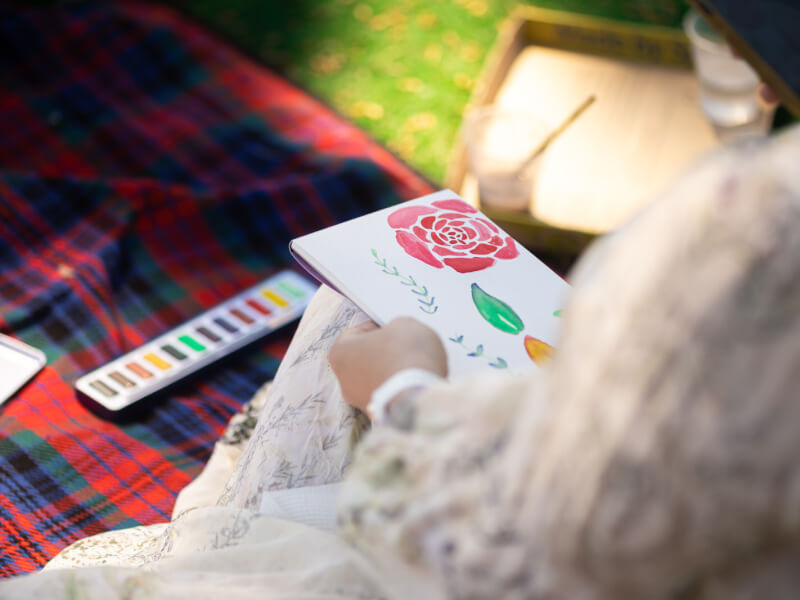 Always wanted to learn how to paint with watercolours? Well, now you can with Wendy from Gallery47 in Cranbourne! Despite beginning her art journey in 1993, Wendy only recently discovered her passion for watercolours and the beautiful effects they produce. She says, "[I'm] finally doing what I love - sharing my art and skills with others."

Begin your own journey into a whole new watery world with Wendy at her watercolour painting workshop for beginners and compliment this Melbourne experience with cheeky BYO bubbles!

Looking for more? Discover 7 art classes Melbourne crafters are raving about.
Art workshops in Melbourne