Whether your group is a small team or a large team, they both have something in common: team building is important to strengthen your team work capacity and to acquire valuable tools to overcome any obstacle. From cocktail making classes in Sydney to hands-on pottery classes and flower crown workshops, there are so many options out there for those looking to increase wellness in the workplace. In order to pick the right team building activity, you need to identify what your team needs are.
Check out this huge variety of fun corporate workshops that suit those needs and that will help your team to overcome the most common challenges you face in the workplace. Here are our top six team building activities in Sydney for both large and small teams based on their individual challenges.
Most common challenges for small teams
Challenge: Staying in tune
Solution: Reconnect through nature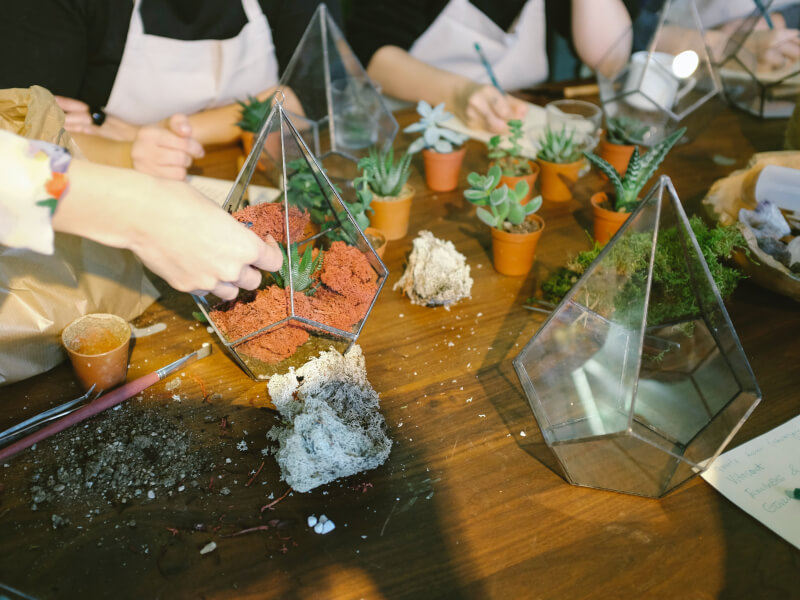 In small teams, relationships can become difficult due to conflicts or competition among members, so building up strong connections is key for a peaceful environment. Get in tune with yourself and coworkers through nature in a Terrarium Making Class. In this workshop, you will create a beautiful indoor mini garden in a glass vase getting in touch with different textures, stones and succulents that will allow you to focus on the moment, reconnect with others and fuel up with energy. At home, your terrarium would recall the special moment you had with your coworkers or what's even better you can bring it to the office to light up the space.
Challenge: Strengthening your bonds
Solution: Relax and Trust
This next workshop provides the perfect relaxing setting that will allow your team to connect on another level, strengthening your relationships and building up the trust to overcome stressful situations as a team. We may not know our colleagues as much as we think, even in small teams. What better way to strengthen our bonds than in a relaxing session such as an intimate Candle Making Workshop. Each of you will create your own candle that you can customise with the fragrances of your choice. You can get creative while spending quality time with your colleagues and enjoy a cheese board and wine while you get away from your desks and take a break from routine.
Challenge: Finding creativity and inspiration
Solution: Innovate your game with photography
It's great to be on the same page, but there are situations where new creative ideas are necessary to find a solution. A great way to get out of our comfort zones and test ourselves in a fun way is in a Smartphone Photography Class. Throughout this workshop, you will be finding creative solutions and capturing extraordinary images around the city that you can be proud of. Great for a little friendly competition where you'll be able to spark your imagination, a photography class will inspire your team to get creative in new situations. The best part? Everyone will communicate, play and engage actively as a team!
Most common challenges in large teams
Challenge: Keeping motivated
Solution: Spice up the competition
When tasks remain the same and there's little room for growth in a role, team members can get uninterested and bored. What about a little bit of healthy competition to keep you motivated? In this Pizza Making Masterclass you'll really be able to spice things up. Your group will be split up to compete in a pizza acrobatics experience as you learn how to make delicious woodfire pizza from scratch. This super fun challenge is a great way to keep everyone engaged and get the best from each person in an entertaining and different way. At the end of the class, you'll sit down together and enjoy the delicious dishes you prepared which is a great way to socialise and connect with team members you wouldn't otherwise speak to.
Challenge: Knowing each other
Solution: Value your players
The bigger a team the more difficult the communication becomes. Get to know each other better and recognise each member's personality, background and skills in a fun Cultural Awareness and Painting Workshop. In this class, each of you will create a personalised canvas that represents you. The best part is when all those artworks are put together to create one artwork that tells your joined story and reflects how special and important each member is and how this makes your team unique. This workshop will help you to keep in mind how important knowing and valuing each other is. This will create stronger bonds helping in situations where creative contributions from each individual are essential.
Challenge: Breaking the ice
Solution: The key is to communicate
In big groups socialising can be challenging. A unique way to break the ice is through a Paint and Sip Class. This workshop is not only a unique way to unwind but to meet and understand the people you work with. The class provides the perfect informal setting to interact with your colleagues while enjoying a drink and being creative through painting. This is the ultimate social painting experience that will create bonds and will allow your team to keep the dialogue open, share each point of view without judgment and receive feedback from each other.
Didn't find the right team building event for your team?
There are a huge array of team building classes that you can also customise according to what you are looking for. For some workshops, your teacher can even bring the experience to you with mobile classes at the date and time of your choice. Explore our corporate team building activities in Sydney, and whether you already have something in mind, or you want to discover all the fun and unique possibilities we have to offer, you'll be able to successfully overcome any challenge.
Suggested workshops in Sydney