Creating a sense of community in the office is essential to establishing a healthy work environment, but scientists have struggled for decades trying to figure out how. ClassBento may not have scientists, but we might just have the answer. With our plethora of team cooking classes, take your work squad out to freshen them up and reinvigorate them with these unique and quirky cooking classes in Sydney, perfect for team building or just getting over hump day.
Cooking classes for the smaller and mid-sized teams
Pasta Making Masterclass in Cammeray
Price: $120 per person
Lowdown: Frozen packet pasta will be a thing of the past in the office kitchen after the team gets together and whips up some fresh tagliatelle! Your pasta perfectionist Manuela will guide you through the steps it takes to create a range of pasta the traditional Italian way, with the class ending in a classic Italian feast. You can also tag on dessert for an extra $10. With group sizes maxing out at 12, it's a heap of fun for a fun-sized office.
French Croissant Baking Class in Maroubra
Price: $150 per person
Lowdown: Learning the art of croissant baking certainly has a je ne sais quoi to it, and with Joel Barda's 25 years of experience, he'll have the office crying "Tre Bien!" before the croissants are even out of the oven. The class covers all the croissant essentials, from rolling the dough to adding the perfect amount of butter, as well as teaching the art of the delicious danish. And, while they're baking, he'll even give you an initiation into the world of puff pastry. Every monsieur and mademoiselle will be positively smitten.
Shojin Ryori Vegan Cooking Class in Glebe
Price: $120 per person
Lowdown: This class is a niche, but it's a niche for a reason. Shojin Ryori is an East Asian cooking technique that, adhering to Zen Buddhism philosophy, is strictly vegan. Don't discount it, however. The process of making Shojin Ryori cuisine is said to be an exceptionally meditative experience, and the food itself is designed to bring peace and balance to one's mind and body. If your workforce is both in need of a mental reset and numbers under seven, this small class may bring your office the zen that the new astroturf promised, but never provided.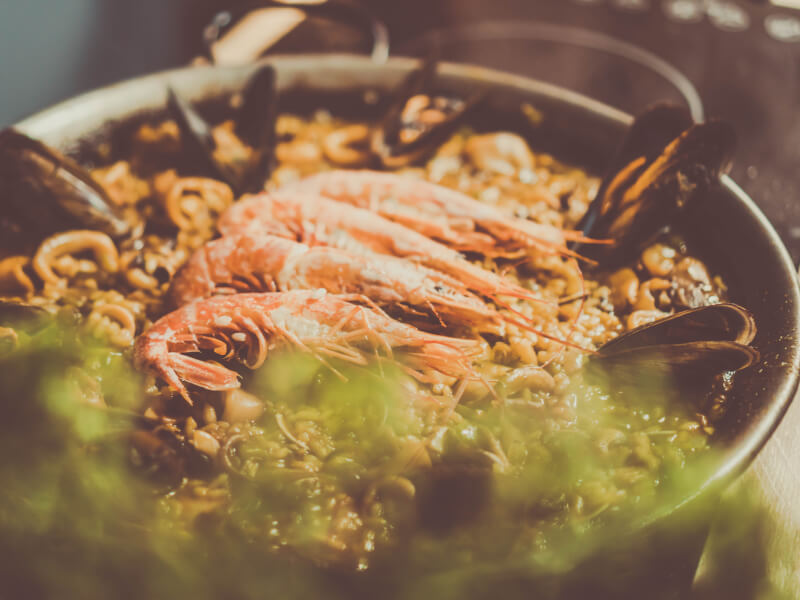 Spanish Paella and Tapas Cooking Class in Neutral Bay
Price: $105 - $135 per person
Lowdown: Although well regarded, traditional Spanish food can be hard to track down. Thankfully, Sydney Cooking School can show you everything you need to know about the artform of Paella and traditional Spanish tapas. Pairing you off, you and your cooking partner can choose from chicken, mussels, prawns and more to create a mouthwatering Paella and when the cooking is complete, enjoy fresh churros and chocolate. Housemade Sangria is supplied, adding to the traditional Spanish experience for up to 16 colleagues.
Cooking classes for the larger office
Corporate Olympics BBQ Cooking Class in Willoughby
Price: $130 - $145 per person
Lowdown: Whether your work has a team of 10 or a force of 300, the BBQ School has you covered. Specialising in corporate team-building events, they offer an incredible range of cuisines and classes to suit every size and every budget. If you really want to set your team-building apart, however, you can't go past their Corporate Olympics. With a series of tests, challenges and races all based around the food, the Corporate Olympics are perfect for a new team in need of an ice-breaker. You'll have the office feeling like they're on the set of Masterchef in no time, but the only thing being eliminated is the office stress.
Flaming Cheese Wheel And Wine Experience in Dee Why
Price: $39 per person
Lowdown: Do you love your team, but know that they're inherently lounge cats who simply wish to sit back and relax? That's okay because this isn't so much a "class" as it is an "experience." Salt Meats Cheese has been peddling quality Italian cuisine since 2012 and their cheese wheel experience is something to behold. Let the gang sit back and enjoy a cheeky drop of vino while a qualified professional sets fire to a huge block of cheese and prepare a beautiful risotto right in front of your eyes. Top it off with a handmade dessert and you'll have yourself a quality team-building exercise, with all the effort being saved for cheesy chit-chat.
Fire up your team with more team building activities here.
Cocktail and Dumpling Making Class in Potts Point
Price: $85 per person
Lowdown: If your team is torn between taking a cooking class or just going to the bar, combine both with this standout Cocktail and Dumpling Making Class. Learn the ins and outs of traditional Asian dumplings whilst also crafting the perfect cocktail to match! This is the ultimate crowd-pleaser for up to 50 people, and if you have tables and gas burners, the class can even come to you. It works out to be about 10 dumplings per person so although the food may be small, no one's going hungry.
Handmade Gnocchi Making Class in Circular Quay
Price: $79 per person
Lowdown: Although pasta-making has already been covered, it's worth appreciating that although classed as pasta, gnocchi is in a league of its own. These beautiful little potato dumplings are arguably the most magical food to ever usher forth from the Aegean, and Salts Meats Cheese is offering you the opportunity to create your own. With classes for up to 50 individuals, get the inside information on how to make the perfect little ball of Italy's greatest creation since the aqueduct.
No matter what size your team is or how they party, ClassBento has a cooking class to suit the needs of your workplace. If you're still stuck, however, feel free to check out our Corporate Events page for further ideas.
Cooking workshops in Sydney