Worried about coming up with the best hens party ideas for the bride-to-be? With the help of our hens party itinerary, you'll be well on your way to planning an epic day that any hen in Australia will absolutely love! Organising hens party activities isn't for the fainthearted – and there's so much to consider! You need to decide on the hens party theme, the guest list, the menu, the activities, the gifts and so much more, so if party planning isn't your thing, it can be stressful. Fear not, our ultimate guide to the best hens party ideas is here! Sit back and relax as we take you through everything you need to do to organise the best hens party in Australia.
Organise the hens party theme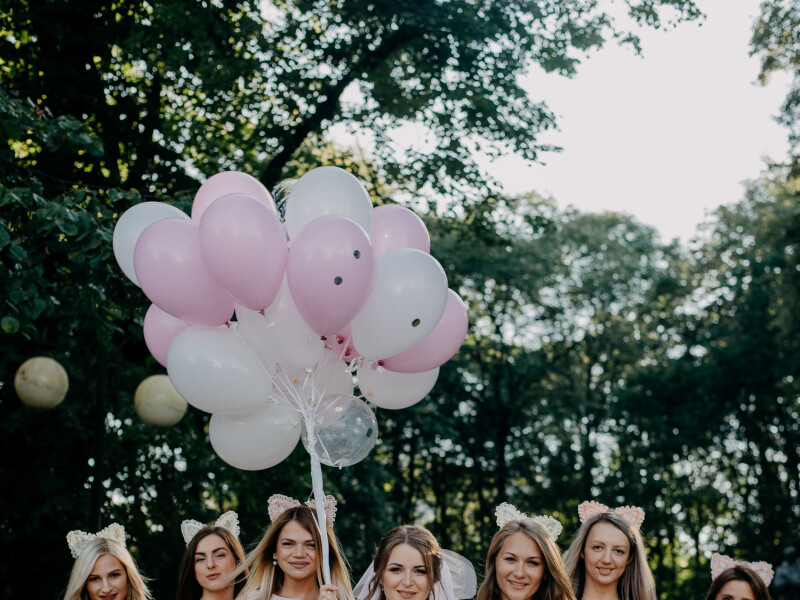 First things first, you'll need to decide on the hens party theme. Chat to the bride and find out how she envisages the day unfolding. Does she see herself wearing an elegant dress, a ballerina tutu, or is she more of a sash kinda girl? Whether she's keen to wear the silliest costume known to man, or she likes to look a little more low-key, there's sure to be a hens party theme she'll love.
To make the day extra special, why not go for a hens party theme which is close to the hens heart? Opt for a country theme, like Italy, and dress up in an outfit inspired by the chic women of Italy while you indulge in a day of pizza making.
Once you've decided on the theme, it's time to get the supplies. Buy hens party decorations so you can bring the theme of the party to life – and of course, encourage everyone to buy the bride a gift and consider organising keepsakes for the guests too. Looking for even more hens party ideas? Check out our list of 50 epic hen party games and activities across Australia!
Find out how many guests are coming
You'll then need to find out how many people are on the hens party guest list. Will it be a small or large hens party? Knowing who is coming will determine what kind of hens activities to organise and whether it will be an interstate hens party or one that's close to home. There are so many determining factors you need to consider when deciding what kind of hens party it's going to be, and the guest list is a big deciding factor.
Finding the best hens party activities
The best part about organising a hens party in Australia? The hens party activities, of course! If you're unsure of how to go about organising the day, let us break it down and highlight some of the most popular hens party ideas. Start the day with some beautiful and calming activities that everyone will enjoy. Then, as the day continues, step it up a level and introduce more champagne and cocktails for extra fun!
Morning beauty activities
Start the day in the best way possible and learn all about how to make your own skincare, with skincare classes all over Australia to choose from. As we're all becoming more aware of our impact on the environment, encourage your hen (and her friends) to do their bit by learning how to make natural skincare products. Many brands tend to use harsh chemicals which can be damaging to the delicate surface of the skin. Ditch the toxic chemicals and enjoy a beautiful morning skincare class where you'll learn the basics of making natural skincare using pure ingredients before creating a personalised skincare routine. Our local Australian expert teachers will guide you and teach you everything you need to know about how to look after your skin properly. It won't only be a fun and engaging class, but you'll also learn so much about skincare and start your journey to complexion perfection.
Lunchtime cooking class!
Make sure you line your stomachs before the day continues and take part in a fun and engaging cooking class. With cooking classes held all over Australia, the only thing you need to worry about is choosing which type of cuisine will suit the party. From Asian, Greek, Italian and so much more, you'll discover how to create restaurant-worthy meals you can make back at home.
Cooking classes are an easy way to help people bond, especially if some of your guests don't not know each other very well. You'll all need to work together to produce your meal, and at the end of the class, you'll sitg down altogether to eat the amazing food you've cooked. Our local Australian chefs will teach you tips and tricks for spicing things up in the kitchen and learning to create new dishes at home.
Afternoon activities
After lunch, we recommend organising a paint & sip class that the whole party will love. Laugh, love and smile as you relax and have a go at recreating a modern masterpiece. Don't worry, no previous experience is necessary. Our paint & sip classes are all about having fun while you sip a glass of wine to fuel your creativity. This is a fantastic hens party idea everyone will love!
Evening activities
Now you've got the alcohol flowing, why not move onto a fun cocktail making class? With classes held all over Australia, it's one of the most popular hens party activities to choose from. Get behind the bar and learn how to make some of your favourite cocktails with your nearest and dearest. For the non-drinkers in the group, they can still have a crack at learning how to make mocktails, so no-one will miss out.
Continue the night after the cocktail class has finished and end the epic day with a classic pub crawl!
These are just a few of our hens party ideas but we have thousands of classes all over Australia to choose from, so get ready to be inspired! And remember, organising a hens party doesn't need to be stressful!
Suggested workshops in Sydney